First general election aimed at a peaceful transfer of power is an eye catching event. Most immediate and formidable challenge for the US and the incumbent government of Afghanistan is to make the forthcoming Afghan elections appear as a credible and popular enterprise.  These elections are being seen as a key test of Afghanistan's progress since the fall of Taliban regime in 2001. Presidential elections could be a turning point for this brittle and war-torn nation. Nine candidates are in the run. By all estimates, voting on April 5 is not likely to throw up a clear winner; none may be able to bag the prerequisite 50 percent of balloted votes. Hence, there is a likelihood of a runoff between the two top runners.
Although constitutionally barred from seeking a third term, Afghan President Hamid Karzai has made no secret of the fact that he intends to remain a central force in Afghan politics even after the polls.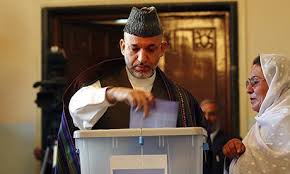 And the horse-trading intended to make that happen had begun. Apparent falling-out between the Karzai brothers is actually part of the Afghan president's election strategy. After dropping out 0f Adul Rahim Wardak, at least two more presidential hopefuls, Zalmai Rasul and Abdul Rasul Sayyaf are also surrogates for Hamid Karzai. Like Qayum Karzai, at some stage, one of them will withdraw from the race and throw his support behind the other. Regardless of who is elected, the objective is for Karzai and his clan to maintain a dominant political position in Afghanistan. Hamid Karzai is looking for someone who would give him face to strategize future decisions. Zalmai Rasul is more acceptable to a larger constituency and may be a willing partner for the sort of arrangement reached by Vladimir Putin and Dmitry Medvedev in Russia. When Putin was constitutionally barred from seeking a third term as president in 2008, he became prime minister and propelled Medvedev into the presidency. Four years later, the two swapped roles.
The country is still at war, especially in the Pushtun majority areas of the country. Electoral campaign has generally been peaceful, though there have been limited incidents of violence as well. State media coverage of electoral campaigns has, by and large, been fair and balanced. Nevertheless, these elections are likely to fall short of international standards of a successful polling. Depending upon the outcome of the vote, the situation could rapidly improve or go into a tailspin after the elections.
Afghans need to do whatever they can to make the process succeed and international community need to extend a helping hand. Pakistan's Foreign ministry spokesperson was asked during weekly briefing: The Afghan Presidential elections are approaching. Is there any formal request for cooperation or assistance from the Afghan side as it has always been the case in the past? The spokesperson responded we will extend whatever help the Afghan government requests us for and we are able to give.
Afghan government appears eager to prove that it can recruit and secure voters from even Afghanistan's remote corners, despite the acknowledged hurdles. These days the US and Afghan soldiers are focused on an interesting task that is to motivate and or coerce, on as required basis, the residents of remote, and insurgency-hit areas to vote. They cite a phrase: "If it has to do with the elections, don't let the Afghans fail." Rural areas have a few signs of government presence. Even the district governors, assigned by Kabul to work there, are too afraid to live at assigned places, and they visit their areas of jurisdiction only a handful of times, arriving by American helicopter. There are no schools in rural Afghanistan. Infrastructure is in place for hospitals, but there are no doctors or medicines. There are also large Afghan military bases, inherited from the US Forces, but the Afghan troops stationed there don't often leave their quarters, fearing ambushes and roadside bombs.
The Taliban have joined the battle over the elections. Mullah Omar in a speech marking the Muslim festival of Eid, last year, had said: "As to the deceiving drama under the name of elections 2014, our pious people will not tire themselves out, nor will they participate in it. He said selection in the polls, "de facto, takes place in Washington… participation in such elections is only a waste of time, nothing more". The Taliban in previous elections have called on Afghans to boycott voting, deploying fighters to block roads to polling stations and targeting candidates and activists. Many rural residents are deeply afraid of voting.  Taliban often demonstrate to the public that they are not ceding ground. Locals dismiss the soldiers as no more than a temporary presence; they fear that Taliban will return, and beat them if they voted. If Taliban are able to keep Afghans from casting ballots, the legitimacy of the vote could be questioned. Low turnout may prompt the election staff to stuff ballot boxes, like in 2009 elections. The situation could be serious if a new president counting on billions of dollars in American and international aid is not seen as the rightful winner of the election.
Top candidates include some warlords as well.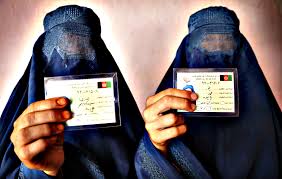 So far all would-be presidents support a continued US and NATO role in their country after 2014, recognizing that their young nation is still weak, and that Loya Jirga has endorsed a pro-American stance on Bilateral Security Agreement. However, after assuming the office new president may change his mind. President Obama's decision to ask Pentagon begin planning for a possible "zero option" after 2014 highlights the uncertainties in way post 2014 Afghanistan may shape-up. Afghanistan with residual garrison and without such troops is likely to follow different trajectories. Moreover, American public is now sceptical about stakes in Afghanistan.
Afghan civil society and political entities need to play a proactive role in supervising the performance of the electoral apparatus and take robust action if they see any signs of wrongdoing in the process. Afghanistan's Independent Electoral Commission and Electoral Complaints Commission must be seen as doing their jobs free of political influence. Whoever wins the Afghan election should form a new government in line with inclusive spirit. The next Afghan president must also be fair in his distribution of aid and his application of state power and justice across all provinces and ethnic groups. Legitimacy of the new president will depend as much on voting results as on the ensuing quality of governance.
Taliban see a window of opportunity in the present lull in political and military relations between the Afghan government and the US.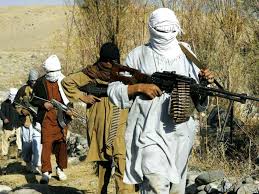 It has given them time to regroup and gain space for maneuvering themselves into having a say in the future of Afghanistan. Politically, Taliban have shown readiness to talk and are engaging with the Afghan government in order to be politically relevant in the post 2014 situation.  Militarily, they have managed to keep up a steady pace of attacks. How far they will go in terms of military takeover will depend on what kind of a political deal the Afghan government can make with them.
While testifying before the US Senate, American military commander in Afghanistan, General Dunford, has said that country's Taliban insurgency does not represent "an existential threat to the government of Afghanistan or to the Afghan security forces." Dunford repeatedly made the case that a full pullout would set Afghanistan up for failure. "If we leave at the end of 2014, the Afghan security forces will begin to deteriorate," Dunford said. "The security environment will begin to deteriorate, and I think the only debate is the pace of that deterioration." With all these looming uncertainties people of Pakistan wish well to their Afghan brethren during these testing times.
Carried by The Nation on March 17,2014.
Disclaimer: The views expressed are of the writer and are not necessarily reflective of IPRI policy.