In the back drop of resonation about usage of Indian origin arms and ammunition by the attackers of Karachi airport and recovery of huge cache of such weapons and munitions, Indian Prime Minister has condemned the recent terrorist attack on Karachi Airport. In a letter to his Pakistani counterpart, he has expressed sorrow over the loss of innocent lives in the senseless and barbaric attack. Modi said the relationship between India and Pakistan defined by peace, friendship and cooperation would unleash enormous opportunities for the youth, secure a more prosperous future for people and accelerate progress across the region. "I look forward to working closely with you and your government in an atmosphere free from confrontation and violence in order to chart a new course in our bilateral relations," the Indian PM said." I was also encouraged by our discussions on our bilateral relations and the convergence in our views," he wrote.
Indian involvement cannot be ruled out as their consulate in Heart was attacked by terrorists and, while in India, Afghan President Hamid Karzai had out rightly blamed Pakistan for the attack.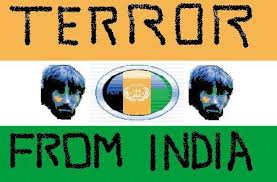 However, mere presence of Indian weapons does no construe an irrefutable evidence that it was only RAW's retaliatory move. In a related development, "Islamic Movement for Uzbekistan", an affiliate of TTP has come in forefront to claim the responsibility for attack on Karachi airport. On the political level, the leader of opposition has urged the government to lodge a formal protest with India over the recovery of Indian arms and Factor-VIII injections from the terrorists and demand an explanation from New Delhi. Pakistan has been shy of publicly protesting to India about most of such earlier event where credible trails pointed toward India. This attitude can only lead to the encouragement of Indian agencies involved in such activities.
Credit is certainly due to the on-call contingents of Army and Rangers to swiftly clean the mess created due to negligence, incompetence and complacent approach of resident organizations responsible for ensuring safe air travel for the public. Army and Rangers did a good job. It is commendable that airport was cleared within hours and flying activity was resumed but subsequent confusions especially the cold storage tragedy were points of high shame. Serious capacity issues of Airport Security Force also came to fore; and in the recent "Formation Commanders Conference", decision has rightly been taken that Army would train the ASF cadres to bring them up to combat worthy standards.
Squabbling between the provincial and federal ministers was another reflection of non-professionalism. Overall approach was: I did whatever good happened, rest was either not my responsibility or someone else caused it. There will be noises for a day or two then everyone will be back to business as usual, till terrorist attack another target at a time and place of their choosing.
This was the first terrorist attack against a purely civil aviation facility, 38 people including 10 militants were killed at the airport. Recently created Civil Aviation Divisions was hardly heard or seen. Certainly there were failures of magnitude—at many levels; those responsible are shamefully on a spree of self-praise. Civilian law enforcement agencies responsible for keeping vigil around civil airports to identify non-routine movement of persons and vehicles failed to do their duty. People tend to forget that pride of security outfits is not in getting killed but it is in killing the outlaws. What else could speak of inefficiency of such entities that terrorist reached their designated targets and remained un-unnoticed till targets started blowing-up into fire-balls.
National Crisis Management Cell was not geared up to take charge. ASF guys who routinely draw pleasure by terrorizing innocent travelers for carrying battery cells and mustache trimming scissors  in the name of air port security failed to spot entry of so many unauthorized heavily armed persons into sensitive area. Blaming intelligence agencies for having failed to see the possibility of an attack at Karachi airport is not justified as threat warnings were issued thrice, a vulnerable gate was identified and same was used by the intruders for entry. Weakness of identification and spotting process was exploited by the militants that speak volumes about the mechanical mindset of those responsible for designing and implementing these vital anchors of security.
Pakistan is currently undergoing various forms of violence which draws its inspiration from sectarianism and ethnic orientations as well. Militancy and terrorism has been consuming the country for more than a decade. The new government had initiated the peace negotiations with Taliban, with the intent to ensure peace and security in the country; however after months of directionless negotiations the government remains unsuccessful in bringing calm to the country. Fingers are being pointed towards suitability of the official team composed to engage the Taliban.
Irresponsible coverage by media came to lights, yet once again. One wonders whether media is doing it on account of simple naivety and lack of training or for some greater obnoxious objective. PEMRA proverbially collapsed while disposing off a case against Geo News. One wonders if such a shabby structure could ever regulate the conduct of media. Crisis Management Cell could not arrange timely media briefing on the subject, which is one of its basic tasks during such crisis, so media had a field day. Official media briefings are essential and their absence compounds the chaos and uncertainty. This allows media to act without any direction, requisite restrain or responsibility. Electronic media failed to demonstrate sense of responsibility and maturity in the live coverage of Karachi airport operation.
Certain information including move of own echelons, different steps or techniques used by own forces were required to be kept confidential, but some contents of such information also became available to handlers of terrorists through live coverage. Live coverage of security personnel moving in a particular direction was utterly irresponsible and disturbing as such movements were part of an ongoing operation, the outcome of which was yet to be decided. Such operations warrant that media should show sustainable patience, calmness, self-control and forbearance while conducting live coverage.
Generally media live coverage of an operations is allowed to support own forces to succeed in their assigned mission of eliminating the terrorists. Media failed to conform to this objective and went berserk, spreading information based on speculations. It is an obligation of media to create and maintain sense of hope, especially when the operation is still in progress.  There is certainly a difference between covering a sporting event and a serious terrorist attack. Media must follow a code of conduct as envisaged by professional ethics.
Taliban's siege of Karachi airport came as a rude shock to the entire nation. At least for quite some time, the peace process would remain in a standstill posture. Residents and officials in North Waziristan's main town of Miramshah claim that in anticipation to a major military operation, majority of foreign and local fighters had already left. "Most of them have gone deep into the mountains towards the Afghan border," a senior security official said. So outcome of the much touted military operation in North Waziristan is pre-decided.
Despite talks of fissures and in-fighting amongst their rank and file, the TTP has yet once again demonstrated its capacity of attacking the targets of their choosing and the capability to regulate the timing for such attacks.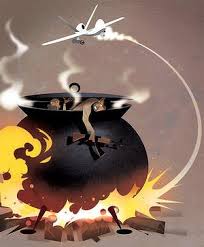 Alongside military option, the political process through dialogue must go on. No one had ever claimed that peace process would be an easy go; everyone had predicted it to be akin to one step forward and two backward. Recently, Pakistan's permanent representative to the UN has aptly commented that: "A piecemeal effort will not eliminate terrorism".
The Nation June 16, 2014.
Disclaimer: Views expressed are of the writer, and are not necessarily reflective of IPRI policy.