Chinese President Xi Jinping visited three South Asian countries (Maldives, Sri Lanka and India) from 15- 20 September 2014.The visit came at a very critical time when various transformations were taking place in the region. First, the visit started after the 14th SCO summit held in Tajikistan on September 12, 2014. Second, the visit coincided with the Indian President's visit to Vietnam. Third, Indian new government under Modi during its first hundred days has shown very aggressive foreign policy. Mr.Modi visited Bhutan and Nepal and recently concluded a very important visit to Japan. Fourth, the political transformation in Afghanistan peacefully settled and operation Zarb-e-Azb by Pakistan Arm Forces continued in North Waziristan. Lastly, the visit of President Xi in the context of South Asia remained incomplete as his visit to Pakistan was postponed due to prevailing political crisis in the country. The people of Pakistan were feeling gloomy that Chinese President could not visit their country and a huge Chinese investment for several mega projects such as China-Pakistan Economic Corridor has delayed. It is hoped that Pakistan being a close friend of China and strategically an important player in the region would be visited by President Xi soon after the political crisis is over.
President Xi Jinping started three-nation tour of South Asia from Maldives on September 15, 2013 where he explained his idea of a "maritime Silk Road" for enhancing regional economic cooperation in the Indian Ocean. He signed an agreement to upgrade the airport and build a bridge, a housing project and a road. It is important to note that the airport project was earlier given to an Indian construction giant, GMR but later cancelled in 2012 and gave it to China. Maldives received just over one million tourists last year and over 30 per cent of them were Chinese. Tourism accounts for more than a quarter of the $2.3 billion economy. For such a small country, the first visit in four decades by a Chinese leader would further enhance number of Chinese tourists.
After visiting Maldives President Xi visited Sri Lanka on September 16, 2014 where he was given a grand welcome by President Mahinda Rajapaksa .A crowd of schoolchildren greeted him waving Chinese flags, along with a group of 40 decorated elephants. In Colombo, he inaugurated the final phase of a coal-fired power plant financed by Beijing and built by China Machinery Engineering Corporation. Both the countries agreed to cooperate on the Colombo Port City project, a $1.3 billion plan to build an artificial island off Colombo. Both sides signed more than 20 bilateral agreements, including a pact to pursue talks on a free trade agreement. Both the countries have already completed a feasibility study in March 2014 on a free trade agreement, which is expected to give a boost to the island's top exports of tea and garments.
Sri Lankan President  Mahinda Rajapaksa has visited China seven times during his nine years in office. Last year, China surpassed the United States as Sri Lanka's second-largest trading partner behind India. China also recently replaced India as the largest investor in Sri Lanka. In his remarks, Sri Lankan President said that China's investments in Sri Lanka had provided every resident with cheap electricity. He announced that electric bills would immediately be cut by 25 percent. China's efforts to secure naval and maritime access throughout South Asia — a strategy called the "string of pearls. The way Maldives and Sri Lanka welcomed China's outreach in the region has raised concerns in India.
It is interesting to note that Sri Lanka is regaining its historic importance of getting attention by big powers. Once fought over by European powers, the country is now benefiting from the attention of Asia's biggest economies, drawn to its Indian Ocean location along some of the world's busiest sea-lanes. China last year overtook the U.S. as Sri Lanka's largest trading partner after India, and has described itself as an "all-weather" friend. Chinese government lending to the island nation has increased 50-fold over the past decade to $490 million in 2012, compared with $211 million combined from Western countries and lending agencies. The Chinese-financed $1.4 billion "Colombo Port City" project is its largest foreign-funded investment on record. President Xi Jinping, who has sought to restore China's prestige and historical links along the "maritime Silk Road" through Southeast and South Asia, visited Sri Lanka shortly after a visit by Japanese Prime Minister Shinzo Abe.
Deepening ties with East Asia would reduce the role of India in Sri Lanka's internal affairs.  Some analyst believes that China's growing influence in Sri Lanka might create some concerns both in Japan and India. This fact is evident from renewed Japanese interest in Sri Lanka and a more supportive approach by the new Indian government. Dushni Weerakoon, Head of Macroeconomic Policy at the Institute of Policy Studies in Colombo argues that   Sri Lanka could get benefit from its growing economic links with each of these countries if it acquires a careful balancing act on the political front.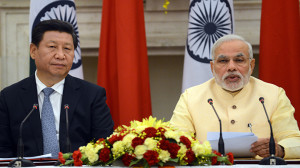 After a successful visit of Sri Lanka, President Xi on September 17, 2014 arrived in the western Indian city of Ahmedabad in Prime Minister Narendra Modi's home state of Gujarat  as part  of  his three-day visit to  India. It was his first trip to India since he took office in March 2013, and also the first state visit in eight years by a Chinese president. On the positive side, the biggest outcome of the visit is the strong personal chemistry between Xi Jinping and Narendra Modi.  Both countries signed twelve agreements. China committed to invest USD 20 billion in the next five years. There was an expectation that China would commit to investing close to USD 100 billion; perhaps, China remain cautious due to various Indian moves. First such move is Japan-India strategic bonding in the context of Japan's strategic diamond concept of building Japan-Australia-US-India strategic networking. Second, the timing of Indian President Mukherjee's visit to Vietnam coinciding with Xi's South Asia tour showed India's increasing involvement in South China Sea. As could be noticed during the summit, developments along the Line of Actual Control in Ladakh sector did affect the summit environment. The Maritime Silk Route (MSR) and the growing Chinese footprints in Sri Lanka and Maldives is a foreign policy concern for India. Both sides know that old points of friction are never far away. Bilateral trade, worth nearly $70 billion a year, is less encouraging than it looks. There is a sharp imbalance, since India imports valuable Chinese manufactured goods and exports mainly a few raw materials.
Keeping in view the unresolved hard issues between China and India the mistrust would not allow Xi Jinping and Narendra Modi to go beyond a limit in spite of their strong personal relations. The relationship between the two peoples and establishments would determine the future level of cooperation which presently seems to be missing in their relations.
Published by Pakistan Observer on 28th September, 2014
Disclaimer: Views expressed are of the writer and are no necessarily reflective of IPRI policy.