The beginning of 2015 has witnessed one of the worst political turmoil in the history of Bangladesh. Since last two months, the country has been badly paralyzed by the blockades of roads, railways, waterways and rallies staged by the Bangladesh Nationalist Party (BNP). The unrest was triggered by the banned protest launched by the BNP on January 5, on the eve of anniversary of controversial general elections held last year. The motive behind it was to remind BNP members and the rest of the country about the rigged elections 2014, in which almost 17 political parties including BNP had boycotted. The anniversary was marked as "Democracy Killing Day" by the protestors. Mrs. Zia ordered a crippling transport blockade which led to killing of more than hundreds of people and loss of national economy.
According to media reports, the country faced taka 1.2 ($15.5 bn) turmoil cost since January due to nationwide agitation and transportation blockade. Under this violence, over 1000 vehicles have been set alight, about 25 incidents of railway sabotage have occurred, more than 10,000 people arrested over allegations of vandalizing and torching vehicles and dozen have been shot down under Awami League's (AL) "shoot to kill strategy". Mr. Fakhrul Islam Alamgir, BNP secretary general was arrested in Dhaka; most of the political leaders are still hiding. A TV channel owner was arrested when it broadcasted a speech calling for governments overthrow by Tarique Rehman, son of Khaleda Zia, exiled in London. All these catastrophic events are reflective of an open political battle between the two Bengali Begums i.e. Khaleda Zia vs. Shiekh Hasina Wajid in which the poor local masses are paying the heavy cost of life and property.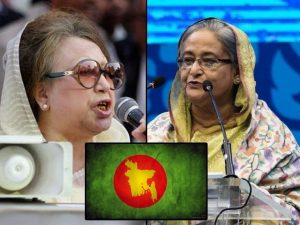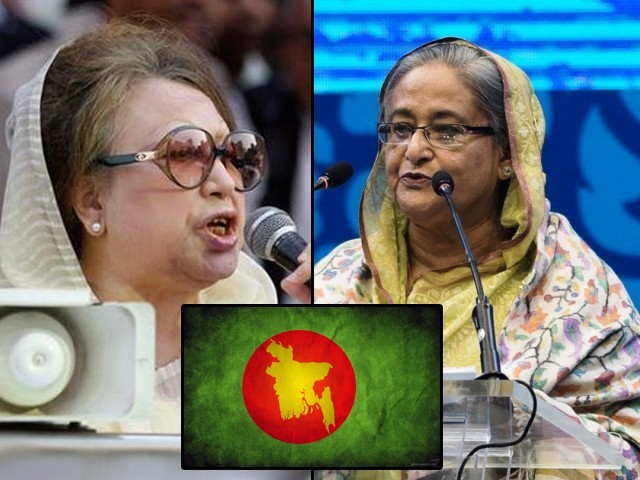 Ironically, Shiekh Hasina has celebrated Election Day as "Constitution and Democracy Protection Day" but since her term in office from 2008, she has used its mandate against opposition, amended constitution for her own political interests, thus undermining the true concept of democracy. Even the fourth largest party, Jamaat e Islami (JI) was barred from running into elections 2014, because of its Islamic character. In this political crisis, country has witnessed slow economic progression under AL. Shiekh Hasina has been playing her anti-Pakistan stance and also establishment of International Crimes Tribunal (ICT) for the military court trials for the war criminals of 1971, under which many Islamist leaders have been prosecuted, as steps to gain political advantage at home. AL deep rooted animosity for Pakistan lies since the time of Shiekh Mujeeb-ur-Rehman, due to political differences and sense of economic deprivation between the two wings. Shiekh Hasina considers India as its mentor, for its support to Bangladesh in 1971 war and alleges Pakistan for provoking unrest in Bangladesh and sponsoring militancy.
AL wants to destroy BNP as a political force before 2019 elections as it threatens AL's geo- strategic and political interests. AL mistrusts Mrs. Khaleda Zia for her pro-China and pro-Pakistan tilt and also for her soft policy on Islamist leaders which are opposed to AL's core agendas. Under AL, country's economic competence has become irrelevant, many Jatiya Party ministers are planning to quit form parliamentary opposition, and public sentiments have been hurt due to suspension of human rights and humiliation of Mrs. Zia. The political violence has alienated the neutral voters and AL's rigid policies to control the courts, security apparatus and press have further aggravated the situation. Arrest warrant for Khaleda Zia after she failed to appear in Court hearing against two corruption charges against her and hanging of JI leaders have added to national discord and polarization in the society.
PM Hasina has accused BNP Leader for anarchy and instability in the country. She claimed that BNP aims to topple the present AL government. BNP demands fresh and fair elections under neutral caretaker government, which stands abolished since 2011 under 15th constitutional amendment, which is not acceptable to the opposition parties particularly BNP. Last year BNP failed to engage government into meaningful mid-term elections. So this year it has got opportunity to condemn the 2014 controversial elections. AL believes 2014 elections in conformance with the Bangladeshi Constitution and BNP had taken its own decision not to participate in the polls and thus AL is not ready to meet up BNP's demand for fresh elections. BNP wanted Army to intervene but Armed forces have refused saying that it respects Bangladesh's constitution and laws. The military takeover will threaten the stability further, as the country has already witnessed 19 military backed coups and two military dictators rule since 1971.
At regional level, neighbors particularly Pakistan and India are silent over the crisis and unwilling to meddle in the political impasse. Both countries follow the policy of "not-to-intervene" in matters which are essentially domestic in nature. At international level countries like US, China, EU, UK and Canada have strongly condemned the political violence and ongoing unrest in Bangladesh. They have urged the government and the opposition for a political dialogue. The UN General Secretary Ban-Ki Moon has made an appeal to all political leaders of Bangladesh to seek a peaceful resolution to the current crisis for long term development and stability of Bangladesh. Although PM Hasina Wajid hopes that Bangladesh will able to overcome this manmade crisis but the current situation in Bangladesh will not change dramatically. These protests and violence will not push government for fresh elections in near future. Realizing the gravity of situation, constructive dialogue is required to break the current deadlock between opposition and the government. There should be adoption of inclusive, tolerant, participatory and democratic approach. The political parties must overcome differences and find a comprehensive strategy for speedy resolution to prevent any further damage to state structure and economy.
Published in Pakistan Observer on March 14, 2015 and in Bangladesh Development Reports (bdreport24) on March 16,2015.
Disclaimer: Views expressed are of the writer, and are not necessarily reflective of IPRI policy.