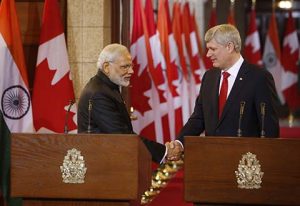 Indian Prime Minister Narendra Modi made his first two-day visit to Canada recently. It was the first bilateral visit in 42 years from an Indian Prime Minister to Canada since 1973. Several memoranda of understanding (MOU)s were signed in wide range of areas including civil aviation, rail regulation, space co-operation, education and health. The significance of this visit lies in the fact that it resulted in a historical nuclear deal between the two countries after two years of protracted negotiations, since the Canadian-Indian nuclear co-operation agreement signed back in 2013. Glancing back at history, an old nuclear co-operation exists between India and Canada. In fact, Canada has been India's mentor and partner in development of its civil nuclear programme. It played a key role in building first Indian nuclear reactor CIRUS in 1954. The nuclear co-operation between the two ended when India tested a nuclear weapon in 1974 using Canadian nuclear technology under the test named, "Smiling Buddha".
The bilateral visit has highlighted specific opportunities for Canada-India nuclear co-operation beyond just commercial exchange of nuclear reactor fuel. According to deal, Canadian largest uranium producing company, Saskatchewan-based Cameco has signed a $350 million agreement to provide 7.1 million pounds of uranium to fuel Indian nuclear reactors for a span of five years. The Canadian Nuclear Safety Commission has finalized a formal agreement with India regarding nuclear and radiation safety regulation. Both the countries have collaborated to do research in pressurized heavy water reactor technology and nuclear medicine. To address the concerns of Canadian Companies on India's Civil Liability for Nuclear Damages laws, sufficient mechanism for managing services and trade liability issues were also ensured by the Indian side.
The nuclear deal holds great significance for India as it contains one-sixth of world population and its energy demands are growing at a larger pace. Currently, it has 21 active nuclear power plants that only supplies 3% to the nation's power grid. Six new nuclear reactors known as the "Jaitapur Nuclear Power Project" under construction are due until 2017 while another 22 are in the planning phase. Apart from these domestic developments, India is also looking desperately for external viable energy resources and foreign assistance to fulfill its energy needs and requirements. It has already signed nuclear co-operation agreements with countries like Kazakhstan and Australia. It has imported around 40% of uranium between 2008-2014 from Russia, Kazakhstan and France. Under Modi's government, India is more focused to get membership of export control regimes like Australian group (AG), Missile Technology Control Regime (MTCR), Wassenar Arrangements (WA) and of Nuclear Supplier Group (NSG). India has nuclear commerce with US, France, Kazakhstan, Australia, Russia and Canada. Thus, Canada being the world's second largest uranium producer is one of the best options for India to do nuclear trade.
The strategic analysts believe that Indo-Canadian uranium deal will fuel nuclear arms race and lead to strategic imbalance in the South Asian region. The 2008 Indo-US nuclear deal has been initiator of this discriminatory behavior by nuclear community that favours India, a non-signatory of NPT. A special waiver was granted to India for nuclear co-operation and trade. Such nuclear deals work against principles of Nuclear Strategic Restraint Regime (NSRR) in South Asia. Pakistan having conventional asymmetry with India relies on its nuclear arsenals. The deal will compel Pakistan to step up its nuclear arms production. Pakistan will take tougher stance on FMCT, as it is already concerned about existing huge Indian fissile material stockpiles. Nuclear assurances by states like US for Indian membership of NSG and other export control regimes also infuriate countries like Pakistan and notably Iran, which West wants to bring under NPT norms and under strict IAEA inspection and monitoring. This duplicity is not only defeating the legitimacy of NPT but provoking sense of deprivation, insecurity and injustice in Pakistan. The other de-facto nuclear countries like North Korea, Israel and particularly Pakistan demands such NSG waiver facing crippling national energy crisis and security dilemma.
Thus, this Indo-Canadian uranium deal is another dent to NPT after the Indo-US nuclear deal of 2008. Such bilateral nuclear deals violate NPT agendas of global nuclear disarmament and non-proliferation. Even Canada's Green Party has expressed reservations over the uranium deal calling it direct violation of NPT. Some experts say the deal has fewer control and conditions that it actually demands from NNWS. Those countries having nuclear co-operation with India should consider some formal conditions before signing the deal like ceasing nuclear co-operation in case of nuclear testing by India, checking level of uranium supplied to prevent stockpiling for future needs and diversion for nuclear purposes, restriction on supply of nuclear technology and reprocessing facilities and to pressurize India for signing CTBT and FMCT. After the deal, India feels more confident that it has been globally accepted as a responsible nuclear member state by the nuclear arms community and among NSGs. The uranium deal has emerged as a hallmark achievement of PM Modi's visit. It has potential not only to meet India's energy demands but to open new era of "trust" in Indo-Canadian bilateral ties. However, the deal is discriminatory and violates the true spirits of NPT. It is a clear reflection that economic and strategic interests override nuclear norms and obligations in the prevailing global nuclear environment.
Published in The Daily Patriot, on April 30, 2015 and in Pakistan Observer on May O2,2015.
Disclaimer: Views expressed are of the writer and are not necessarily reflective of IPRI policy.