Indian Prime Minister Narendra Modi visited China from 14-16 May 2015. Chinese President Xi Jinping welcomed him in Xian, the capital of his ancestral home province Shaanxi. China is interested in enhancing economic cooperation with India to neutralize its expanding relations with Japan and the United States. By developing economic inter-dependency with India, China wishes to limit India not to become a part of US strategy of containing China. Mr. Modi while taking advantage of that is attracting Chinese investment to facilitate his domestic goals. A key focus of the visit, therefore, was to increase economic engagement and connectivity. China and India signed 26 business deals on May 16, 2016 worth more than US $22 billion in areas including renewable energy, ports, financing and industrial parks  in addition to 24 agreements  signed  between the two countries on May 15, 2015 worth of US $ 11 billion. During his visit to India in September 2014 Chinese President Xi Jinping, announced to invest US$20 billion in India within next five years.
A number of political dialogues have already been in place between the two countries. Some of the impotent ongoing dialogues include:  Afghanistan and counter terrorism, defense and economic cooperation. The countries' border dispute remains unresolved, but mechanisms have been put in place to manage it. They have cooperated in multilateral settings, including on climate change, trade, and global economic governance.
According to Indian Foreign Secretary S. Jaishankar the economic cooperation between China and India would be the game changer for their future relations. Although, the  bilateral trade volume between the two countries  has gone from just over $2 billion in  2001 to $65 billion in 2014 and the investment relationship has also grown as well, albeit more slowly. There has been an increase in people-to-people contact, with close to 800,000 people travelled between the two countries in 2012—four times the number a decade before.
The joint statement issued during Modi's visit to China stated the guidelines for political talks, border issues, cultural communication, economic and trade cooperation, and other areas such as issues related to cultural exchanges and climate change. The statement also stated proposals for solving the border issues, which include the start of annual visits between the militaries of the two countries and meetings and exchanges of border commanders on a regular basis. The guideline also called for the establishment of a military hotline.
The major outcome of Modi's visit to China was signing of 24 agreements covering diverse areas of cooperation such as : "establishment of consulates-general at Chengdu and Chennai",  "cooperation in the field of vocational education and skill development" ,  "cooperation in trade negotiations" ,  "enhancing cooperation in the railway sector" ,  "education exchange programme" , "cooperation in the mining and minerals sector", "Space Cooperation Outline" ,  "cooperation in the field of broadcasting" ,  " cooperation in the field of tourism",  " establishing India-China think-tanks forum" ,  "cooperation in the field of earthquake science and earthquake engineering" , "cooperation in the field of ocean science, ocean technology, climate change, polar science and cryosphere" ,  "the establishment of a centre for Gandhian and Indian studies and  a Yoga College " including  four  agreement on establishment of on sister-state and sister-city relations between Karnataka and Sichuan province; Chennai and Chongqing; Hyderabad and Qingdao; and Aurangabad and Dunhuang.
Modi was quite frank in his views without showing any regard to diplomatic delicacies. He expressed Indian concerns very candidly. While terming China-India relationship "complex" he accepted that were issues that trouble smooth development of relations between the two countries. He advised China to think strategically and "reconsider its approach" on various issues. While referring border dispute as an important issue he stated, "We must try to settle the boundary question quickly." The joint statement also highlighted a desire for enhanced exchanges between the militaries to better communication on the border and an exploration of whether/how to increase trade at the border.Modi said the Chinese leaders had been sensitive to India's concerns about its growing trade deficit with China, which reached $38 billion in 2014. As a partial solution, two sides agreed to create a high-level body dedicated to expanding economic relations in areas including infrastructure, information technology, pharmaceuticals, agriculture and manufacturing.
There was a major emphasis in Modi's remarks on building trust, and improving communication and connectivity, with a special emphasis on enhancing people-to-people ties. There was special mention of shared interests in West Asia and Afghanistan, as well as counter terrorism and climate change—the latter even got a separate joint statement. The main joint statement had an interesting reference to the two countries broadening cooperation in the South Asian Association for Regional Cooperation. China is interested to become a member of this organization but India traditionally has been hesitant for China to go beyond its observer role. Whereas, China has supported India's case for full membership of Shanghai Cooperation Organization (SCO).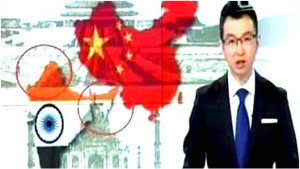 There was not any major breakthrough in China-India relations as major issues between the two countries remained unresolved. Modi failed to suggest any out of the box solution for resoling India's border dispute with China. The Indian social media criticize China's official TV channel CCTV for showing an Indian map without Jammu and Kashmir and Arunachal Pradesh while reporting on Prime Minister Narendra Modi's visit to China. It shows China official policy as it does not consider Arunachal Pradesh and Jammu and Kashmir as part India. China's official maps show Arunachal Pradesh as South Tibet and exclude parts of Jammu and Kashmir from Indian territory. In June 2014, the Chinese government showed Arunachal Pradesh as part of its territory in a new map. The Face book also depicted the Indian map without Jammu and Kashmir. Earlier the Indian government on April 22, 2015 banned the Al Jazeera network from broadcasting in the country for five days from 22 to 27 April, 2015 for depicting Indian map without Jammu and Kashmir. The Indian government has, on several occasions, criticized the international media for excluding Jammu and Kashmir from Indian map. In 2011, the Economist was forced to place stickers over its map of the region that showed the state's contested boundaries. The magazine later accused the government of censorship.
The two important visits, US President Obama's visit to India in January 2015 and Chinese President Xi's visit to Pakistan in April 2015, have drawn a clear line about the real postures of India and China in the region. With Obama's visit to India, Mr. Modi was convinced that the U.S. was not just a strategic partner but was India's principal strategic partner in the world. In order to contain China's influence India is not only giving priority to its neighborhood but it has also expanded engagement with many of the countries in China's periphery, including Japan, South Korea Mongolia and Vietnam.  Mr. Modi's determination to play a greater role in Asian affairs, a policy known as "Act East," coincides with Mr. Obama's own so-called pivot to Asia. The two countries had been moving toward consensus on China for years, but that was particularly solidified in 2014 due various developments. China has been unhappy with the joint statement on Asia Pacific by India and US and also raised objections to inclusion of India in the Nuclear Suppliers Group (NSG) against Obama's supporting of Indian case. President Xi visit to Pakistan from 20-21 April 2015 was very important for setting future direction of China-Pakistan relations especially in the context of building 46 billion dollar China-Pakistan Economic Corridor.
Pakistan Observer, May 24, 2015
Disclaimer: Views expressed are of the writer and are not necessarily reflective of IPRI policy.