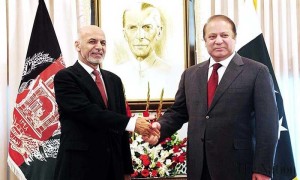 Afghanistan and Pakistan enjoy a unique relationship that has many shades which keep morphing into each other in a number of ways; at times throwing up diverse and daunting challenges, and at times oozing out comforting brotherly sentiments and environment. Afghanistan-Pakistan, bilateral relationship appears to have come of age, however the gains are fragile and are not irreversible—hence needing careful handling and nurturing.
Prime Minister Nawaz Sharif during his visit to Kabul on May 12, outlined three principles in the context of Pakistan-Afghanistan relations: we will strictly adhere to the policy of non-interference; we will not allow our respective territories to be used against the other; and Afghanistan's enemies will be treated as Pakistan's enemies and Pakistan's enemies will be treated as Afghanistan's enemies. These principles were reiterated once again during Prime Minister's address to the concluding session of the Envoys Conference on 11 June 2015.
The 11th Senior Officials Meeting (SOM) of the Heart of Asia-Istanbul process was held in Islamabad on May 25, 2015. The participants reiterated their support to the peace and reconciliation process in Afghanistan and the Afghan National Unity Governments' reform agenda and programmes. The role of the region in supporting the Afghan led and Afghan owned peace progress was highlighted and the participants committed to support this process. Economic connectivity in the Heart of Asia region was discussed as a top priority for regional prosperity and long term stability and security. It was emphasized that all parallel projects and initiatives must be pursued with a vision of complementing each other to enhance regional economic connectivity and development, which will be beneficial to all. Pakistan is hosting the next ministerial meeting later this year. Pakistan views with great interest China's emergence as a lead peace maker in Afghanistan. Both China and Pakistan, subscribe to the cardinal doctrine that Afghan peace process should be Afghan owned and Afghan led—while essentially taking Taliban entities onboard. Pakistan also subscribes to the notion that international community should continue to support the Afghan government economically, alongside assisting it in building the capacity of Afghan National Security Forces in counter-insurgency and counter-terrorism operations.
Currently, both countries face common challenge of overcoming militancy of various brands to ensure peace and stability in Afghanistan that would soon have ripple effect into Pakistan. Departure of foreign forces has thrown up new dilemmas for the two countries. However, if prudence hold the course, most of challenges could turn into opportunities. President Ashraf Ghani has emerged as a mature statesman. Despite heading a difficult coalitions, so far he has been able to carry along his wobbly political partners. Credit for this also goes to the CEO Dr Abdullah Abdullah who has given up his political style of yester-years. Both leaders seem to have realized that they have to carry along each other for the betterment of their country.
Afghan diplomacy is no longer conducted through media, and Karzai era "blame Pakistan" rhetoric is now a distant memory. The new Afghan government has taken positive steps for addressing some of Pakistan's concerns by reversing 'India only' approach for getting military equipment and training of AFNS personnel. However, these steps are not without opposition from within Afghanistan; and obviously India is not expected to like these either.
Pakistan is supporting the Afghan peace process by facilitating contacts between Ghani government and various political resistant groups. Back channel contacts between the Taliban and Afghan government appear to have gathered enabling critical mass to shed the denial mode and turn into formal intra-Afghan political dialogue. Latest such rounds of contacts were held in Oslo and Dubai during first week of June; another broader round is slated for Doha in July. With the beginning of new fighting season in Afghanistan, Pakistan has distanced itself from the ongoing Spring Offensive and has equated it to acts of terrorism
Pakistan and Afghanistan will have to work in unison to make behind the scene effort between the insurgents and the Afghan government an enduring success; in all likelihood, it will be a give and take enterprise. Starting point could be appointment of non-controversial Taliban leaders as provincial governors and also giving them compatible ministerial appointments. Appointment of a towering, yet non-controversial person as Vice President may help in breaking the ice. In parallel, Afghan and Pakistan governments need to find a middle ground for creating an area of convergence in the context of addressing Taliban's concerns about Afghan constitution through a consensus based process. At the same time, Taliban should be encouraged to incorporate flexibility in their approach and think about making their constitution and foreign troops' related preconditions as end objectives of intra-Afghan political settlement. This does not mean shifting of goal posts, rather it should be seen as a matter of adjusting the timings.
Pakistan has all along been contributing towards achieving stability in Afghanistan. Pakistan has facilitated the Doha process and other initiatives for narrowing the gaps between the two sides. Moreover, for addressing the concerns of Afghan government about presence of militants in North Waziristan, Pakistan had started a gigantic military operation, Zarb-e-Azb, in North Waziristan Agency to eliminate and or/flush-out the Taliban and other extremist outfits holed-up in their last stronghold in Pakistan. Success of this year long operation, alongside its offshoot Operation Khyber II, has been acknowledged by everyone.
Recent intelligence sharing agreement between the intelligence agencies of the two countries—Inter Services Intelligence (ISI), and National Directorate of Security is a landmark decision that provides a structural framework for tactical operations against militants. This arrangement is likely to go a long way in jointly countering terrorism. Certain elements across the border are opposed to this improved relationship. Hamid Karzai and his close aides, are creating obstacles in Ashraf Ghani's effort towards normalizing ties with Pakistan. Karzai has strongly condemned the recently signed Memorandum of Understanding between the two countries about intelligence sharing on the pretext that it was against Afghan's national interest. He had earlier opposed Ghani's decision to send army cadets for training to Pakistan. While in Kabul Indian National Security Advisor also gave a statement against the MoU.
Keeping in view the complexities of the relationship, especially the deep seeded mistrust, all is not expected to be well between the two countries, nor are all ills expected to get well soon. However, there certainly is a new found political will on both sides to improve the relations, and this will is the ray of hope for the people of two countries. Pakistan is of the view that peace and security in Pakistan is intricately linked with calm and stability in Afghanistan and vice versa. Therefore, Pakistan is keen to work with Afghanistan to end the militancy through a political process, and improve bilateral relations in the overall comprehensive context.
Visit of President Ghani to Pakistan, last November, had opened a new phase in Pak-Afghan bilateral relations. Likewise, Prime Minister Nawaz Sharif's visit to Kabul on May 12, enabled the leadership of the two countries to recommit themselves to their common resolve to remove their mutual doubts and misgivings that have plagued the relations and to embark on the road to a tangible and meaningful cooperation between the two countries.
Time is now ripe for mobilizing robust guarantors for underwriting the upcoming intra-Afghan political understanding. Beijing is already emerging as an appropriate venue for such talks. Pakistan supports Beijing's active participation in the evolving peace process, as it has the credibility of being an honest peace broker as well as potent guarantor. UNSG also needs to step in and facilitate P-5's role as guarantor to the final political settlement in Afghanistan.
A variant of this article carried by The Nation, on June 15, 2015.
Disclaimer: View expressed are of the writer and are not necessarily reflective of IPRI policy.