A four-member Chinese Delegation visited IPRI on August 11, 2016. The delegation comprised of Mr. Chen Gong, Founding Partner and Chief Researcher, ANBOUND, Mr. Tang Mensheng, Director of Pakistan Research Center, Peking University, Ms. Zhang Yuan, Researcher of International Studies, ANBOUND and Ms. Wang Yi, Director of Information Department, ANBOUND. From IPRI, Dr. Fazal ur Rahman, Senior Research Fellow, Mr. Muhammad Munir, Research Fellow, Mr. Khalid Chandio and Mr. Muhammad Nawaz, Research Officers, Ms. Aymen Ijaz and Mr. Khurram Abbas, Assistant Research officers attended the meeting.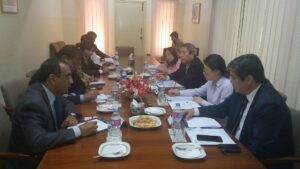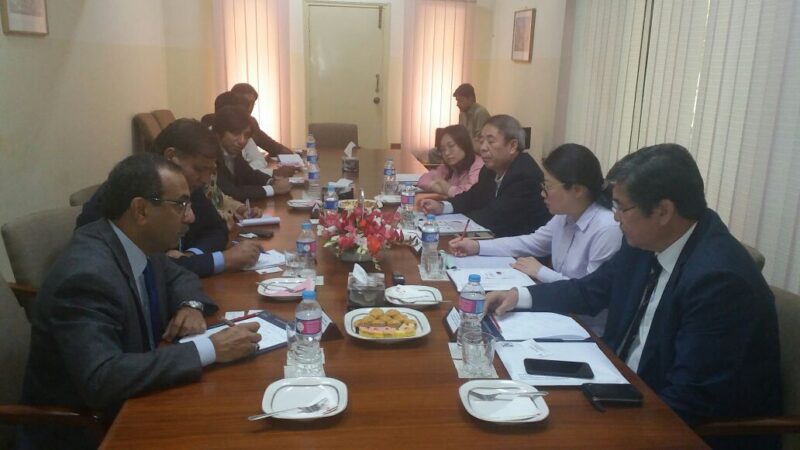 Dr. Fazal ur Rahman, Senior Research Fellow IPRI warmly welcomed the Chinese delegation. He said that IPRI always looks forward for exchange of views on issues of mutual interest with its Chinese counterparts. Some momentous changes are taking place all around Pakistan. The protracted conflict in Afghanistan has impacted peace and stability in the region. In a quadrilateral group, Pakistan and China are collaborating to make efforts for reconciliation in Afghanistan. On its eastern border, Pakistan is having problematic relations with India because of the recent unrest in Kashmir and India's brutal acts in suppressing Kashmiris freedom struggle. Pakistan-US relations have also been strained due to differing perceptions on the strategy of fighting War on Terror (WoT). Under Coalition Support Fund (CSF), while Pakistan was expecting already committed US contributions and supply of military equipment, the US Congress has turned down the Pakistani request and stopped supply of F-16 jetfighters to Pakistan. This has negatively impacted Pakistan-US relations. Pakistan and the US are now trying to improve their relations. A US Senators' delegation under John McCain has recently visited Pakistan and acknowledged Pakistan's efforts in fighting terrorism. At foreign ministers' meeting at ASEAN Regional Forum, Pakistan's Foreign Affairs Advisor, Sartaj Aziz, met with John Kerry and they discussed various bilateral issues. As per international support for fighting WoT, it is a mutual concern of Pakistan and China to deal with the menace of terrorism and both countries are working together on a mega project-China-Pakistan Economic Corridor (CPEC). Pakistan has developed national consensus on the project and security is an important aspect of this project for both Pakistan and China. To elaborate on Pakistan's efforts to ensure security of CPEC, Mr. Khurram Abbas, Assistant Research Officer IPRI, made a presentation on "Pakistan's Countering Terrorism and Extremist Efforts."
In his presentation, Mr. Khurram said that Pakistan has played an active role in countering and combating extremism and terrorism at national, regional and global levels. More than 80,000 civilians and 6000 security personnel have sacrificed their lives in WoT. The war dented over $ 107 Billion to Pakistan's economy. Therefore, Pakistan has adopted a two prong strategy to fight terrorism. Under hard approach, military operations such as Operation Rah-e-Rast, Operation Rah-e-Nijat, Operation Zarb-e-Azab have been conducted in the tribal areas and a comprehensive National Action Plan (NAP) has also been launched by the Government of Pakistan that focuses on eradication of reasons behind violent extremism as well as improving the capacity of law enforcement agencies. Whereas, soft approach has been used by introducing social sector development activities and economic incentives for the rehabilitation and reintegration of affected population especially internally displaced people (IDPs).
He further said that the Pakistani government and Pakistan Army have been trying to win hearts and minds of the people through initiatives such as FATA Youth Package, increasing overseas employment of FATA youth and infrastructure development activities by Frontier Works Organization (FWO). The government has also invested in the human resource development of the FATA region through Interest Free Micro-Lending activities and establishment of training and technical institutes such as Wana Institute of Technical Training (WITT) and Women Skill Development Centre (WSDC). To improve economic situation in FATA, the government has established various industrial estates at different locations. The construction of Bannu-Miranshah-Ghulam Khan Road will play a key role in the development of the FATA region and its people. Industrial Estates will bring prosperity in the region through sale of products in domestic and foreign markets.
Mr. Khurram concluded the presentation by stating that extremism should not be linked with any religion, nationality or civilization. Major factors causing extremism and terrorism such as prolonged unresolved conflicts including the Kashmir dispute, Palestinian conflict, racial prejudice and discrimination, political marginalization, and exclusion from socio-economic development based on ethnicity, nationality, gender, and religion or beliefs should be addressed. Pakistan believes that extremism is an international crisis which calls for international cooperation and joint efforts to counter the global threat of extremism and terrorism.
From Chinese delegation, Mr. Chen Gong, Founding Partner and Chief Researcher, ANBOUD, said that Pakistan should implement anti-terrorists policy at societal level. In Pakistan, problem is at social level and the internal system faces social challenges. Pakistan should take long term measures to prevent itself from terrorist incidents in future. There are three approaches to prevent terrorist incidents such as destroy terrorist organizations, to remove their bases and sanctuaries and to build organizations which could effectively conduct operations against the terrorist organizations. Pakistan has conducted such military operations in FATA region and the results achieved so far are just the beginning of the process. China and Pakistan should work together to fight against terrorism.
While talking about Chinese experience with terrorism, Mr. Gong said that in past 100 years of governance in China, the Chinese government has experienced the role of people very important at social and economic level to fight against terrorism. In China, the economic development has been identified as most important factor to prevent terrorism. It can be regarded as the effective movement from the social side as the Chinese people have shown willingness to join economic activities. People are not always willing to sacrifice their lives for money. Both, the people and their organizations want to get benefits. Hence, the Chinese government enabled people to create strong spirit against terrorism. The Pakistan government should also improve lives of people and provide them with equal social and economic rights. If there is economic development and social fairness then there is no space for terrorism to survive. Pakistan should get compensity and support from international community to secure success in anti-terrorist activities. Infact, stability is important for completion of CPEC project and development of this region.
Mr. Tang Mensheng, Director of Pakistan Research Center, Peking University said that over decades Pakistan has paid heavy cost in fighting terrorism. He said that terrorism may be related to religion but this connection is complicated and puts national identity at stake as the terrorists value their religious ideology more than their national identity. For China, terrorism is not related to religion and it is the Chinese stance. The Pakistani government and the military troops have taken positive steps against terrorism in the tribal areas. The complex tribal culture is one of the reasons behind terrorism in Pakistan.
Mr. Mensheng suggested that the researchers in Pakistan should carry out research on tribal culture and propose suggestions to government to make policy. Scholars should do more communication with government officials about the tribal culture. Pakistan should consider the development of its people at the social level and also the pattern of social and economic development of tribal culture to fight against terrorism. The Pakistani media should address issues related to conflicts in the narratives regarding terrorism and show unity towards anti-terrorism initiatives of the government. CPEC should be given top priority by Pakistan. The economic development should be used to create spirit against terrorism. All parties in Pakistan should focus on economic development and temporarily put aside other challenges and regional conflicts.
Ms. Zhang Yuan, Researcher of International Studies, ANBOUND said that Pakistan has suffered in three wars; British-Afghan war, Soviet Invasion and then 2003 US war in Afghanistan. Pakistan's strategic position should not be used for security purpose only but for the economic development as well. CPEC is not only about a road for economic integration between China and Pakistan but it would help Pakistan utilize Chinese market and achieve a sustainable economic development. Pakistan and Chinese scholars should conduct detailed research on CPEC and on the tribal culture in Pakistan. The tribal identity among the tribes is stronger than religion in these tribes. Pakistan should work to transform this tribal identity to national identity to eliminate terrorism in its all forms and manifestations.
Dr. Fazal concluded the meeting by saying that there is a need for more engagement between young Chinese and Pakistani scholars. He invited young scholars from ANBOUND under Visiting Foreign Scholar Program of IPRI. The Chinese delegation offered IPRI to send its scholars to visit China for research. The two sides agreed that Pakistan and China should work together against terrorism and focus on economic development for peace and stability in the region.