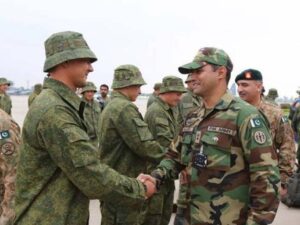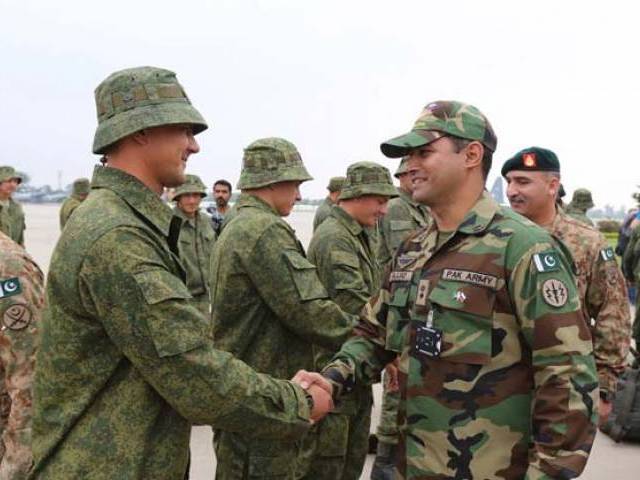 Prime Minister Narendra Modi's Pakistan bashing on BRICS forum signifies what? Indian obsession with Pakistan? Or how important is Pakistan for India? that the latter employs every regional/international platform to isolate Pakistan. Like the election campaign, Pakistan is the top most agenda for the BJP. The approach to diplomatically isolate Pakistan seems to be the prime goal for the Indian leadership. Indian psyche still revolves around the old Cold War politics. Indian opposition to Pakistan-Russia joint military exercise reflects this trend. Pankaj Saran, India's Ambassador to Russia said: "We have conveyed our views to the Russian side that military cooperation with Pakistan, which is a state that sponsors and practices terrorism as a matter of state policy, is a wrong approach. It will only create further problems."
In 2014, Narendra Modi was elected as Prime Minister of India, the noted Indian historian, Pankaj Mishra, wrote that "India is entering its most sinister period since independence in 1947". Prime Minister Narendra Modi's has threatened to dam Pakistan's rivers. India has blamed Pakistan for the attack on Indian Army camp Uri. India has boycotted to attend the 19th SAARC summit, scheduled in Islamabad. India has tried to pressurize the smaller SAARC states and gang up against Pakistan, thus, economic realities have been downgraded to political considerations. The unfounded Indian claims of surgical strikes within Pakistan territory were also a part of an unabated anti-Pakistan campaign of Modi's political doctrine. Modi's anti-Muslim/Pakistan policy stems, in part, from an ideological approach, an extension of his domestic Rashtriya Swayamsevak Sangh (RSS) base. Pakistani artists have performed in Indian movies, but the interaction has not been useful in mollifying the belligerence. The Indians' supporting the Pakistani artists are being harassed.
The agenda behind all such anti-Pakistan moves is to isolate Pakistan. India's negative policies towards Pakistan and opposition to regional integration efforts are also a hurdle towards regional peace and development. As Pankaj Mishra wrote, "Modi is a life-long member of the RSS, a para-military Hindu organisation inspired by the fascist movements of Europe". The Indian atrocities in Indian Held Kashmir (IHK) have heightened the regional tensions. The Kashmir movement has entered a crucial phase which is evident from the fact that after almost hundred days of daily protests, more than seventy days of curfew across the state and very high number of Kashmiris martyred, blinded and wounded, there is still no let-up in the protests. The projection of Kashmiri freedom struggle as a terrorist drive (atankwadi) is part of a campaign to justify the killings in the IHK by the Indian security forces. The Indian aggressive posture has intensified extremist tendencies, it is detrimental for regional peace. The Hinduvta supremacy might also provoke other ethnic and communal communities in India.
Indian isolationist policy towards Pakistan in the backdrop of the regional developments seem to have failed miserably. New allies, alliance structures and regional groupings are the prevailing trends. Russia skeptical of US-India strategic partnership is trying to re-identify allies. The Pakistan-Russia defence ties reflect this trend, both the countries held the first ever joint military exercise 'Druzhba-2016' (Friendship-2016). The exercise was held in Khyber-Pakhtunkhwa, around 200 military personnel from both the countries participated in the joint exercise. Earlier, Russia held maritime exercises with Pakistan (2014 and 2015). Russia has removed the embargo on the sale of military equipment and arms to Pakistan, the country which fought wars with Moscow's ally India. In July 2015, Pakistan and Russia also signed a deal to buy four Mi-35 attack helicopters. Another development is the China-Pakistan Economic Corridor (CPEC), often referred as the 'game changer'. Pakistan's Gwadar port and CPEC are an integral part of the Chinese led One Belt One Road (OBOR) initiative. With the implementation of CPEC, Pakistan could become a major world channel for petro-chemical trade.
Prime Minister Modi's history of communal violence and anti-Pakistan rhetoric made his way to the Prime Minister's office. The Hinduvta ideology won the Indian masses but it cannot mould the regional as well as global audience. Pakistan's strategic capability and regional significance is a reality. Indian policy to isolate Pakistan will never be successful. India sooner or later will have to give up this Bollywood saga.
Amna Ejaz Rafi
Researcher, Islamabad Policy Research Institute (IPRI)
Published in Pakistan Observer, October 25, 2016