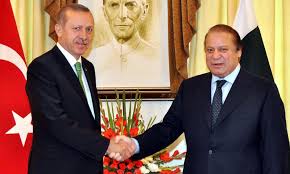 The recent two-day official visit of President of the Republic of Turkey, Recep Tayyip Erdogan to Pakistan would open a new chapter of friendship in Pakistan-Turkey relations. Both countries share deep religious, cultural and historical linkages and cordial relations since the establishment of diplomatic ties in 1947. Pakistan and Turkey have focused on expanding their trade cooperation and economic relations as the trade volume between Pakistan and Turkey remained $500m during 2014-2015.
Conclusion of the Comprehensive Bilateral Free Trade Agreement (CBFTA) and decision to complete negotiations process by end of 2016 would improve their economic relations in future. Two countries have expressed firm resolve to cooperate under framework of Pak-Turkey High Level Strategic Cooperation Council, whose forthcoming 5th Session is scheduled to be held in Turkey soon. Working groups under strategic council are already engaging in trade, banking, communication, culture and energy sectors etc.
During the visit, the two countries stressed upon cultural collaboration through increased people to people contacts by enhancing tourism, educational exchanges, preservation of historical sites and establishment of Turkish and Urdu cultural centres between the two countries. Pakistan and Turkey would develop a long-term and comprehensive defence co-operation framework and would also enhance ties in the Pakistan-Turkey maritime security. There would be frequent consultation on bilateral issues between Foreign Ministers and Foreign Secretaries which would be expanded to OIC level for the commencement of joint efforts in the international fora, particular at UN, to raise voice for Muslims and especially for the people of Kashmir.
Turkey has appreciated Pakistan's efforts in the Operation Zarb-i-Azb and fight against terrorism. President Erdogan have warned Pakistan about Feto, Fethullah Terror Organisation, which can be a security threat to Pakistan, as in July 2016, it attempted a failed coup in Turkey and tried to destabilise the Turkish govt. Pakistan and Turkey have called upon international community to combat terrorism and Islamophobia by joint measures at international forums. Pakistan and Turkey have decided to collaborate against threats of IS, al-Qaeda and terrorist organizations. The two sides also raised concerns regarding exceptionalism by the nuclear community which is not only violation of the true spirit of non-proliferation objectives but is also detrimental to South Asian strategic stability.
In short, this bilateral visit by the Turkish President is a positive step in Pakistan-Turkey relations. As the PM Nawaz Sharif has said that 2017 marks the 70th anniversary of Pak-Turk diplomatic ties and both the countries would celebrate it in befitting manner. Therefore, leadership of Pakistan and Turkey have shown serious commitment to transform their strategic and economic partnership into realties of 21st century through enhanced cooperation in the fields of energy, economy and defence etc. The two countries are determined to work together for regional connectivity, stability and robust economic cooperation.
The article was carried by The Daily Patriot, November 18, 2016 and by Pakistan Observer, November 26,2016.
Disclaimer: Views expressed are of the writer and are not necessarily reflective of IPRI policy.