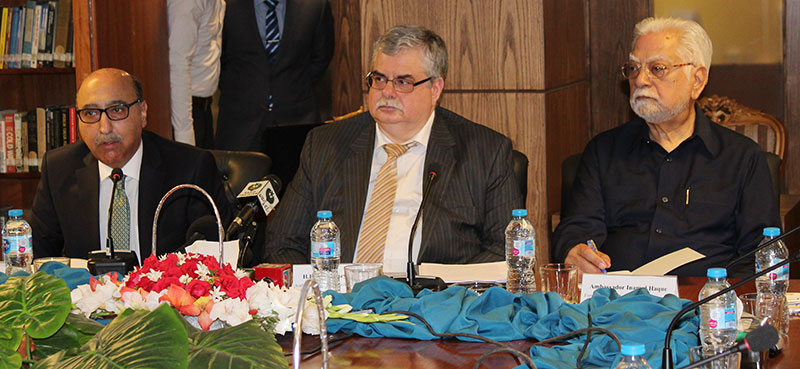 Post Event Report
Ambassador Lecture 
on
"Pakistan-Russia Relations: Is there a New Trajectory?"
Organised by: Islamabad Policy Research Institute, (IPRI)
Date and Venue:  August 1, IPRI Hall, Islamabad
Guest Speaker: Ambassador Alexey Dedov, Ambassador of the Russian Federation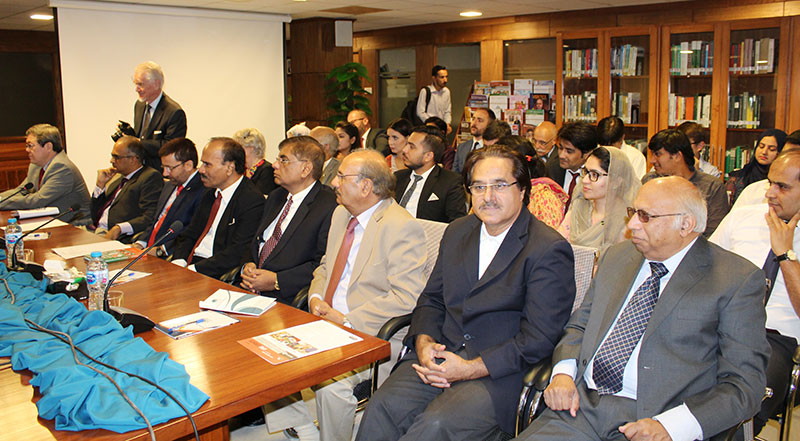 Salient Features:
Historically, Pakistan-Russia relations have witnessed many ups and downs. Their relations saw some signs of improvement in the shape of signing of the first bilateral Agreement on Cultural and Scientific Cooperation in 1965. This was followed by Moscow's crucial intermediary role in ending the Indo-Pakistan war through the Tashkent Agreement. The setting up of the Steel mill in the 1970s was another tangible help provided by the former Soviet Union to Pakistan.
In the post-Cold War era, both countries entered into a number of investment, trade and industrial agreements following a visit to Russia of the former Prime Minister of Pakistan, Nawaz Sharif. This era along with evolving geopolitical trends have created a window of opportunity for Islamabad and Moscow to improve their bilateral relations. Consequently, the relations of both countries are moving slowly but steadily in the right direction.
Former President Musharraf's visit to the Russian Federation in 2002 led to the formation of the institutionalized-relations between Islamabad and Moscow. As a result of Musharraf's visit to Moscow, the Joint Working Group on Counterterrorism, and the Joint Working Group on Strategic Stability were established.
Pakistan and Russia see their strategic and economic interests converging in the face of post 2014 regional security environment. Both envisage a role for themselves in achieving peace and stability in Afghanistan and economic cooperation in the region.
The significance of Pakistan is determined by its role in regional politics, its influence in the Muslim world and its geostrategic position. Besides, its importance to Russia is not just limited to counterterrorism and counter-extremism, but also encompasses economic relations, military ties, infrastructure development and energy cooperation.
Pakistan and Russia have been warming up their relations over the last decade, with top political and diplomatic engagements. Pakistani political leaders have met with their Russian counterparts on the sidelines of Brazil, Russia, India and South Africa (BRICS) and Shanghai Cooperation Organization (SCO) summits. These interactions have given an added impetus in Pakistan and Russia bilateral relations.
In order to enhance economic cooperation between Pakistan and Russia, Intergovernmental Commission on Trade, Economic, and Scientific and Technical Cooperation (IGC) was established in 2000. The IGC is working hard to build business ties between two countries. Russia believes that working together in IGC and other bilateral mechanisms will help expedite the implementation of bilateral projects.
There is an understanding between the Pakistan and Russia to enhance and diversify bilateral economic and business cooperation. There are ample opportunities in the field of railways, information technology, steel industry, optical fiber and energy sector. Several MoUs are already in place between them for enhancing cooperation in science and technology, banking and transport of Liquified Natural Gas through gas pipeline.
Pakistan, Russia Business Forum (PRBF) established in 2009 to promote commerce and tourism. Another such forum, "Business Council for Promotion of Trade with Pakistan" is quite effectively working since its establishment in 2011.
Moscow is willing to revive the sagging fortunes of Pakistan Steel Mill if Islamabad comes up with a clear policy regarding its fate. However, Pakistan is not clear whether it wants to reconstruct, privatize or partially privatize the Steel Mill. There is hope that the current government in Pakistan would come up with a concrete policy.
Financial counterclaims between Pakistan and Russia on the compensation and freight payments of the Soviet period are some of the factors that impede mutual economic cooperation and affect state credits between them.
In 2015, Russia agreed to build the North-South Gas Pipeline, which would extend over 1100 kilometres from Lahore to Karachi. Furthermore, Moscow and Islamabad have been in talks since 2017 regarding the supply of Liquefied Natural Gas (LNG) to Pakistan, which would help the latter to meet its energy demands.
The growth level of Pakistan-Russia bilateral trade is satisfactory. It rose by 33.6 per cent during 2017 (541 million) and later reached to 82 per cent during the first five months of 2018 (450 million).
Pakistan and Russian renaissance can be seen in 2014 when Russia removed its arms embargo against Islamabad and the two countries had agreed on the sale of 20 Mi-35Ms. Pakistan signed a defence deal with Russia in 2015, purchasing for four Mi-35 'Hind E' attack helicopters, which were delivered to Pakistan in August 29, 2017. Moscow and Islamabad clearly intend to deepen military and trade cooperation as both also intend to conduct and to improve political, military, and security dialogue.
Joint military exercises are an example of Pakistan and Russia's conjoined interests. The naval forces of both countries participated in 'Arabian Monsoon' exercises in 2014 and again 2015. In 2017, Moscow's naval forces' also participated in multinational naval exercise AMAN 2017 in Karachi.
Pakistan and Russia believe that transnational mega projects are paving the way for regional integration. Pakistan's importance cannot be ignored in Eurasian integration and its geo-strategic location plays a pivotal role in the Belt and Road initiative, as well as in Eurasian Union integration.
Pakistan is facing the challenge of terrorism and it has launched effective operations like Operation Radd-ul-Fasaad against the menace. Russia acknowledges Pakistan's achievements in the fight against terrorism and efforts to bring stability in the region. Moscow also supports Islamabad's stance on the war against terrorism and agrees on collective regional efforts to eliminate terrorism for ensuring regional peace. In this regard, Russia extends its full support to Pakistan's efforts in eliminating terrorism. It intends to help Pakistan under the framework of the SCO.
Keeping in view the mutual interest of regional stability, in September 2016 a counterterrorism exercise codenamed 'Druzhbha-2016' was held between the Russian and Pakistani Special Operations Forces in Cherat.
Pakistan became a full-fledged member of the SCO in June 2017, increasing interaction with Russia and giving both countries an opportunity to work together on issues of common interests and mutual concerns.
Russian foreign policy is driven by its desire to create a geo-strategic stability and Pakistan's role is pivotal in that regard. Pakistan and Russia aspire for a multi-polar world. They share aspirations of a world order that cherishes international law and national sovereignty and jettisons interference in the domestic affairs of other states under the garb of humanitarian intervention. Russia's main objective is maintaining geopolitical stability in the world rather than becoming and behaving like a super power.
Afghanistan presents a gloomy security situation in the region. Russia and Pakistan are affected by the political instability of the country. Peace in Afghanistan will yield dividends for all regional states. That is why, Pakistan's role is vital in establishing peace in Afghanistan along with Russia and China; the three countries are committed for a peaceful diplomatic Afghan-owned and Afghan-led solution to the issue.
Pakistan and Russia are working together to dismantle the network of illicit drug trafficking under the frameworks of SCO and Joint Working Group on Strategic Stability.
The Nuclear Supplier Group (NSG) takes its decisions based on consensus and if member states come up with a consensus on Pakistan's case, then Russia would have no objection to Pakistan getting membership in NSG.
There is ample potential for Pakistan and Russia to collaborate more in the field of defence and security. The strategic partnership between both the countries will define a positive shift towards the South Asian Strategic environment.
Russia may play a mediating role in ending the stalemate between Pakistan and India. However, Russia is trying to facilitate the process by engaging both countries. It has already been trying to build trust between India and Pakistan through the SCO forum. Once trust is restored, Pakistan and India would be able in reaching to final solutions of their bilateral disputes.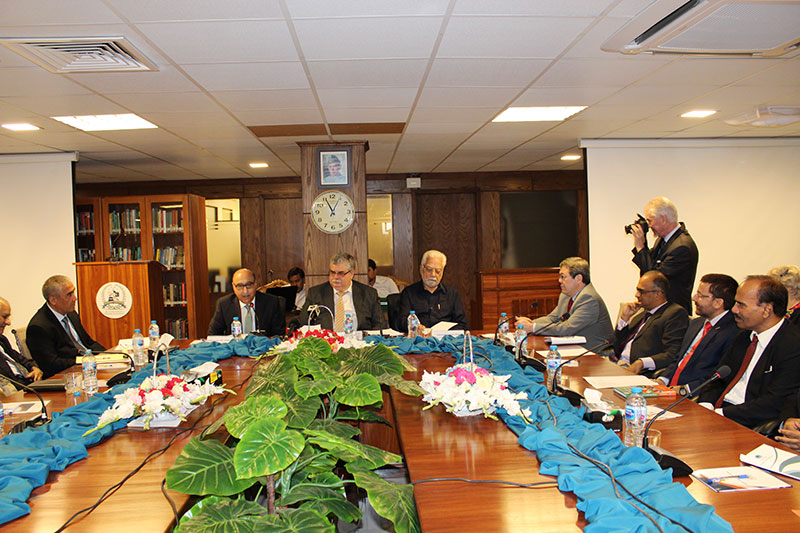 Recommendations
The increasing significance of geo-economics in the contemporary era provides Pakistan and Russia an opportunity to diversify their economic ties. This will eventually increase the prospect of economic interdependency, which requires from Russia and Pakistan to work together in forging greater economic integration for regional peace and prosperity.
In order to enhance the economic ties, the upcoming government in Pakistan should engage the Russian counterparts at high levels and propose concrete economic projects to them.
A strong and stable Pakistan is in Russia's favour. Providing political, economic and military support to Pakistan would help in improving the country's economic and overall security environment of the region.
Keeping in view the complicated situation in Indian Occupied Jammu and Kashmir, Pakistan and India should find a solution on a bilateral basis in light of the Simla Agreement and the Lahore Declaration which they signed and mutually agreed on.
Pakistan's admission into the SCO as a full-fledged member is a positive development. The SCO offers a platform to Pakistan and Russia to develop socioeconomic cooperation. It could be further utilized to build stronger bilateral relations between both counties to secure their geo-strategic and geo-economic interests.
The biggest fear among the regional countries, including Russia and Pakistan is the emergence of the Islamic State of Iraq and the Levant (ISIS) in Afghanistan. Pakistani and Russian security interests are increasingly intertwined. Both states should work in close cooperation to address the growing threats of extremism, terrorism, human trafficking, narco-smuggling, in the region.
Pakistan and Russia are keen to cultivate a deep bilateral relationship with each other. Both countries should develop their relations independent of the other countries (US and India).
The interactions among government officials and parliamentarians, people-to-people contacts centering around the academia, and media exchange programmes can work to catalyse improvement of mutual relations and will build trust and boost confidence in the developing relationship.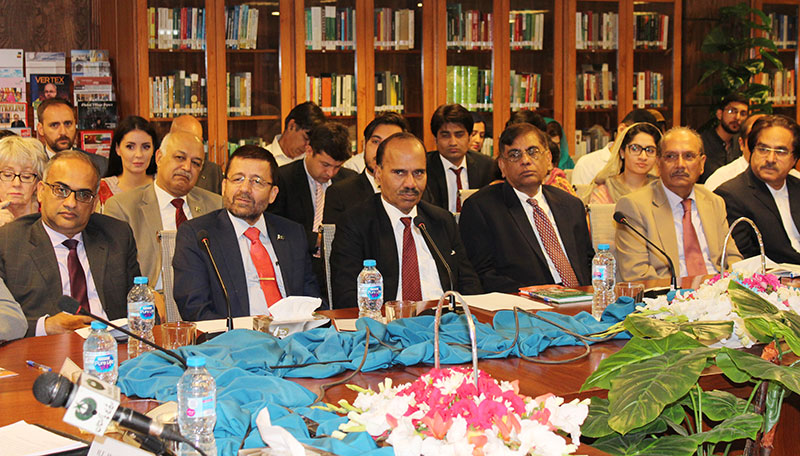 Conclusion
The changing geo-strategic situation has provided an opportunity to Pakistan and Russia to work together at regional and international forums. Russian foreign policy is driven by its desire to create a geo-strategic stability and Pakistan's role is pivotal in that regard. Moscow and Islamabad clearly intend to deepen military and trade cooperation as both also desire to conduct and improve political, military, and security dialogue. The way forward is to have sustainable and long-term bilateral relationship and both countries should use their huge potential to enhance mutual cooperation.
Disclaimer: Views expressed are of the speakers and are not necessarily reflective of IPRI policy.