Former chairman Department of International Relations, Karachi University, Dr. Mujtaba Hussain Rizvi used to say, "Ummah, Ummah everywhere, not to be seen anywhere." This was one of his famous dissertations as he used to narrate the degeneration of the Muslim world from the depth of his heart. A learned professor, as he was, he had tales to tell and remorse for the backwardness of the Muslim fraternity worldwide, and how blazingly they have been let down. This is where the Organization of Islamic Cooperation was referred to in all shock and awe, as to how the 50-plus member states with enormous tangibles, exceptional manpower and a landmass spread over four continents are a minion and non-entity on the scale of realpolitik.
But that perception seems to be changing with the passage of time. As new realignments take place and the world once again slips towards bipolarity, the 57-member Muslim bloc too is repositioning. And that is squarely evident as we glance through its approach, modus-operandi and policies, especially in the last few years. The OIC is flexing its muscles too. A subsidiary binary of the thought is the setting up of a multi-national deterrence force under the leadership of Saudi Arabia, and marshalled by a decorated retired Pakistan's army chief, General Raheel Sharif. Though that initiative wasn't mandated directly under the OIC, it was one of the greatest strides of recent history collectively on the part of the Muslim bloc. Irrespective of a perceptional clash with Iran, it had its smooth sailing, and the good point is that it hasn't bred bad blood with any of the other military alignments in the region.
The OIC, nonetheless, has come a long way. It has its own share of achievements too. But most of them are over-shadowed with failures and disappointments. Notwithstanding the docile role in the political sphere, wherein it has not been able to address lingering territorial disputes, the OIC has been a great organizational strength. To name a few, the Islamic Solidarity Fund (ISF) and COMSTECH, a scientific and technological cooperation arm, has made great inroads. Likewise, it is the second largest intergovernmental organization after the United Nations, and the collective voice of more than 1.5 billion Muslims to ensure and safeguard their interests. All that was expected of it and it has not been able to deliver is to make astute use of the petro-dollar economy and channelize those synergies towards political muscle-flexing.
Let us analyze the OIC in the wake of the 48th meeting of Foreign Ministers held in Islamabad on March 2022. But before we take a look at it, there is another feather in the Pakistani cap and that is the 17th Extraordinary Ministerial Conference held in December 2021, on efforts to redouble humanitarian aid to Afghanistan. That piece of success, followed by a mega event three months down the line exhibits the versatility of Pakistan's foreign policy, as well as the new role of the OIC in the new milieu.
To further correspond the bigger picture of diplomacy is the anti-Islamophobia resolution passed by the United Nations at the behest of Pakistan. Prime Minister Imran Khan truly deserves credit for canvassing it articulately in all prudence and consciousness of current history. It is a similar success on the lines of anti-Semitism Holocaust sentiments that have been outlawed, and thus likewise Islam and the Holy and Pious name of the Prophet of Islam (peace be upon him) shall never be ridiculed and equated with terrorism.
On these wings of flying high came the hosting of OIC 48th ministerial moot, and what a pleasant sight it was to have 800 dignitaries from 57 countries, 46 foreign ministers, and senior representation from two other countries to jot down a 70-point Islamabad Declaration. The Muslim bloc in unequivocal terms stood with the struggle for statehood and self-determination in Palestine and Kashmir, respectively, and called for ending the sense of otherness in many of the strife-torn regions, especially Yemen, Syria, Africa and Lebanon. The forum also threadbare discussed terrorism, Islamophobia and came up with a consensus to immediately address socio-economic measures to uplift the Muslim world from a sense of marginalization.
But the Catch-22 was inherent in the China factor
The special invitation to Chinese Foreign Minister, Wang Yi, was a power-brokering equation. Pakistan played a pivotal role in consultation with Saudi Arabia in making this gesture happen, and Beijing was farsighted enough to read between the lines. The OIC member states nod to see it take a leap forward from its erstwhile inertia, and send the right signals in the power camps of the world by welcoming China will surely have long-term dividends. This development on the OIC forum is a game-changer, indeed. China is one of the biggest investors of our times, and has pumped in more than $400 billion in around 600 projects across the Muslim world, especially in the Middle East and Africa. This is in addition to the flagship Belt and Road Initiative (BRI), of which China-Pakistan Economic Corridor (CPEC) is a subsidiary amounting to more than $100 billion, and a landslide understanding with Iran to pour in $250 billion over a span of next two decades in energy and infrastructure sectors.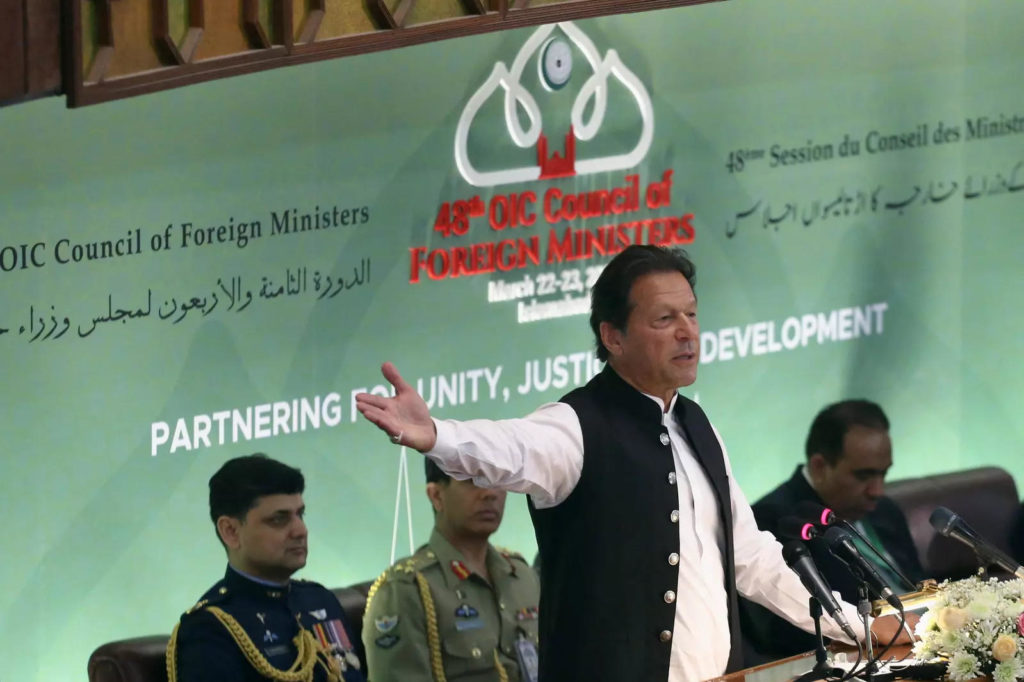 So the OIC now being part of China's Grand Deal to mushroom modernity, production and accessibility is on the right track for the first time since its inception. It will pave way for articulating political solutions, and browbeat the west into its rightful place to come on an equal footing of dialogue. The beneficiaries will surely be the territorial disputes spanning from Palestine to Kashmir and from Baku to Sanaa. There is much that is unsaid in diplomacy, and so is the case with Beijing getting accustomed with the Muslim bloc. It will usher in a sigh of relief to the Muslim populated pastures in China and Russia, too. It may be pointed out that the largest Muslim population in Europe is located in Russia, which had obtained an OIC observer status in 2005. It is no less than a renaissance of sorts that from Turkey to Babylon and from Persia to Hindukush Buddhist civilization, an axis of cooperation is emerging, and that too after decades of war-mongering and annihilation at the hands of post-World War II order.
What impact this new OIC-China amalgamation will have is anybody's guess, taking into account the soaring sentiments against the greenback and the rise of Crypto, Bitcoin and Yuan economies. To show its political and military muscles, China has already aligned itself with struggle for emancipation in the Muslim world by endorsing two-state solution in the Mideast and voicing for a long-due plebiscite in Kashmir. A transcript released by the Chinese ministry after Wang's speech in Islamabad confirms the same.
This year OIC's amalgamation also came close on the heels of renewed understandings among adversaries in the Muslim world. Saudi Arabia and Iran are forging a new nexus of cooperation. Saudi Crown Prince Muhammad bin Salman plans to reach out to the leadership in Tehran; Syria's President Bashar Al Assad has been welcomed by the United Arab Emirates after a rupture of 10 years; and likewise, Riyadh and Kuala Lumpur, as well as Ankara and Riyadh have hinted at burying the hatchet. Thus, it was no surprise that for the first time in OIC history there was neither any discord, nor any explicit difference of opinion among member states. The Islamabad Declaration was, thus, an achievement of sorts.
It's time to build on this warmth. Pakistan, the lone Muslim nuclear power, by showcasing its military might and the civil face in full bloom at the 75th celebrations of Pakistan Day Parade has won laurels. It comes on the basis of power and resilience. The Islamabad Declaration too was reflective of the OIC's mandate i.e. to adopt a unanimous stance on the problems faced by the Muslim communities, work consistently for provision of humanitarian assistance in Afghanistan, check Islamophobia trends, and last but not least, address climate change, the aftermath of COVID-19 and the spiraling food and oil prices.
The OIC is in need of amplifying its voice and asserting itself on the world stage. The conventional approach of resolutions and condemnations haven't worked. Rather, it had made a laughing stock out of it. It is in need of a concrete plan of action to act and react in real time. While addressing issues from territorial fissures to political riddles, a new psychological orientation is required. This necessity was rightly pointed out by Prime Minister Imran Khan, as he said that lackluster attitude and absence of resoluteness in approach had collectively failed the Ummah.
What a great nostalgic tag the recently concluded OIC gathering had as by taking a leaf out from the 2nd OIC Summit in Lahore 1974, it was themed "Hum Mustafavi Hain" (We are all believers of Prophet Muhammad Mustafa PBUH). Written by the legendary Jamiluddin Aali, it was a perfect and mesmerizing rhythm in spiritual context. This simply exhibited Pakistan's commitment and passion for the glory of the Muslim world. More than two billion faithfuls worldwide now truly have a reason to rejoice as their leadership is thinking out of the box.
Note: This article appeared in Defence Journal, dated 10 April 2022.
Disclaimer: The views expressed in the article are of the author and do not necessarily represent Institute's policy.