PRESS RELEASE, September 14 2022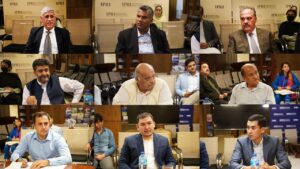 ISLAMABAD: A Roundtable Conference was organized by the Islamabad Policy Research Institute (IPRI) in collaboration with the Area Study Centre (Russia, China & Central Asia), University of Peshawar on Wednesday.
The guest delegation was led by Professor Dr Shabbir Ahmed, Director Area Study Centre, University of Peshawar; Dr Azmat Hayat Khan, former Vice-Chancellor University of Peshawar. Scholars from Kyrgyzstan, Uzbekistan, Tajikistan and Kazakhstan sketched a viable picture of integration that is happening in the region, and stressed on buoying cooperation at levels of social strata.
IPRI's Director Research Brig (retd) Raashid Wali Janjua, Brig (retd) Naveed Ali, Ambassador (retd) Asif Durrani, and Dr Aneel Salman, Chair Economic Security, dilated upon the developments, and underscored as to how the philosophy of interdependence and geo-economics is impacting the region.
The role of China was also highlighted, and the speakers remarked that CPEC and ECO, as well as the gigantic energy projects including CASA1000 and TAPI, have a long way to go in uniting and connecting the region.
It was noted that despite so much congeniality in the region, not much has been done to promote travel and tourism. It was noted that lack of direct flights from Central Asia to Pakistan, and an adamant visa regime is impeding genuine integration.
The focal of discussion evolved around stability in Afghanistan, and how it is impacting the broader security and geopolitical mosaic of the region. It was observed that since the advent of Taliban 2.0 regime, access via Afghanistan has improved, and the need for cementing peace is indispensable.
The speakers urged that cultural and languages must be promoted, and Pakistan should take concrete steps in introducing Urdu's vibrancy in Central Asian universities.