Ad-hocism, nepotism and corruption has sunk the island-nation state deep in turmoil
As Sri Lanka boils and goes over the brink, there are some parallels for Pakistan. The South Asian island-nation state is literally unnerved and apparently has no contingency plans to stay afloat. What has happened in Colombo is not an inertia affair, but a sustained collapse of head and heart while ruling the tiny entity, and the debacle expedited at the hands of corruption and nepotism.
Abject poverty, ad-hoc economic policies, and a dual-leaning foreign policy are behind the disaster in the making. The final nail in the coffin was that of foreign covert meddling, and a regime change stood materialized. Is Pakistan, in any way, far and different from what Lanka has witnessed? No, not really!
Before we go on to analyze the immediate causes of the downturn, let us take a cursory look at what has been going on for a long time behind the curtains. Unbridled corruption, political instability and a slump in growth in the backdrop of the pestering pandemic are some of the factors that have pushed a nation of 22 million to the verge of collapse. It is the first country in the Asia Pacific in 20 years to default on foreign debt. Today it is home to lawlessness and pestering uncertainty.
Colombo's inability to take in any more poisonous pills from the IMF, its failed obsession to go the Chinese way and experimenting with a mix of economic modules has led to its fall. Last but not least is the international orientation of its political clout, and the invisible strings that made it a mess. The dynastic nuisance with which Sri Lanka was infested for more than two decades has a tale to tell as historians will go on to scrutinize as to what went wrong and where?
The country, which largely remained in the grip of civil war at the hands of the Sinhalese and the Tamils, was however a hotbed of real-politick. Apart from Indian influence that kept it at the edges, it was the Chinese and American assertiveness that gradually encroached on its sovereignty – especially in the economic decision-making horizons.
The political battery that relied on self-reliance and wanted to maintain pro-regionalism stood exhausted in the fissures of three decades of bloodshed. The laying down of arms by the LTTE, and the exit of their guerilla leader Velupillai Prabhakaran in 2009, led Lanka to new quests of collaboration and development. This is where Beijing and Washington started intimidating the political mosaic, and Lanka was internally-rented into camp politics. The rest is history.
As President Gotabaya Rajapaksa fled the country, leaving behind the island in political turmoil and economic mess, he was no different from many others in the Third World who ruled at privilege and left at prerogative.
We too in Pakistan have a salient list of fellows to stake our claim, who ruled at impunity and left under reconciliation doctrines. Other examples abound from Idi Amin of Uganda to Ferdinand Marcos of the Philippines' and from Reza Shah Pahlavi of Iran to Zine El-Abidine Ben Ali of Tunisia. What is common is that all these states lacked national institutions and whatever was left of them was torn and ransacked at the hands of corrupt practices. A nosedived Lanka has already defaulted, and Pakistan is fourth in line of states that could go bankrupt in weeks or months!
To further read into the fine-print, President Rajapaksa who courted China's economic vision and refused to vote against Russia has been shown the door. Thus, regime change-II weeks after a similar experiment in Islamabad, wherein Prime Minister Imran Khan was ousted under a debatable and highly-contested vote of no-confidence by a disgruntled political alliance. The cipher from Washington whose authenticity was vetted twice by the National Security Council confirms the notion of regime change. Khan too was canvassing a foreign policy free from US dictation, and his leaning towards China and Russia was no secret. The country today is peddling inflation at 22%, its fiat stands for Rs235 to a dollar, current account deficit ballooned and forex exchange reserves well below $9 billion to keep the imports rolling for five weeks.
Prime Minister Ranil Wickremesinghe, in the high office for the sixth time, a nephew of Sri Lanka's first pro-US president J.R. Jayewardene – is traumatically unable to put the house in order and restore economic semblance. Wickremesinghe is Washington's choice in exigency, irrespective of the fact that his party was routed at polls – and he made it to the parliament under reserved seats.
Isn't this one more parallel to what is happening in Islamabad? Let time and destiny answer this riddle!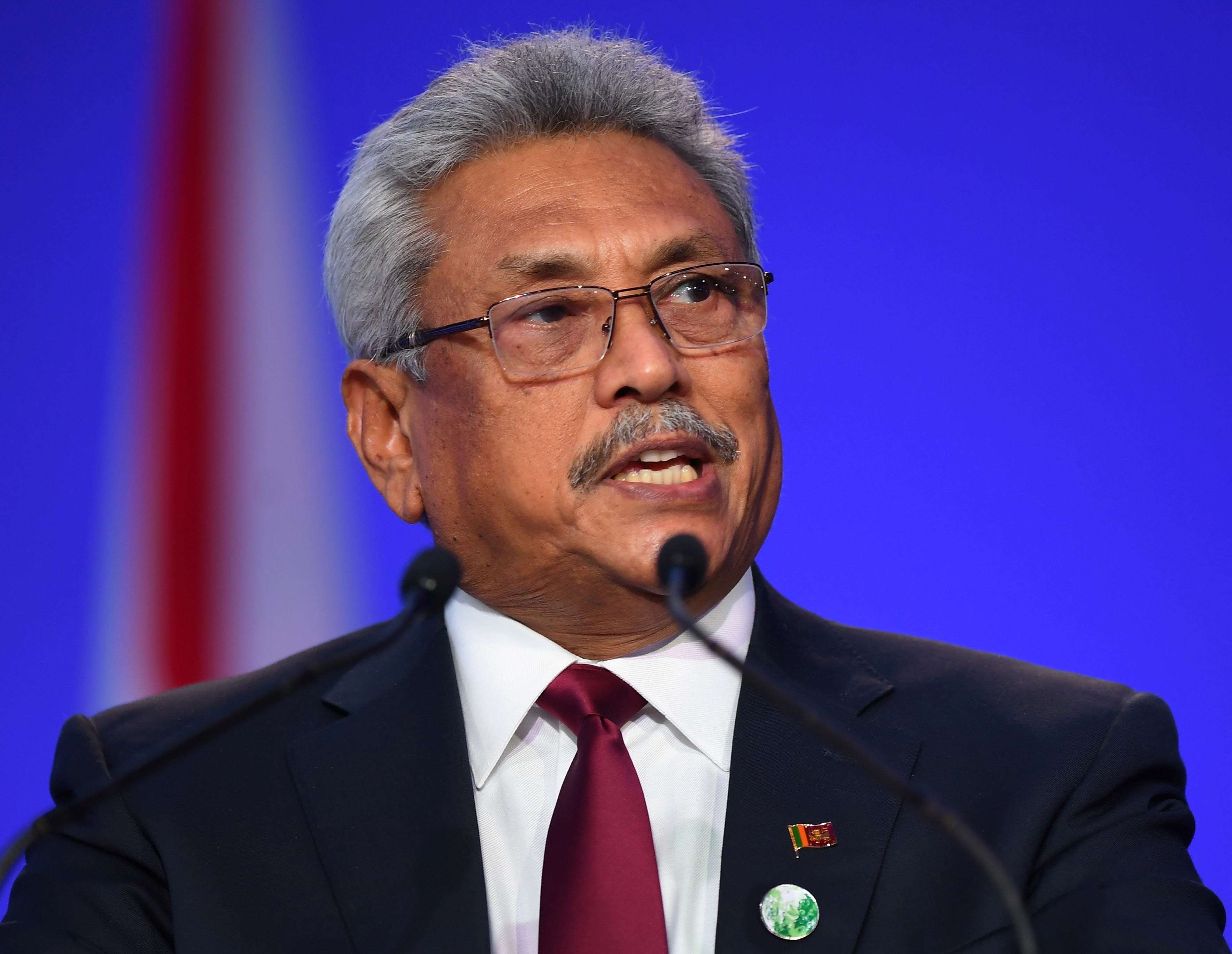 Let's now grope into the darkness of arithmetic downslide of both the countries. It seems Beijing is a no-go area for Colombo under Washington's influence, at least for the time being; irrespective of the fact that Moscow is twinkling to make inroads by pumping in oil and gas at rebated rates.
Lanka has a serious external debt problem, as its foreign obligations account for over $50 billion, as well as soft loans of around $6.5bn from China. It has a staggering current account deficit, as it has been unable to diversify its exports. Its once profitable apparel sector is in tatters, and the country is still glued to conventional exports such as tea, agriculture produce and rubber. There is a dilemma too, one which reflects its inability to adapt: though it produces and exports tea, the packing material is imported to this day!! This is where economies flaunt at the cost of negating national tangibles.
Another similarity with Pakistan, which also imports food grains despite being an agrarian economy.
The downturn has forced the Lankan government to ration sale of petrol and diesel since June; shut schools and forced people to work from home. It too has a class of opportunists under the guise of political favouritism, which thrives on tax embezzlement and is busy siphoning off money.
To be precise, there were three factors behind the current turmoil: One, the COVID-19 pandemic devastated its exports and tourism-driven economy. Two, Sri Lanka consecutively for years and years was in a trade deficit as it reportedly imported twice as much as it exported. Its foreign exchange reserves that stood at around $8bn in 2019 slumped to $250m. Three, the tax rebate to the ultra-rich led to loss of around $1.5bn per annum. In other words, it was mismanaged at its height, and the economy was being run by SROs.
As an aftermath inflation soared to more than 50%, and the current price spiral posted food prices 70% higher, and the Lankan rupee crashed. With the drop of hat, the IMF, India and the Americans are in the run to bail out the debt-sunk island with $3bn, $2bn and an odd billion greenbacks, respectively.
With Colombo far away from reaching a political semblance, the turbulence is threatening regional order and could disturb the balance of power, too. Mass exodus out of the country and civil war looms large, as there are also reports of communal clashes in the wake of simmering food insecurity, power outage and fuel shortages. Parochialism is at its peak and Lanka's civilizational pride has taken a serious hit.
The current history has lessons to teach. Islamabad since regime change in April is showing similar symptoms to those of Colombo. Denial of space to one of the biggest political parties coupled with economic regression, skyrocket rise in oil and energy prices as well as bleeding of rupee has bred acute instability. Perhaps, this is why Mr Khan is warning of a Sri Lanka-type unrest. While restructuring of loans is still officially awaited with the IMF, default looms large on the horizon. At least $44bn are needed by Islamabad to stay afloat during the ongoing fiscal year, and that remains an uphill task.
While there is much to be concerned over what's going around in Sri Lanka and Pakistan, the pattern of crisis is in need of being studied and rectified.
The problem is that no developing country can for long be pulled over on ad-hocism, and dispensation of justice cannot be hampered for long.
Apparently, this is why a rights group has promptly called for prosecuting President Rajapaksa and demanded a Truth Commission to investigate what went wrong over the period of turmoil and civil war.
Pakistan is no different. Calls for accountability in Pakistan is now a national agenda, and this ongoing bias and favouritism at the helm of affairs is proving to be an anti-thesis for cohesion, directly impacting its national security.
Colombo has been in turmoil for more than 100 days now. The protests on the streets are unending, and there seems to be no respite. Lanka instantly is in need of $6bn to keep going, and avoid the twin deficit that is staring on its face. It needs to restore the supply and demand chain, and pull the island-state out of protectionism. Lanka can do it, provided it succeeds in restoring civil order by inducing a new social contract.
Note: This article appeared in Defence Journal, dated 10 August 2022.
Disclaimer: The views expressed in the article are of the author and do not necessarily represent Institute's policy.