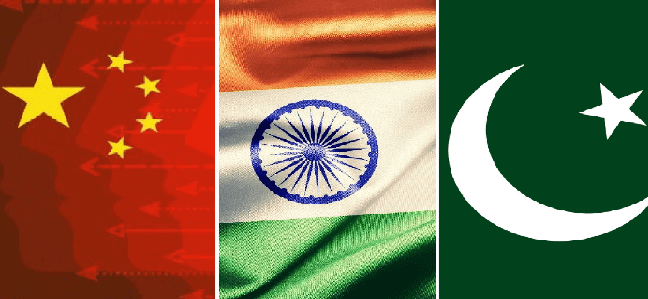 Second article of a two part series
Delhi's ammunition and troop shift away from Pakistan's border now aimed mostly at China reduces India's strike capability vis-à-vis Pakistan and strategically alters the balance of power in South Asia swinging the pendulum in Pakistan's favour.
In case of a "two-front-war" the deployment of huge Indian troops along the LAC depletes and distracts Indian attention and resources, ensnaring both China and India (and all of South Asia) in a state of permanent paranoia and vigilance.
A two-front war is "unlikely" due to nuclear deterrence by all three countries. Although unlikely, if Indian heavy-handedness continues unabated in Indian Occupied Kashmir (IOK), if Article 370 is not restored, and China is further provoked in the South and/or East China Sea, the remote possibility of a two-front war against India becomes palpable. India's General Bipin Rawat warned of a "two-front war" at Delhi's Centre for Land Warfare Studies (CLAWS).
If hostilities persist India can be checkmated in Kashmir — by China along the LAC, by Pakistan along the LOC and by invigorated Kashmiri freedom fighters within IOK itself. If Delhi's territorial belligerence goes unchecked, India might be compelled to prepare for a "two-and-a-half-front war" on it's northern border against China and it's western border versus Pakistan and a "half-front-war" within IOK.
If a two-front war erupts, India's military would prioritize only "one front" for "active" combat operations, maintaining the other one "dormant" via defensive initiatives to conserve resources delegating counterinsurgency responsibilities in IOK to central police forces.
In case of a "two or even a two-and-a-half-front-war" the wide geographical separation between the two theaters hinders a swift movement of soldiers from one area to another dividing troops. This further limits India and augments Kashmiri pleas for self-determination.
India's army has reoriented it's Strike Corps (offensive combat formations meant to strike at hostile territory) to face China along the Northern border. India's Bhopal 21 Strike Corps, Strike One in Mathura and Ambala's Kharga Corps formations are scattered along the western, central and northern sectors close to China's border. 10,000 troops in the Eastern sector are now assigned to the 17 Mountain Strike Corps in West Bengal's Panagarh. Three Indian Army Mountain Divisions are additionally deployed in Eastern Ladakh versus 50,000 PLA troops along with India's 3 Division patrols the LAC. India now has two mountain strike corps against China, one in Ladakh and another in Arunachal Pradesh, reserves redirected to Ladakh leaves India with reduced offensive firepower against Pakistan, offering Islamabad tactical advantages.
India deployed 50,000 additional troops along its Chinese border, enhancing the total number of Indian Army border soldiers to 200,000. Of these 20,000 were redeployed away from Occupied Kashmir's Pakistani border.
Indian Army's BMP Sarath infantry vehicles, the T-90 Bhishma tanks and T-72 Ajay tanks are deployed to counter China's presence opposite Eastern Ladakh.
China responded with the PLA deploying its modern Type 15 lightweight tank, suited for combat in mountainous plateau regions, equipping soldiers in Xinjiang and Tibet tank regiments close to India's border. Type 15 is lighter weight, boasts better mobility in high altitudes with low oxygen levels, especially in Western China, offering a competitive advantage over India which lacks any similar mountain-friendly tanks.
Analyzing defence capabilities in a Two-Front War
In the scenario of a two-front war, China and Pakistan, ironclad-allies are likely to pursue covert cooperation vis-à-vis India, where China offers material, ammunitions and operational support to Pakistan. Either Pakistan or China could activate a coordinated "second front militarily".
China and Pakistan could collaboratively launch a surprise coordinated offensive from both India's northern and western borders simultaneously. Beijing could also participate in strategic opportunism during an India-Pakistan conventional battlefield confrontation. If India carries on it's proxy terrorism against Chinese interests in Pakistan, threatening CPEC assets and Chinese citizens in Pakistan, Beijing would be induced to distract India by commencing a separate conflict along the LAC fermenting further unrest across the LoC.
Islamabad, in an extreme situation and if forced, could leverage an India-China conflict to mobilize its military opening a "front" across IOK for India's egregious human rights violations in Kashmir, where Pakistan's military mobilization could tie up Indian troops along it's Western border.
Another simulated two-front war-game variation could be the use of Chinese naval power such as it's Type 91 Han-class and Type 093 Shang-class SSN nuclear-powered submarines countering India's Arihant successfully diverting any Indian Navy's efforts to blockade Pakistani Qasim and Gwadar ports. China's naval prowess overshadows Indian capabilities, whereas India has just one nuclear-powered ballistic missile submarine, INS Arihant, China has six SSBNs in active service including the Jin-class (Type 094/094A) second-generation nuclear-powered submarines.
India's navy is woefully unprepared for a two-front war. Admiral Sunil Lanba, Chief of Naval Staff stated "the way national security is being handled is not commensurate with the security environment, which is extremely serious at the moment".
Indian Air Force (IAF) practiced a two-front aerial war simulation scenario during Exercise "Gagan Shakti" yet openly admits that it does not have sufficient numbers for a two-front war involving China and Pakistan. Air Marshal BS Dhanoa, Vice Chief of Air Staff, said that the IAF's "numbers" were "not adequate" to fully execute an air campaign in a two-front war.
IAF's antiquated Soviet-era MiG-21 and a shrinking fleet were easy prey and got shot down by Pakistan Air Force (PAF) on 27 February, 2019 during "Operation Swift Retort" taking down two Indian aircraft with Wing Commander Abhinandan taken captive after Balakot's incursion. The IAF recently inducted new Rafale aircraft taking the total to 36 by 2022, far short of the fourty-two squadrons required highlighted by former IAF Chief B.S. Dhanoa. IAF's current 30 squadrons of fighter aircraft leave much to be desired. The IAF at present is unable to face the nimble and agile PLA Air Force (PLAAF) and their mighty indigenous fifth generation fighter, the J-20.
In any military offensive with Pakistan or China, India over-optimistically believes it has an upper edge because of Chinese jets take off from high altitude airfields and subsequently deliver smaller payloads. Yet, IAF would be unable to exploit this. It is an open secret that the IAF is struggling. IAF's ageing fleet endures problems of servicing and operational fitness.
On October 13, 2021, the induction of three new Rafale fighter aircraft into 101 Squadron Hashimara increased India's fleet. Nonetheless the IAF is lagging far behind its desired 45 squadrons of fully operational fighters. Most of IAF's aircraft is outdated and soon-to-be decommissioned.
Aerially, India relies on French fighter aircraft equipped with long-range missiles and 45 calibre Dhanush and M777 howitzers (a 155mm artillery). However, even the DRDO admitted that the Dhanush Howitzers face "teething issues". India's army redirected all this ammunition and one hundred K9-Vajra howitzers away from Pakistan's border, which augurs well for Islamabad.
Nearly half of India's existing fighter aircraft fleet will be decommissioned by 2030. Most of it's helicopters are accident-prone, for instance nine of the Cheetah and Cheetak helicopters crashed from 2017-2021 (view the infographic hereunder). IAF lacks the modern light utility helicopters stuck in procurement chains. Similarly outdated are IAF's mid-air refueling capabilities and airborne surveillance capabilities.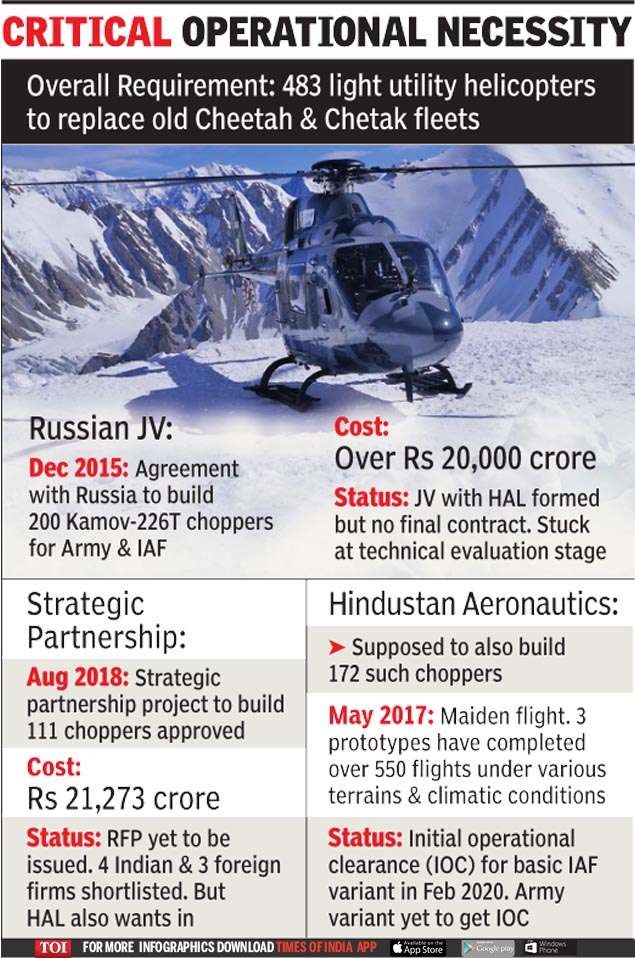 Infographic source: Times of India (2020)
Pakistan is armed with better fighter planes, Beyond Visual Range air-to-air missiles like AMRAAMs and backed by state-of-the-art Swedish SAAB "Erieye" airborne warning and control systems (AWACS), and leaves the IAF wanting in multiple aspects. From limitations of the Su 30 MKI radar to pick up enemy fighters properly to the technical glitches burdening the Mirage 2000 aircraft over firing their MICA air-to-air missile, the lackluster list of IAF shortcomings is well-documented.
PAFs F-16s armed with U.S. manufactured air-to-air AMRAAM weaponry are far superior than IAF's Sukhois and their R-77 missiles, whose range is shorter than the AMRAAMs. Sukhois also fail to pre-empt enemy fighters due to outdated radars. During Operation Swift Retort for instance, IAF Mirages on CAP duty encountered technical glitches and were unable to engage Pakistan Air Force (PAF) despite the MICA air-to-air missiles.
In case of a two-front war one of India's assets might be its latest BrahMos anti-ship cruise missile that can be deployed against multiple targets. BrahMos 2.8 mach speed implies that it cannot easily be intercepted by existing missile defence systems and its lethal to water targets. Another could be the BrahMos Block III which can equally engage land-based targets.
However, Pakistan's fitting strategic reply would be it's locally manufactured Babur including Babur-III a Submarine Launched Cruise Missile (SLMC) which it successfully test fired an enhanced version of with a range of 700 kilometres. Pakistan possesses "cost-effective solutions" countering India's Ballistic Missile Defence (BMD) through the Ababeel MIRV (Multiple Independently Targetable Re-entry Vehicle) with four types of advanced cruise missiles.
Pakistan can also deploy stealth Short Range Ballistic Missiles such as the surface-to-surface Ghaznavi Hatf-3 with a 300 km range and Shaheen 1 Hatf-4 series with a 750 km and upto 2,500 km medium-range ballistic missiles. In August 2021, Pakistan successfully test launched the ballistic missile Ghaznavi (Hatf III) ensuring Pakistan's operational preparedness.
Despite massive troop deployments and military installations, India is ill-prepared for a "two-front war" against China and Pakistan, requiring much more modern equipment and resource allocations from a BJP government hamstrung by economic woes as India's economy suffers it's worst disaster since independence. India's GDP shrank by 24% in one quarter alone, the poorest results among world economies compounded by a life-devouring Covid-19 pandemic. As South Asia's worst performing economy in 2020, India can't bear the brunt of a military conflict. Approximately sixty-six percent of India's defence budget resources it's 1.35 million army. If Delhi has to defend every inch of the conflicted territory along its Chinese border, the army would consume a gargantuan chunk of the military budget which India's crippled economy rules out.
This is the context within which a future "two-front war" must be appraised: an ill-resourced Indian military unable to flex its weakening political muscles.
Sixty-eight per cent of Indian military equipment is antiquated requiring upgradation. India's military stocks of 55% types of ammunition were below the "minimum acceptable risk threshold" supposed to last twenty days of warfighting. Alarmingly, stocks of 40% of ammunition reserves were insufficient for even ten days of intense warfare.
Indian military's dissatisfaction with the ruling government has never been so vocal and visible as it is currently.
The Indian military failed to integrate the army, the navy and the air force, unable to streamline the current 17 single-service units under five "theater commands" to establish "a unified approach" due to disunity between the service' chiefs squabbling over the structure and scope of the unified commands. Defence chiefs reportedly exchanged bitter words over the reforms. IAF does not agree with unified command reform. The Indian forces are fraught with internal disunity.
The country does not have the financial firepower to face China let alone a two front war. The other alternative for Delhi is to partner with mighty powers so that its military affront is rebalanced. The Quadrilateral Security Dialogue (Quad) is still in it's nascent phases unable to offer Delhi that option. Though the Quad alliance offers diplomatic heft for Delhi, when it comes to protecting territorial borders, India is on its own.
Stuck between its über-nationalistic politics, its crippling economy, and its out-of-sync military, India's strategy for tackling a two-front military challenge requires a paradigm shift. If the cost of pursuing such a far-reaching trajectory seems steep, the price for pursuing easy alternatives is much worse.
Disclaimer: The views expressed in the article are of the author and do not necessarily represent the institute's policy.