BRIG (R) RAASHID WALI JANJUA, SI (M) Acting President / Director Research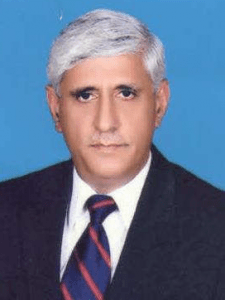 Brigadier (R) Raashid Wali Janjua, SI(M) holds a Civil Engineering Degree from Military College of Engineering and is also a graduate of Command and Staff College Quetta and National Defence University Islamabad. He also holds a Masters in Security and Defence Management from Royal Military College Kingston, Canada. He has a diversified civil engineering project management experience spanned over 32 years (September 1982 to August 2015). He has served in various command and instructional assignments including Pakistan Military Academy and Command & Staff college. He has held the command assignments of an Infantry Brigade, Headquarter Corps Engineers, Planning Cell COAS Secretariat, Military Training Directorate and Director Works and Chief Engineer Pakistan Navy. He has also served as Director Planning and Development of Fauji Group of Companies.
He has been a regular contributor to Op Ed pages of The News, The Nation, Daily Times and Pakistan observer writing on diverse subjects like security, energy, politics, development, human security, economy and international relations. His several articles have been published in professional magazines of armed forces and NDU. He has been an editor of Command and Staff College Quetta's professional magazine "The Citadel". He is also a Phd scholar at NUST.