General Electric coined the term Industrial Internet of Things (IIoT) which can be described as the integration and linking of big data, analytical tools and wireless networks with physical and industrial equipment. IIoT is becoming increasingly popular in manufacturing. IIoT provides manufacturers better insights into their company's processes and the functioning of their production lines. Some of the advantages of IIoT include: greater flexibility of production processes, increased operational efficiency and lower failure rates, cost savings by avoiding unnecessary repairs, improved transparency through worldwide access to machine data and improved technical customer service.

To offset rising production costs and main its competitiveness, China is determined to accelerate the use of information technology in the manufacturing. PWC observes that those manufacturers that adopt this transformation today will position themselves as future leaders in their markets. The Chinese Ministry of Industry and Information Technology (MIIT) issued a three-year Industrial Internet action plan recently with the aim of advancing 5G technology in manufacturing; establishing a standard system for the Industrial Internet and establishing an Industrial Internet exchange and cooperation mechanism with other countries.

Traditionally, China's manufacturing sector benefited from availability of cheap labour along with labour intensive production practices but over the years the wages have gone up and competition has also intensified. China is therefore at a transitional stage where it has to shift its massive industrial base towards digitalization. A study conducted by Lehman Brown underscores that "if China is able to successfully reform and modernize, by stepping into the high-end, it will be well positioned to lead global manufacturing beyond 2025 and become a leading exporter of its technology. This is essential for China's international expansion".

According to Wang Qingxian, Party secretary of Qingdao, "China's industrial internet is ushering in new growth opportunities amid the industrial revolution globally. It has a potential that goes beyond the imagination, which not only promotes the upgrading of manufacturing industry but also determines whether China can lead the next round of the technological and industrial revolution worldwide".

COSMOPlat, an industrial internet platform developed by home appliance giant Haier Group, has emerged as one of the top industrial internet platforms in the world. The head of Haier group, Zhou Yunjie has been pushing for the promotion industrial internet at high level government meetings for years. He opines that "building an industrial internet with Chinese characteristics to promote high-quality growth of the real economy will have an all-around revolutionary influence on the future of the country's industrial development".

Some of China's major recent policy initiatives such as internet+ and China Standards 2035 seek to promote digitalization. China is also pursuing Digital Silk Road under its mega Belt and Road Initiative. According to Liang and Zhang, digital BRI is an "inherent requirement for constructing a 'digital power,' it will also provide an opportunity for the digital development of countries along the Belt and Road route". The laying of cross-border fiber optic cable in Pakistan is also a part of this plan. Moreover, China's Hentong Group is spearheading the installation of Pakistan East Africa Connecting Europe (PEACE) cable. Once completed, it will provide the shortest direct internet route between participating countries and drastically reduce the time taken to transfer internet data.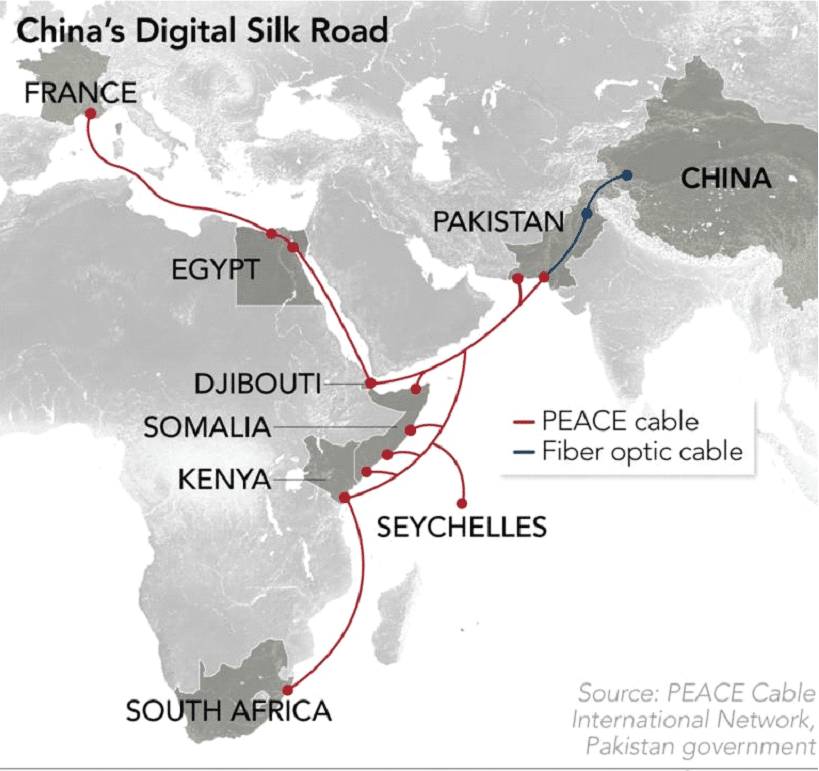 Due to its immense potential of enhancing decision-making and improving efficiency, IIoT is increasingly becoming critical in global supply chains. It is also likely to spur economic modernization in BRI partner countries.

In early 2000s, David Bollier suggested a term Netpolitik to describe an emerging style of diplomacy relying mainly on the capabilities of the internet to shape politics. Unlike realpolitik, it provides a softer approach to transform values and practices. In recent years, the world has witnessed China's peaceful rise and Beijing's digitalization plans are likely to bolster China's footing in the international arena.

For Pakistan there is a great opportunity to transform its industrial sector. For many years, Pakistani industries have struggled to compete with its rivals due to multiple issues and inefficiencies. By successfully implementing CPEC and attracting modern Chinese industries, Pakistan can become much more efficient. Transfer of technology from China has always been a huge incentive for Pakistan. Enhancing digitalization in the industrial sector will certainly boost the economic outlook of the country.

The fact that a significant amount of Pakistan's internet traffic was being channeled through India raised concerns with officials in Islamabad since it means that sensitive data was susceptible to hacking. Amidst these apprehensions, Pakistan accelerated this project. China's Digital Silk Road project has also helped Pakistan in addressing its security concerns. This will pave way for smoother implementation of rest of the CPEC project.
Disclaimer: The views expressed in the article are of the author and do not necessarily represent the institute's policy.