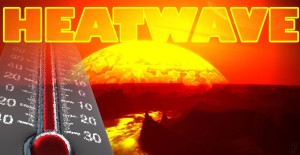 Pakistan has suffered a worst heat wave in June 2015, mostly affecting the areas of Sindh, Southern Punjab and Baluchistan. Some cities particularly Karachi, Sibi, Larkana, Hyderabad and many districts in Tharparkar etc. had reached highest recorded temperatures of around 49 °C resulting in deaths of more than 1400 people. The major causes for such heat wave are not just hot weather condition but increased power shortages, limited water supply and dehydration during Ramadan. The maximum temperature remained between 45-47 °C in most parts of the Punjab, Upper Sindh, Karachi, Sibi and Makran divisions. Such extreme weathers due to climate change are a big threat to national life and health. The economic hub of Pakistan, Karachi particularly witnessed one of the worst heat waves and its deadly repercussions last month. In Karachi temperature rose to 45 °C degree. The all-time recorded highest temperature of Karachi was 47°C in 1971. The complication arose due to fasting and inability to rehydrate, which can avert the onset of heat stroke. A larger number of deaths led to state of emergency, despair and chaos in the city. A state of emergency was called and even a public holiday was announced to pace up the heat relief efforts.
It is sorry to note that while the people were dying in Karachi our federal government seemed busy in blaming the provincial government and K-electricity behind this devastation. Instead of taking the responsibility to give relief to the masses, the government asked K-Electric to effectively address the current situation allegedly arising out of its violation of performance standards such as insufficient improvement in distribution systems, inappropriate investment in transmission systems, improper utilization of generation capacity and licensing conditions. On the other hand, K-electric clarified itself by saying that the government owes more than $1 billion in unpaid bills, there is rise in illegal connections and demand has surged in summers which are roots for its unsatisfactory performance. Beside this blame game, the role of Provincial Disaster Management Authority (PDMA) in disaster management was disappointing in social welfare and relief operations in Karachi.
Little efforts were done by departments of Zakat, Baitul Mal and local government in setting up of camps or to arrange for ambulances on time. Edhi foundation was overburdened with dead bodies and the burial responsibilities of unclaimed heat victims. Around 100 heat stroke centers were set up across country by charity organizations, 22 by military, 42 were established by KMC. The military played active role in distributing aids and in social funding and welfare service in response to natural disaster. JPMC, ASH, Qatar and other hospitals rendered immediate services for the heat victims. There were also news that artificial rain will be generated in parts of Sindh through cloud seeding technology but the plan could not materialize due to cost and environmental after effects. With these ongoing relief efforts, there was a slight change in weather and the onset of pre-monsoon rains that dispelled the hot weather to some extent. This has brought the heat wave under control and life to normal in Karachi and across Pakistan.But after this heat wave people are more alert about the climate change and its deep impact. Understanding the factors behind this climate change are important which includes global warming, deforestation, rapid urbanization and increased emission of CO2 in the atmosphere.
According to Climate reports, there is a global rise in earth temperature from 15.5°C to 16.2°C over the last 100 years. Data revealed by the National Aeronautics and Space Administration (NASA) shows that 2015 has been 0.1°C hotter than the previous one. Following this pattern change in the global temperature, there is an increase in temperature in Pakistan as well. Unfortunately, Pakistan lacked the technology to predict extreme weather events which resulted in loss of life and material. The Inter-government Panel of Climate Change (IPCC) had issued a report warning about rise in temperature in Pakistan in the year 2015, as Pakistan was the 10th hottest country in the world but nothing was done in advance to tackle the heat calamity.
There are certain remedial measures which need to be done to tackle this heat wave crisis. There is need for habitual, cultural and national reforms. 1) there must be public awareness and about heat stroke and how it can be prevented. Various symptoms of heat stroke like high temperature, breathing problems, headaches etc. should be considered serious and immediately taken care of, 2) People victim to hot weather should wear thin, light and loose dresses, 3) the crucial parts of the body must be prevented from direct sun's exposure, 4) working during hot peak hours be avoided, 5) water and fluids intake be increased to stop dehydration, 6) food items like yogurt, vegetables such as cucumbers, onions and water enriched fruits like water melons must be included in daily diet, 7) taking lukewarm showers and keeping oneself under shelters, fans and air coolers can keep body temperature lower, 8) the problem of electricity must be addressed and the country where most people are poverty stricken, air conditioner is not the remedy to this heat but infact regular unaltered supply of electricity to localities and improvement in thermal efficiency of public buildings is required, 9) the load shedding hours be reduced, 10) extensive plantation and forestation must be done, 11) solid climate adaptation plan must be implemented that ensures resilience from the impacts of global warming on human and natural systems, 12) unplanned urbanization be controlled, 13) more attention must be given to knowledge and capacity in the field of climatology as a separate field of study, 14) heat crisis management plan and early warning systems be adopted to avert life losses, 15) the use of umbrellas and water bottles must be encouraged and 16) proper, long term and effective weather policies be implemented by the government. Thus, if all these preventive strategies are adopted at individual, community and national level, the threat of heat strokes and loss of national lives can be mitigated.
The Ministry of Climate change has already warned about 90% chances of heat waves appearing in 2016 again. Pakistan is among vulnerable country to climate change but through proper health planning and preventive policies damages could be avoided. In last few years, the heat wave stuck neighboring India too and we can learn some lessons from our neighbor. After the 2010 heat wave, the administration of Indian city of Ahmedabad adopted a "Heat Health Action Plan". The plan included public awareness and community outreach, initiation an early warning system and inter agency co-ordination, capacity building among health care professionals and reducing heat exposures and promoting adaptive measures.
Another strategy that can be relevant for Pakistan is the action taken by Odisha Government in India. The state government launched heat wave awareness campaign focusing on behavioral changes under Disaster Risk Management Program (DRMP). The program lowered the death rates. Both the plans were successful in dealing with the heat crisis. Thus, Pakistan needs to replicate such programmes in vulnerable areas of the country. The awareness generation, behavioral changes, earlier warning systems and proper climate policies can prevent us from adverse effects of global warming in the coming years ahead.
The article was taken by Pakistan Observer, July 14,2015.
Disclaimer: Views expressed are of the writer and are not necessary reflective of IPRI policy.