Dr. Talat Farooq – Senior Consultant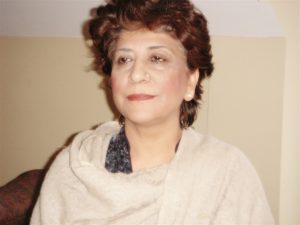 Dr Talat Farooq is Senior Consultant at Islamabad Policy Research Institute (IPRI). She holds a PhD in Politics and International Relations from Leicester University, UK. Her post-doctoral assignment at Birmingham University, UK, was based on Pakistan's case study as part of ESRC-funded project on the political impact of US drone campaign in North and South Waziristan. Between 2015 and 2016 she taught at Melikshah University, Turkey before returning to Pakistan in late 2016. Since her return she has lectured regularly at the Foreign Service Academy, Islamabad and has been engaged with National Defense University and Quaid-i-Azam University as Visiting Faculty. Her book, Pakistan's Strategic Choices in the 1990s, was published by Routledge, UK in July 2016. She is currently working on her second book, an edited volume, entitled: Ambivalent Neighbors: Pakistan and Iran in the 21st Century. She has presented a number of research papers at national and international conferences. She writes regularly for Pakistan's leading English newspapers and is also a contributor to UK-based  academic websites specializing in news coverage and analyses. Previously, she has authored two poetry collections.
Visiting Faculty
Foreign Service Academy, Islamabad
Hon. Research Fellow
Institute for Conflict,Cooperation and Security
School of Government and Society
University of Birmingham
UK
Latest Articles
"Predators and Peace: the Significance of US Drone Attacks in the Pakistani Conflict Settlement Process in 2013-14", Civil Wars (Francis & Taylor) UK, January, 2020.
"Paradoxes of Globalization: Geopolitical Challenges in Central, South and West Asia", Journal of Contemporary Studies, NDU, September 2019.
Books
US-Pakistan Relations: Pakistan's Strategic Choices in the 1990s, Routledge, UK (2016)
Ambivalent Neighbors: Pakistan and Iran in the 21st Century ( Forthcoming)
Poetry Collections: Shahrazad, Sang-e-Meel Publishers, Lahore (2010) ;Titly Key Rang Hazar, Mavra Publishers, Lahore (2004)