President Obama called Prime Minister Nawaz Sharif on telephone on November 21. Pakistan-US bilateral relations and the evolving situation in the region were discussed. Prime Minister expressed satisfaction at the direction of Pakistan-US relations which were on an upward trajectory; Obama also noted that Pakistan-US relations were strong and robust. President Obama informed Nawaz Sharif of his forthcoming visit to India. In Pakistan, public opinion about America is largely shaped by the balanced or otherwise approach taken by the US by while doling out strategic concessions to India.
Discussing the regional situation with Obama, the Prime Minister referred to the improvement of Pakistan-Afghanistan relations, as manifest in President Ashraf Ghani's recent visit to Islamabad. The US President appreciated the Prime Minister's efforts in this regard and called it pivotal for the peace and stability in the region. Nawaz referred to his visit to India earlier this year, which was aimed at taking Pakistan-India relations forward. Subsequent unfortunate steps on India's part, including cancellation of Foreign Secretary level talks and the unprovoked firing across the LoC/Working Boundary resulting in civilian casualties, indicated that India was averse to normalization of relations with Pakistan. Nawaz urged President Obama to take up the cause of Kashmir with the Indian leadership, as its early resolution would bring enduring peace, stability and economic cooperation to Asia.
Pakistan-US relationship has always been a complex affair; often changing format and essence.  At times it has also been called a 'transactional' or an 'incidental' relationship. As America recedes in power and its global standing faces unique challenges with the ongoing strife in the Middle East and resurgence of Russia demonstrated through Crimean crisis, America is poised to increasingly rely on cooperative power engagements with global partners willing to support it for its interests—like containment of China—Pakistan certainly does not subscribe to such American ventures. Moreover, as America departs from Afghanistan, there is a distinct possibility that the US-Pakistan relationship will draw back into its default position of 'distant interest'.
During his weeklong visit to the United States, Chief of the Army Staff General Raheel Sharif has also adequately highlighted Pakistan's perspective on regional security, improving Pakistan-Afghanistan military relations and Indian aggression along the Line of Control (LoC) in Kashmir.
 In a run-up to Army Chief's visit, the US State Department had said that it will reiterate its message to Mr [Raheel] Sharif that it is: "vital that every effort is made to deny safe haven to any and all violent extremists". Shamila Chaudhary, former Pakistan director at the US National Security Council, opined that the US is now in a much better position to mount pressure on Pakistan. "Moving forward we will see the United States pushing Pakistan more on what it's going to do not just with Haqqani Network militants but some of the sectarian groups that are in Pakistan that are anti-India, and that are also focused on Pakistan," Ms Chaudhary said.
 On professional tier, one of the biggest concerns for the Pakistani army is to ensure the continuation of the Coalition Support Fund (CSF). Convincing Congress to continue the CSF is a tough task for Pakistan. Many of the senators who control the purse strings have, in the past, put conditions on the release of funds to Pakistan. The overall interest towards Pakistan has ebbed in Congress.
Army Chief has told American military and political leadership that the security forces will continue offensive against the militant groups in the tribal regions. He expressed Pakistan's resolve to continue the military operation till the elimination of the last terrorist: "The Pakistan military is confident to hold their gains in FATA to ensure that terrorists would not be able to return or establish their operational basis on the Pakistani soil," he said.  "I would like to openly say that this (operation) is against all hues and colours, and it is without any discrimination, whether it is Haqqani network or TTP or anyone else," he said while speaking at a reception hosted by Pakistan's ambassador to the United States, which was also attended by US Special Representative for Pakistan and Afghanistan Dan Feldman. General Raheel also briefed the Senators about Pakistan's plans to rehabilitate the dislocated people from Waziristan.
 Army Chief also met Ambassador Susan Rice, the US National Security Adviser at the White House and held in-depth discussions on the ongoing Pakistan-US security issues and expressed satisfaction on the overall positive trajectory in the bilateral relationship. General Raheel told his hosts that heavy firing by Indian troops along the border and statements issued by their leaders were affecting Pakistan's campaign in fighting against terrorism. Gen Raheel told US officials that Pakistan has deployed 140,000 troops on its Western borders after getting assurance that there would be peace with India on its Eastern borders which did not happen. However, there was no word on Gen Raheel's statement by the US.
 The US officials opine that the military operation in North Waziristan has boosted their confidence in Pakistan's commitment to combat terrorist groups operating within its borders. Lieutenant General Joseph Anderson, a senior commander of IASF/ NATO forces in Afghanistan, recently told reporters that the Haqqani network is now "fractured." "That's based pretty much on the Pakistan ops in North Waziristan this entire summer-fall…That has very much disrupted their efforts here and has caused them to be less effective in terms of their ability to pull off an attack here in Kabul," Anderson said.
 Karzai was deeply sceptical of Pakistan and widely considered it the root of many of Afghanistan's woes. He also repeatedly clashed with the Obama administration, setting limits on US military operations and refusing to allow a residual American troops' presence after the NATO mission in Afghanistan ends this year. But Ghani, within days of taking office, signed an agreement that will keep about 9,800 American troops in Afghanistan next year. "Both sides (Pakistan and the US) are aware of this historical moment and are taking steps to seize this moment," US Ambassador to Pakistan Richard G. Olson said in a recent speech in Islamabad.
 General Raheel also traveled to Afghanistan just prior to President Ashraf Ghani's visit to Pakistan.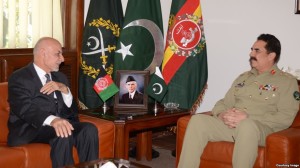 Analysts opine that the space for meaningful engagement on counter-terrorism and other issues is expanding. Earlier in October, as a sign of thawing relations, the two countries agreed to jointly import power from Kyrgyzstan and Tajikistan. Ghani has also announced that he is re-evaluating Karzai's efforts to buy weapons from India for the Afghan army. There appears to be a genuine effort to put past tensions "back in the box."
In Pakistan, some analysts expected Army Chief to quickly forge a productive relationship with his US counterparts; while regional experts expected Raheel to make a strong case for enhanced US engagement with Pakistan. One US analyst said Pakistan will benefit from Washington's tendency "to want to do something in situations instead of doing nothing"; and because institutional memories were very short in Washington and 'Pakistan's transgressions are readily forgiven and forgotten'. Experts say signs of thawing relations between Afghanistan and Pakistan have helped create some positive vibes in the US towards Pakistan and that Islamabad is using this as a way to extract a commitment from the US regarding enhanced engagement and continuation of military aid to Pakistan post-2014.
 Army Chief's visit to the US has been quite useful; however, given the complexity of Pak-US relations, it will need more than an Army Chief's visit to inject vitality in the relationship.
The Nation, November 24, 2014.
Disclaimer: Views expressed are of the writer and are not necessarily reflective of IPRI Policy.