The gas shortage crisis has hit hard Pakistan and major cities in Punjab, KPK and Balochistan including Lahore, Peshawar, Quetta etc. This year the gas crisis has been worse than the previous year. With low gas pressure coupled with unscheduled gas load shedding, the residents have now shifted to the use of electric or gas cylinders. With the rise in cold in winters, the gas load shedding has made the survival of locals very difficult. The children and people are going to offices and schools without breakfast. It is not affordable for a common man to buy meals three times a day from restaurants as food cannot be cooked at home because of no gas.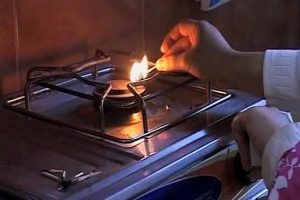 The natural gas substitutes such as kerosene oil and liquid petroleum gas are not only expensive but also unsafe for domestic consumption. Therefore, the people are bound to rely on natural gas to fulfill their energy requirements. The locals complain that this gas load shedding has emerged due to opening of CNG stations and diversion of gas for commercial purposes. Beside domestic sector, this gas shortage is also affecting the industrial sector including the agriculture and textile industry, having grave implications on the economy of Pakistan. Therefore, this gas loadshedding has led to mass protests and demonstrations all across the country.

The gas crisis in Pakistan is because of the problems faced by SNGPL in every winters due to government non-serious attitude and poor gas management and distribution policies. The government power and energy policies are not properly implemented at domestic as well as commercial level. The problems such as gas distribution losses and theft, gas management and gas consumption and conservation have resulted in this gas crisis beside low gas production/ supply as compared to its high demand in winters. The SNGPL faces major problem in winters to meet the high rise in need of domestic and commercial sectors.
Pakistan is currently facing gas deficit of about 2 bcdf (billion cubic feet per day) as the country's overall gas production is between 3.8 bcdf-4.2 bcfd but the demand stands at 6 bcfd which rises to 8 bfcd during peak cold. The Sui Northern System is currently facing 250 million cubic feet per day (mmcdf) deficit that include 150 mmcdf from local gas sources and 100 mmcdf because of increase in gas connections. Around 350,000 gas connections have been given to the domestic sector. The system is facing 300-400 mmcdf gas losses per day and SNGPL is alone facing 11% unaccounted for gas (UFG) while OGRA allows only 4.5 % while the international standards at 6%, resulting in the loss of 46 billion per annum. Another problem is the use of compressors to suck gas by domestic consumers that has affected the gas supply. Hence, all these issues have contributed in gas shortage in the country.
It has also been reported that there would be price hike of gas by 27 percent for consumers in Punjab and KPK, with respect to 1st January, 2016. However, Baluchistan and Sindh might get some relief. This step has been taken to bridge the revenue shortfall of Rs. 46.7 billion. The Federal Minister of Petroleum and Natural resources has announced that the shortage of gas in Punjab and KPK would continue till the end of next month. This announcement has added to the woes of people who are already suffering from freezing cold and gas shortage problems.
The government of Pakistan had planned to overcome the gas loadshedding through gas pipeline projects such as IP, TAPI, and importing liquid gas from Qatar but unfortunately nothing substantial has been done so far. Now the government of Pakistan has planned to frame a policy for gas import by the CNG station operators. The oil prices would stand lower compared to petrol; however, the CNG sector would work in line with the market mechanism. At international level, the US, Russia, China, UAE and Singapore have realized Pakistan's energy needs and have shown interest in exploring opportunities for gas import, terminals and pipelines. The government of Pakistan needs to review its energy policies and take serious measures to address the gas shortage problems. Immediate gas reforms are needed not only in commercial sector but also in domestic sector to address the terrible gas shortage crisis in Pakistan.
The article was carried by Pakistan Observer, 28th December,2015 and by the Daily Patriot on December 31st,2015. http://dailythepatriot.com/gas-shortage-crisis-hits-pakistan-hard/
Disclaimer: Views expressed are of the writer and are not necessarily reflective of IPRI policy.