President Xi Jinping's recent visit to India had been touted as the beginning of a great economic and political partnership; however it ended in a fizzle. Several deals, including high-speed trains and economic zones were expected at a price tag of around $100 billion, nearly three times what Japan, China's Asian rival, recently promised to India. However, both sides could agree to an investment target of $20 billion only.
Track record of materialization of such earlier projections is not promising. Despite tall articulations, since 2000, Chinese companies have invested just US $400 million in India. This slow pace is mainly attributed to the hurdles created by Indian bureaucracy. Modi government has pledged to take steps to facilitate Chinese investment, but on a much smaller level as compared to Indian facilitation to Japan by agreeing to appoint two Japanese officials to a special branch of Prime Minister's Office devoted to expediting Japanese investments.
Recent power play dynamics of the region characterized by Modi's visit to Japan and simmering Sino–Indian border tensions drive home the fragility of this relationship. In early September, Modi made a five-day visit to Japan, where he and Japanese Prime Minister Shinzo Abe agreed to elevate their dialogue to a "Special Strategic and Global Partnership". Though, much awaited nuclear deal did not come about, Japan committed to investing $35 billion in Indian projects over the next five years, and the two sides agreed to explore elevating their trilateral dialogue with the US to the foreign minister level. Many viewed Modi's remark that Japan and India were focused on economic development, not expansionism, as an oblique criticism of China and its approach to territorial disputes. Modi appears to be interested in improving strategic ties with Japan as a hedge against China, while expecting the Chinese to believe otherwise.
Moreover, since Modi assumed office in May, both Washington and Tokyo have stepped up their efforts to tie India to their anti-China strategic agenda. Modi and his senior advisers may have calculated that cooperating more closely with Japan in areas like maritime activities, nuclear issues, and stronger economic and investment ties will strengthen New Delhi's posture in dealing with Beijing and help to deter any potential Chinese border aggression.
Despite substantial improvement in their trade and economic ties, from around $5 billion in 2002 to over $66 billion in 2013, border disputes between India and China continue to simmer. Indian has since long been dreaming of a border agreement with China like the model agreement signed in 2004 by China with Russia.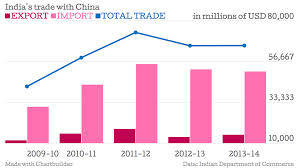 China is keen to thwart any chance of a defence alliance between India and Japan as well as other countries like the Philippines and Vietnam. Interestingly, on the eve of Xi's visit, Indian president Pranab Mukherjee travelled to Hanoi and signed a series of agreements for Indo-Vietnamese defence cooperation and off-shore oil exploration in areas of the South China Sea that China claims as its territory. India's new government has taken other provocative anti-China steps as well, like inviting the head of the Tibetan government-in-exile to attend Modi's inauguration.
For the past decade, the US has aggressively courted India as the third pillar, alongside Japan and Australia, of its drive to contain and prepare for a military confrontation with China. Towards this end, Washington has encouraged and offered to assist India in expanding its military-strategic presence in the Indian Ocean, Southeast Asia, the South China Sea and Central Asia. On diplomatic field as well, no significant progress was registered during the summit. Overall atmosphere was so cool that the talks ended on separate communiqués— a rather strong way to indicate lack of agreement.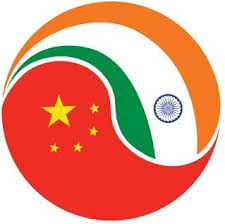 Indian side attributes this derailing to the intrusion, on the 18th of September, of 1000 PLA soldiers in Southern Ladakh, one of the two contested regions along the Sino-Indian border. Actually, Chinese soldiers entered the disputed area a week before Xi's visit at Chumur, at the intersection of the international border and the Line of Actual Control (LAC)—the defacto border between the two countries. Soldiers brought in heavy construction equipment and a large labour force to construct a road. India purposely hyped the issue during President Xi's visit to embarrass him.
Indian side projected that first information about this intrusion came in just an hour before the banquet that Modi had arranged in the honour of his guest. While 1500 Indian soldiers were dispatched to the area, Modi asked Xi, during his state banquet speech, to get his troops away. A similar Sino–Indian border tension had previously flared up in April 2013. c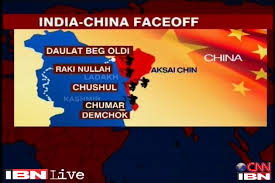 That border quarrel was defused when India agreed to destroy some illegally raised military structures along the border and both sides withdrew their troops, thus clearing the way for a planned visit to India by Chinese Premier Wen Jiabao. "The border has yet to be demarcated. Sometimes there maybe incidents but both sides are capable of handling situation with border mechanisms so that these don't have a large impact," President Xi said. Reportedly Modi made it clear to the Chinese leader that India's patience with an uncertain border situation had worn thin and that any crop of deals must await a territorial resolution.
During the talks, Modi focused on three issues: securing new Chinese investment in India, especially infrastructure projects; measures to boost China's Indian imports; and thereby reduce India's widening trade deficit; and the urgency of the two countries' resolving their longstanding border dispute. Xi invited India to play a leading role in its "Maritime Silk Road"—a project that involves Beijing building or helping to build ports and other transport facilities in South and Southeast Asia so as to secure its strategic access to energy and other raw materials and boost trade. But Modi poured cold water on the idea.
Summit has clearly failed to achieve its stated objective of "taking Sino-India relations to a new level," let alone blocking India from aligning more closely and fully with the US and Japan. New Delhi recognizes Beijing's strategic predicament. Its clumsy handling of Xi's visit shows that it calculates it can pick and choose from whatever inducements Beijing offers, and has considerable latitude to otherwise aggressively pursue its economic and strategic interests—indeed a gross miscalculation.
On one of the public TV channels, an anchor introduced the Chinese President as "Eleven Jinping"; she mixed-up Xi's name with the roman figure "XI".  Likewise, in another goof-up the Gujarat state Government circulated a faulty map that projected Arunachal Pradesh, Jammu and Kashmir as disputed regions and Aksai Chin as part of China. Such slips are indicative of the long mileage India has to traverse to know China. Contrast this attitude of Indian indifference with the Chinese sense of cordiality; Xi began his visit to India by joining the celebrations marking the 64th birthday of Indian Prime Minister Narendra Modi in his home state of Gujarat. President Xi's decision to skip his visit to Pakistan was overplayed by Indian media to make up for the deficiency of the content in China-India summit.
Overall, the visit of President Xi Jinping to India has not provided any substantive signals of optimism that China-India relations could, in the foreseeable future, enter the phase where "Strategic Distrust", that presently dominates, could incrementally be replaced by some semblance of trust-building initiatives.
The Nation September 29, 2014
Disclaimer: Views expressed are of the writer and are not necessarily representative of IPRI policy