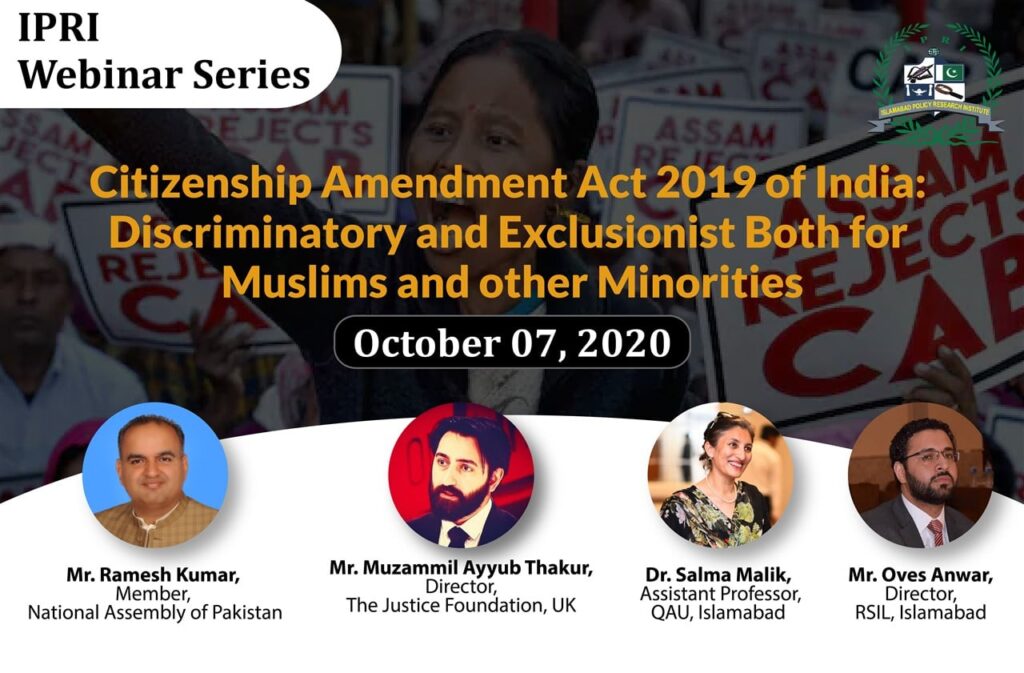 Introduction
Islamabad Policy Research Institute (IPRI) organized a "Zoom Webinar" on the "Citizenship Amendment Act 2019 of India: Discriminatory and Exclusionist for Muslims and other Minorities" on October 7, 2020. The distinguished panel, invited to deliberate and provide expert inputs on the subject, included Dr. Rumesh Kumar, Patron-in-Chief of the Pakistan Hindu Council, Member of the National Assembly, Mr. Muzzammil Ayyub Thakur, Director of the Justice Foundation, Kashmir Institute of International Affairs, UK who spoke on "Citizenship Amendment Act since Enactment: A Win or a Misfire?", Mr. Muhammad Oves Anwar, Director, Conflict Law Centre, Research Society of International Law (RSIL) who spoke on "The Legal Implications of the Citizenship Amendment Act: An Analysis" and Dr. Salma Malik, Assistant Professor, Department of Defence and Strategic Studies, Quaid-i-Azam University who spoke on "Impact of Citizenship Amendment Act in South Asia: Exacerbating Existing Regional Fault-lines." Brig. (R) Raashid Wali Janjua, Acting President/Director Research, IPRI made the welcome address. The Webinar concluded after an exhaustive Q&A session.
Concept Note
After winning the re-elections in 2019 with a bigger majority, the Bhartiya Janata Party (BJP) has been on a mission to promote its Hindutva ideology even more vociferously. The main motivation behind this has been to change the secular character of India as envisioned by Nehru to a majoritarian Hindu polity. This is being achieved with the introduction of laws which are communal, majoritarian and intolerant in nature. One such law is the Citizenship Amendment Act (CAA) 2019 enacted with the purpose of providing citizenship to religious minorities, except Muslims, from India's neighbouring countries. With almost a year since it was passed, the CAA has been met with acute criticism and protests within India. Internationally too, United Nations bodies have been critical of the communal nature of CAA. Moreover, rather than providing refuge to non-Muslims from other countries, the CAA has become a source of violence and discrimination for Hindus alike. Recently, there have been reports of around 28,000 Pakistani Hindus stranded at Jodhpur waiting to return to Pakistan. There have been reports of murder of eleven Pakistani Hindus in Rajasthan.
Such a situation warranted an objective analysis of the impact CAA has had on minorities as well as Hindus in India and the implications it could have for the countries in the region.
Key Takeaways
In the light of views expressed by the speakers and discussion, following key takeaways are put forth:-
Both the NRC and the CAA have acted in sync to deny minorities their due rights, which bodes ill especially for Indian national integrity.
International bodies that serve to protect the rights and dignities of mankind should immediately take cognizance of the fact that India has been violating the rights of its own minorities, and those across its borders. Since the US and the UK have dedicated legal institutions and organizations that look into international Human Rights, Pakistan must approach them on the plight of Kashmiris.
There is a clear distinction between the Hindu religion and the Hindutva ideology. Hindutva should clearly be identified as an ideology that spreads intolerance and hatred. While, Hindu religion preaches peace and teaches inter-faith harmony. India under Modi is fast becoming a fascist state where minority rights are being trampled with impunity.
India has embarked on demographic change and ethnic cleansing project in IIOJK. It is important to note here that what took Israel 50 years, has taken India less than a year to change the fate of minorities with no recourse to justice. Kashmir has been a testing ground and laboratory for Indian oppressive policies for more than 70 years.
Advocacy must be strengthened and at the heart of the campaign should be the role of Kashmiri diaspora, who must be empowered, mobilized and given due support to further the Kashmiri cause.
Current political elite in India has done away with the secular identity of India and institutions; Indian Supreme Court has also played its part in this transition to Hindutva. Now it turns out that the Indian political elite right from the beginning used the cover of secularism, even during the partition times, to discriminate against minorities. Babri mosque episode has exposed not only the political parties but also state institutions, even judiciary, about their complicity in the crime by maintaining silence. Hindutva forces now plan to destroy more religious shrines and places of worship in the future.
Article 14 of the Indian Constitution states "Equality before Law", regardless of their religion. However, the CAA is in direct violation of this article by specifically targeting Muslims. Through CAA, the aim is to deprive the Muslim community of their basic rights as citizens. Similarly, the CAA also violates Article 21, "Right to Life and Liberty" and the basic principle of Secularism under the Indian Constitution.
Office of the UN Commissioner for Human Rights described the CAA as "fundamentally discriminatory in nature." The US Commission on International Religious Freedom and the International Commission of Jurists recommended to the US government that sanctions should be imposed on India for the implementation of this Act unlike the past.
India is shirking from its international Human Rights obligations. India is violating the basic tenants of Human Rights by deliberately making people stateless, which is in complete violation of the international law that looks after the protection of citizens' identity. India under Modi is up for a "System Criminality", i.e. a situation where the entire state apparatus is used to commit international crimes within a state, what Nazi Germany had also demonstrated.