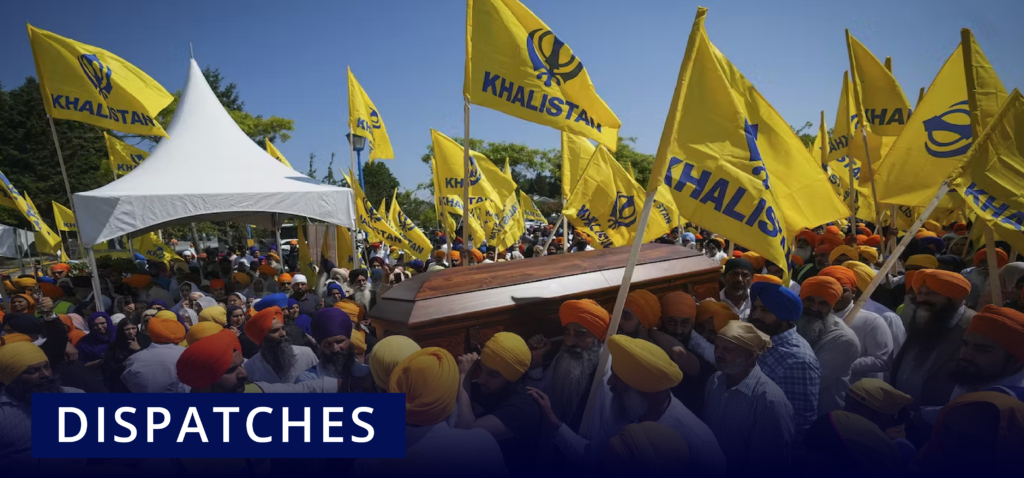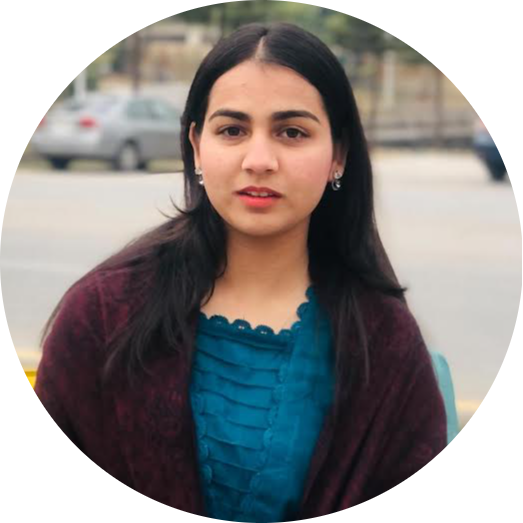 Sibra Waseem is an independent researcher in Islamabad, Pakistan. She can be contacted at sibrataurus@gmail.com
In the arena of international relations, the impact of domestic politics is akin to a stone dropped in a pond, creating waves that touch distant shores. In the tumultuous affairs of state-to-state affairs, it's not uncommon for neighboring rival nations to secretly revel in each other's challenges.
The ongoing feud between India and Canada and consequently with the other Western allies has undoubtedly added fuel to the simmering Khalistan movement, a situation that may, on the surface, appear advantageous to some in Pakistan who are tempted to observe India's troubles with satisfaction. However, in the delicate tapestry of regional politics and security, satisfaction at a neighbor's woes is a shortsighted perspective. One must contend that rather than observing the situation with inward delight, Pakistan should consider it a cause for alarm. The escalating Khalistan movement, exacerbated by the India-Canada feud, poses not just a threat to India but potentially reverberates across borders, necessitating a cautious and proactive approach from Pakistan to safeguard its own interests and regional stability.
In the cauldron of oppression, minority grievances simmer, and when the lid is lifted, their demands, once set aside, may come boiling to the surface. The Khalistan movement, which originally sought rights in both Indian Punjab and Pakistan Punjab, but had shelved its Pakistani Punjab aspirations over time. Many in Pakistan remain unaware of the original Khalistan ideology, which once laid claim to parts of Pakistan, including Lahore as its capital based on historical context could rekindle those demands should it gain momentum in India. This forgotten chapter in the movement's history, although toned down, has the potential to resurface, serving as a stark reminder of the intricacies within regional conflicts and the importance of understanding their historical underpinnings. The Canadian journalist Terry Milewski, amidst the ongoing diplomatic feud between Canada and India, dropped a bombshell by posing a provocative question: 'Why not ask Pakistan for Khalistan?' Milewski based his statement on the aforementioned historical reasoning and further leveled allegations on Pakistan for driving the separatist movement within India. These allegations are also covered in his book, 'Blood for Blood: Fifty Years of the Global Khalistan Project.'
The Khalistan movement represents a separatist endeavor aimed at establishing an independent Sikh homeland known as Khalistan within the Punjab region. This envisioned sovereign state's territorial boundaries differ among various factions; some advocate for the entirety of the Sikh-majority Indian state of Punjab, while more expansive claims encompass Pakistani Punjab and additional areas in North India, including Chandigarh, Haryana, and Himachal Pradesh. Different proposals have suggested both Shimla and Lahore as potential capitals for Khalistan. Similarly, Nankana Sahib, the birthplace of the founder of Sikhism-Guru Nanak Dev is within Pakistan's boundaries. A part of Sikh intellects in India claims that Sikh Gurus had spent major portions of their lives in 'Pakistan occupied Punjab' whereas, New Delhi, Haryana, and Himachal Pradesh had nothing to do with the Sikh History.
The Sikh empire was founded by Maharajah Ranjit Singh whose rule was primarily focused on the Punjab region of South Asia from 1799 to 1849 until it was taken over by the Mughals. Lahore served as the capital of the Sikh Empire during his reign and was not only the political center but also a cultural and economic hub of the empire. Hence, the purist Sikhs assert a claim to the whole of that region in their Khalistan endeavors.
In 1940, the explicit demand for Khalistan was articulated in a pamphlet titled "Khalistan." With substantial financial and political backing from the Sikh diaspora, this movement gained traction, particularly within the Sikh-majority Indian state of Punjab. Its prominence continued throughout the 1970s and 1980s, culminating in its peak during the late 1980s. It is noteworthy that Sikh separatist leader Jagjit Singh Chohan asserted that, in the aftermath of the Indo-Pakistani War of 1971, he engaged in discussions with Pakistani Prime Minister Zulfikar Ali Bhutto, who had purportedly offered "all-out assistance" by establishing a Sikh government. However, this pledged support never materialized. During his visit to the United States, he placed an advertisement in The New York Times announcing the formation of Khalistan and raised millions of dollars in support of this cause. Chauhan was a guest of prominent figures in Pakistan, including Chaudhuri Zahoor Elahi, and during his visit, he toured Nankana Sahib and various historical gurdwaras in Pakistan. His activities received extensive coverage in the Pakistani press, which introduced the demand for Khalistan to the international community, including those in India, for the first time. Similarly, the infamous Canadian journalist within the Pakistanis, Tareq Fatah narrated that ZKB had expressed his plans in 1973 in a reporter's meet to carve out a separate "Bangladesh" within India(pointing towards the Khalistan State as revenge for the losses of 1971 war) but on the side of Pakistan.
The Khalistan territory has strategic significance in a way that it acts as a buffer between Pakistan and India, with the Punjab River tributaries flowing to Pakistan-hence for Pakistan it might be feasible to negotiate with Khalistan for the water flow and then subsequently with India. Former Pakistan Foreign Minister Shah Mahmood Qureshi's statement that the then PM Imran Khan had bowled a 'Kartarpur googly' was also met with skepticism among the Indians.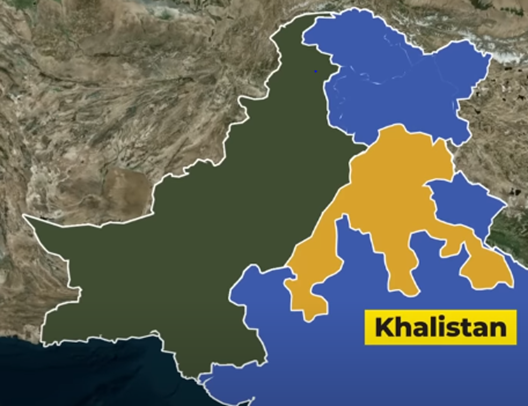 The Indians alleged that the 1984 Operation Blue Star which holds undeniably a significant chapter in Sikh history due to its tragic and contentious nature was orchestrated by Pakistan. Though Pakistan denied it at the state level, the former head of Pakistan's Inter-Services Intelligence (ISI), the late General Hamid Gul, acknowledged during an interview that Sikh separatists used to procure weapons through their contacts in Pakistan. However, it was in the late 1980s, with the assistance of Benazir Bhutto, that the Khalistan Movement started to lose momentum. Bhutto also rejected a proposal by the intelligence agency to support the movement as a response to India's threats to Pakistan. India's assertion that Sikh insurgents were trained by the now-banned group Lashkar-e-Tayyaba (LeT) strained relations between the two nations. Similarly, Indian officials have once again accused the ISI of substantial funding to support Khalistan activities in Canada, organizing referendums, and convening meetings with Khalistan leaders as part of its 'Plan-K' to propagate anti-India sentiments. The Indian media outlets also initiated a debate linking the 2021 Farmer's Movement in Indian Punjab to Pakistan or be it 1985 Air India bombing incident. If confirmed, Pakistan's alleged support for insurgent activities has the potential to severely damage its international reputation and only prove counterproductive.
Therefore, narratives promoted by certain political leaders and allegations of support by extremist groups may currently appear to serve Pakistan's interests by fueling tensions and unrest in India, it is essential to recognize the potential long-term repercussions. Such moves may ultimately prove to be a double-edged sword, posing a significant threat to Pakistan's stability and security. It is imperative not to forget the principle of 'tit-for-tat,' wherein not only the Khalistan movement but also the Baluchistan conflict has been accused of receiving external support, notably from India. These twin threats, if left unaddressed, have the potential to act as force multipliers, casting a shadow over Pakistan's territorial integrity and the pursuit of lasting peace in the region.
Disclaimer: The views expressed in the article are of the author and do not necessarily represent the institute's policy.