Modi's Religious Fanaticism and Duplicity of Beef Politics 
By Sajjad Shaukat
BJP-led extremist Indian Prime Minister Narendra Modi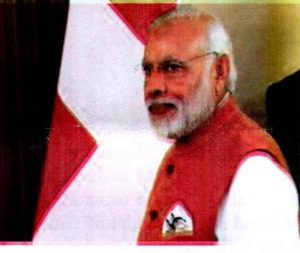 had got a land sliding triumph in the Indian elections 2014 on the basis of anti-Muslim and anti-Pakistan slogans. Therefore, since the Prime Minister Modi came to power, he has been implementing anti-Muslim and anti-Pakistan agenda. Modi has also intensified war-hysteria against Pakistan and instructed Indian forces to continue shelling across the Line of Control (LoC) and Working Boundary, which have killed many innocent civilians inside Pakistani side of Kashmir and other nearby villages.
As regards extremist policies inside India, since the leader of the ruling party BJP Modi became Prime Minister of India, he is promoting religious fanaticism and the ideology of Hindutva (Hindu nationalism), which is the genesis of Hindu terrorism. In this regard, various developments like unprecedented rise of Hindu extremism, persecution of minorities, forced conversions of other religious minorities into Hindus, assaults on Christians and Muslims, including their places of worships and property by the fanatic Hindu mobs, inclusion of Hindu religious books in curriculum and ban on beef and cow slaughter clearly show that encouraged by the Hindu fundamentalist outfits such as BJP, RSS VHP, Bajrang Dal and Shiv Sena, including other similar parties have been promoting religious and ethnic chauvinism in India by propagating the ideology of Hindutva. It is notable that during canvassing for the general elections of 2014, Narendra Modi, the then Chief Minister of Gujarat generally used to accuse Congress party for encouraging" cow/cattle slaughter" to increase beef exports of India. He also frequently used term "Pink Revolution" to denote the technological revolutions in the meat and poultry processing sector so as to project himself as a protector of animals and to modernize the related industry. In some interactions, he even bragged for providing best medical care to the animals in Gujarat. He, however, proved his skills in organized killings of the Muslims in Gujrat. With his ascension to prime minister's slot, he is continuing with his beef politics thus, killings poor Indians in the name of beef/cow, which has become a new norm in India. Encouraged by Modi's religious fanaticism, frequently, with impunity, "Gau Rakshaks" are killing/lynching Muslims and other minorities across India.
Since May 2014, about 63 cases of cow-related violence were reported with 32 cases reported from BJP governed states till Sep 2017. These attacks (sometimes collectively referred to as gautankwad, a portmanteau of the Hindi words for cow and terrorism on social media) resulted in killing of 24 Muslims, 5 Dalits. 3 Sikhs and one Christian. Amid such activities, India s beef exports ha e increased manifolds during Modi's era. According to a report of the Food and Agriculture Organization (FAO) and the Organization for Economic Cooperation and Development (OECD), India is the world's third-biggest exporter of beef and is projected to hold on to that position over the next decade.
BJP has no shame in benefitting from beef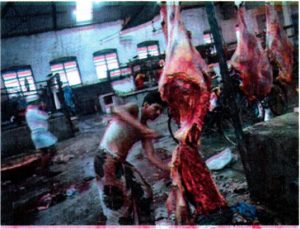 trade. It is on record that BJP has been receiving major donations from major beef trading companies. In the run-up to Lok Sabha polls in 2014, three companies-Frigorifico Allana Ltd, Frigerio Converva Allana Ltd. and Indagro Foods Ltd, contributed Rs 2 crores to the Cow Lover Party. All the three companies are subsidiaries of Allanasons Ltd. with their registered address at Allana House, Allana Road, Colaba, Mumbai. The same company enjoys "Premium Trading House", including several exemptions on export duties etc.-courtesy to BJP chief minister of Maharashtra, MR. Devendra Fadnavis, while a fiery BJP leader/MLA from UP, Mr Sangeet Singh Som who remained at the forefront of frenzied anti-beef protests and an accused in the Muzaffarnagar riots-2013, had been co-owner of beef trading company called "AI-Dua" and "AI Anam". Notably, AI-Dua has been described as one of India's leading "halal" meat/beef export companies which exports meat to Arab countries.
The misleading propagation about Muslim community, Indian beef business is dominated and owned by Hindu traders. Amongst some prominent big slaughter houses/companies in India which are dealing in beef business include Al Kabeer Exports Pvt. Ltd., owned by Satish Saberwal), Arabian Exports Pvt. Ltd. by Sunil Kapoor, MKR Frozen Food Exports Pvt. Ltd. by Madan Suri, Al Noor Exports Pvt. Ltd. by Sunil Sood, AOB Exports Pvt. Ltd. by 0 P Arora, Standard Frozen Foods Exports Pvt. Ltd. by Kamal Verma and Maharashtra Food Processing and Cold Storage Pvt. Ltd. by Sunny Khattar. In these terms, question arises as to what is the rationale of BJP's beef politics or cows' livery? In fact, to becharm 80% Hindu population/voters of India, BJP/Modi duplicitously and shamefully indoctrinates them that those ones who are different from Hindus-meaning all non-Hindus are enemies and if Hindus do not vote for BJP (or vote for non-BJP parties), the very existence of Hinduism and that of India will be in danger. Nevertheless, by linking non-BJP parties with beef, they are telling their core voters that others are the enemies of India. After remaining nearly 4 years in power, Modi has neither stopped the beef export, nor done any actions to stop issuing licenses to beef exporters. Interestingly, beef business is thriving in BJP led states of UP, Maharashtra etc. Undoubtedly, under Modi's regime, it shows duplicity of the beef politics.
Disclaimer: Views expressed are of the writer and are not necessarily reflective of IPRI policy.