Current leadership both in China and Pakistan is committed to expand Pakistan-China relations at bilateral and multilateral levels by forging China-Pakistan Community of Shared Destiny. Today, both countries have common interests in promoting regional peace and stability in the region by eradicating terrorism, working together for peace in Afghanistan, improving relations with India and enhancing regional connectivity. The socio-economic development of people of both countries is the common goal in developing China-Pakistan Community of Shared Destiny.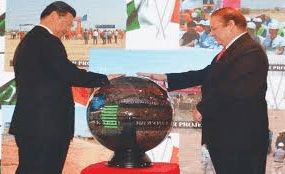 Pakistan-China Relations can best be described as -promising, flourishing, a success story, meeting the requirement of changing situations. The development of relations between the two countries is generally explained by "two Alls and Four Goods". The two alls are – all-weather friendship and all round cooperation. The four goods include: good neighbours, good friends, good partners and good brothers. This shows up gradation in the development of their relations with the passage of time. Over the years, the unique friendship between Pakistan and China has transformed into a strong strategic partnership, robust economic cooperation and ever increasing people to people contacts. This relationship is based on trust, understanding and common aspirations for peace and progress. Pakistan-China Friendship is spread over generations.
Economy and Security are two important components of Pakistan-China strategic relations. Today Pakistan has been facing multifarious traditional and non-traditional security challenges. Some of major challenges include the terrorism, economic slowdown and energy crisis. Rising China has the potential to help Pakistan through trade and investment. China's economy is full of vitality and is going to become the world's largest economy in the coming decade. According to IMF, China's GDP surpassed the United States in 2014 in term of PPP (Purchasing Power Parity), making China the world's largest economy. It is expected that the Chinese economy could be twice that of the USA by 2040.China's global investment is projected to reach at US $ 5.2 trillion by 2020.
The trade volume between China and Pakistan  reached to US $15 billion in 2015 and  both the countries have  agreed to elevate trade volume up to  US $ 20 billion within next three years.China  is on the top of the list of countries having Foreign Direct Investment in Pakistan. China's Foreign Investment inflow during July 2013 to June 2014 was US $ 695.8 million.
During Chinese Foreign Minister Wang Yi's visit to Pakistan in February 2015 both the countries agreed to further enhance their economic and security cooperation. They agreed to step up a new mechanism for a comprehensive counter terrorism cooperation to ensure safety of their peoples. China appreciated Pakistan's resolute steps against terrorism. The two sides also agreed to early operationalization of energy and infrastructure projects under Pakistan-China Economic Corridor project. The Chinese Foreign Minister termed Pakistan-China economic corridor project as a flagship strategic cooperation project.
According to a Joint Statement on -Common Vision for Deepening Pakistan-China Strategic Cooperative Partnership in the New Era, issued on July 5, 2013 during the visit of Mian Muhammad Nawzaz Sharif's visit to China, "China reaffirmed that its relationship with Pakistan was always a matter of highest priority in its foreign policy, and it would continue to strengthen this strategic partnership. China appreciated Pakistan's long-term, staunch support on issues concerning China's core interests. China would continue to extend its full support to Pakistan in the latter's efforts to uphold its independence, sovereignty and territorial integrity, while respecting the development path chosen by the people according to its national priority, and support Pakistan in maintaining social stability and economic development".
During the visit of the Pakistani President Manoon Hussain to China in February 2014, the two sides expressed satisfaction at the development of China-Pakistan relations. They agreed that the relationship had outgrown its bilateral dimension to acquire regional and global significance. The two sides agreed that, as all-weather strategic and cooperative partners, China and Pakistan would jointly strive for more friendly political relations, stronger economic bonds, deeper security cooperation and closer people-to-people contacts, and work together for the goal of "the China-Pakistan Community of Shared Destiny".
H.E Sun Weidong , Ambassador of China in Pakistan has rightly said  at the Inauguration of Port Qasim Thermal Power Project , I quote "Together we will build a community of common connection, a community of common development, and a community of common prosperity, and then a China-Pakistan "community of shared destiny" will be forged."
President Xi visited Pakistan from 20-21 April 2015.The visit is very important for setting future direction of China-Pakistan relations. Building China-Pakistan Community of Shared Destiny is the future vision of current leadership in China and Pakistan. The main objective of this vision is to bring prosperity and development of both Pakistan and China. China-Pakistan economic corridor would be the main engine of economic growth and development.
President Xi's visit has upgraded China-Pakistan relations from good brothers to iron brothers. The friendly relations have touched new heights as both countries signed 51 agreements and MoUs in different sectors, including energy, infrastructure, security and economic development. Out of these 51 agreements 30 agreements were related to economic corridor.  The two sides launched the 46 billion dollar economic corridor linking the Gwadar Port with Xinjiang province in Western China through a complex network that includes highways and railways. Pakistan has established a special security division for security of Chinese engineers working on economic corridor project. It will comprise personnel from the Army, police and civil armed forces. The security battalion of 10,000 personnel will be headed by a Major General from Army. Out of total force 5000 personnel would be from SSG.
President Xi address to joint session of parliament on 21st April 2015 was a remarkable event. While appreciating Pakistan's role in counter terrorism he said that Pakistan's sacrifices against terror were matchless. China would never forget Pakistan's contribution to the security of its Western border. He advised that Pakistan and China should continue to support each other on core issues and remain each other's dependable partners. China will provide training to 2,000 Pakistani youth in diverse fields in the next five years. As many as 1,000 teaching staff will also be trained in Chinese language.
Published by: Pakistan Observer, April 30, 2015.
Disclaimer: Views expressed are of the writer and are not necessarily reflective of IPRI policy.