Pakistan-India bilateral relations have always been fluctuating. Despite regular change of political administrations on both sides, limited change was seen in their foreign policy towards each other. After the resumption of Indo-Pakistan peace process since 2011, little progress has been made in improvement of their bilateral relations. There were some prospects in areas of trade and economy but other contentious issues like Kashmir, Siachin, water disputes etc. remained unresolved. The last two years were particularly marked by increase in cross border firing along Line of Control (LOC) and Working Boundary (WB) between Kashmir and Pakistani territory.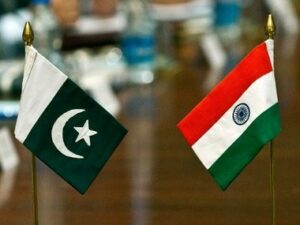 The Modi's government has widened the long rooted political and socio-economic differences between the two countries. Modi's government ideology of Hindutva or revival of Hindu Nationalism, being extremist and anti-Muslim has serious repercussions at domestic level and abroad. For instance, events such as 1) cancellation of Indo-Pak foreign secretaries meeting in August 2014 in context of Pakistani High Commissioner's meeting with the Hurriyet leaders at Delhi 2) India feeling distressed about Nawaz Sharif's highlighting Kashmir at UN General Assembly speech in September last year 3) alleging of Pakistani fishing boat of smuggling or illicit transaction and infiltrating into Indian waters on new year eve and later denial of ordering its blowing by the DIG of Indian Coast Guard 4) highlighting the trial of those involved in Mumbai attacks by S.Jaishankar on his foreign secretary level meeting at Islamabad in March 2015 5) suspension of 67 Kashmiri students for celebrating Pakistan's victory over India in Asia Cup 2014 cricket match 6) Bhartia Janta Party's (BJP) brutal polices in Kashmir and its efforts for the abrogation of Article 370 of the Indian Constitution are clear cut reflection of BJP's deep rooted skepticism and hawkish policy towards Pakistan.

At Global level, Modi's government projects an economic outlook but India has stepped up its military defence budget to around US$ 40 billion for the FY 2015-2016. It is already world's largest weapon importer and buyer of military equipment. India is also working robustly on its ABM system. Despite being NPT non-signatory, India wants Nuclear Supplier Groups full membership. It has nuclear commerce with Russia, Kazakhstan, Australia, France, US and Canada. This military build up and nuclear advancement from Indian side has led to strategic imbalance and regional arms race, making Pakistan insecure which is already having a conventional asymmetry with India.

To isolate Pakistan economically among SAARC nations, India has created Bangladesh, Bhutan, India, and Nepal (BBIN) sub-grouping for intra-regional trade. India is investing around US $ 85 million in Chabahar to counter Gwadar port, an economic hub for Pakistan. At inter-regional level, India has increased its influence and trade links with world economies, particularly with South East Asian region as evident from its "Look East" to "Act East policy". Pak-China friendship is another irritant for India and according to reports India does not want Pakistan-China Economic Corridor to materialize, as it is not in the economic and strategic interests of India. Thus, to counter balance China, India has engaged itself with US. The growing Indo-US ties are indicative of India's strong aspiration to become permanent UNSC member although it has been past violator of UNSC resolutions and having a poor human rights record. All these Indian developments show: 1) India's ambitions to surpass Pakistan politically, economically and socially at regional and global level 2) tarnish the image of Pakistan globally by projecting it as a state sponsoring terrorism 3) to keep an edge over Pakistan in all bilateral matters of discord and turning them into its own favour through national and international support 4) to assert itself as a regional power and secular democracy with much more confidence 5) to achieve its goals of becoming global power.

Recently, PM Narendra Modi tried to break the ice between the two countries through "Cricket Diplomacy." The two nations have not contested since 2007 in the wake of the 26/11 Mumbai carnage. This announcement was initially welcomed in Pakistan but the recent reports of Research & Analysis Wing (RAW) involvement in terror attacks inside Pakistan, using Afghan soil as its launching pad and evidence of Indian spy agency's involvement behind Karachi unrest have ruled out any such possibility. Previously, there also have been reports about India's involvement behind Balochistan insurgency and Indian consulates in Afghanistan behind provoking violence in tribal areas of Pakistan. The current scenario has increased trust deficit and animosity between the two states. India's ill motives to destabilize Pakistan have thwarted any prospects for future development in their bilateral relations. The Indo-Pakistan roadmap for composite dialogue under the peace process has been stalled. In the current scenario, the road to Pakistan-India relations have strained to an extent that the right direction for reapproachment seems a dead end.
The article was taken by Pakistan Observer, May 23,2015.
Disclaimer: Views expressed are of the writer and are not necessary reflective of IPRI policy.