On the special invitation of President of Kazakhstan, H.E Nursultan Abishevich Nazarbayev,   a high-level Pakistani delegation led by Prime Minister Muhammad Nawaz Sharif paid a two days visit to Astana, Kazakhstan, on 25-26 August 2015. The military operation Zarb-e-Azb and China-Pakistan Economic corridor are two game changers in the region – the first one for regional peace and second one for regional prosperity. These two initiatives has raised Pakistan's profile not only at regional level but also at the international level. The unfolding new realities in the region are providing new avenues to Pakistan to realize its true potential as regional hub for trade and economic cooperation. H,E Nursultan Nazarbayev in his meeting with Pakistani Prime Minister Mian Muhammad Nawaz Sharif  has very rightly pointed out that in light of new realities, it is time to start a new page in the bilateral relations between Kazakhstan and Pakistan. The statement clearly reflect that Kazakhstan is interested to start a new page of cooperation with Pakistan due to unfolding new developments in the region. There is no doubt that both countries hold enormous significance for each other to have close political, economic and security relations. Both countries are important in terms of their potential in diversified field and can benefit from each other's experience. The two countries share common views on major regional and international issues and cooperate closely in multilateral forums including the UN, SCO, ECO and OIC.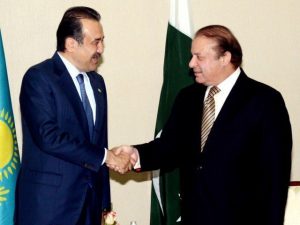 With the changing global strategic milieu, Pakistan has several opportunities at its disposal especially in four broad gradients. The first opportunity is the initiation of China-Pakistan Economic Corridor. The major challenge for this project is provision of security. The second important opportunity is improvement of relations between Pakistan and Afghanistan. Pakistan's role in Afghan reconciliation process is critical .The third opportunity is beginning of the official process for Pakistan and India's full membership of Shanghai Cooperation organisation (SCO) as  announced at  the  15th SCO  summit held in Ufa, Russia on 9-10 July 2015. This opportunity will provide a space to both Pakistan and India to improve their relations. The fourth important opportunity for Pakistan lies in Iran's nuclear deal with the West. The removal of various sanctions against Iran as a result of the deal will help Pakistan to complete its portion of Gas pipeline with Iran. The progress in these four spheres will help Pakistan in meeting the imperatives of regional security. All these developments are termed as game changer for Pakistan.
Prime Minister Nawaz Sharif's visit to Kazakhstan took place at a critical time for Pakistan when the meeting of National Security Advisors of Pakistan and India that was scheduled to be held on August 24, 2015   was cancelled due to Indian pre-conditions for talks especially it wanted Pakistan not to consult with Kashmiri Hurriyat leadership before talks with India. Further, India is trying to limit the dialogue just one single issue of terrorism whereas Pakistan is interested in discussing all the issues including the core issue of Jammu and Kashmir through a meaningful result oriented dialogue. Many experts were of the view that with such moves India is trying to isolate Pakistan. Therefore, in this respect the timing of the visit was very significant for Pakistan. Pakistan accords high priority to its deep historical and cultural bonds with the Central Asian region. The Prime Minister's visit to Kazakhstan was reflective of his vision to enhance and strengthen Pakistan's relations with Central Asian Republics.
Prime Minister Nawaz Sharif's visit to Kazakhstan was considered very successful as he held very important and result oriented meetings   with President Nursultan Abishevich Nazarbayev and Prime Minister Karim Massimov. The leadership of both countries expressed their resolve to further reinforce bilateral trade, investment and build long-term economic cooperation. According to a joint statement issued after the visit, the two countries would cooperate in the field of energy such as oil and gas, civil nuclear cooperation and renewable energy. The two sides confirmed that the 8th session of Inter-governmental Kazakhstan-Pakistan Commission on trade and economic, scientific and technical and cultural cooperation will be held in Astana on October 29-30, 2015. Further the leadership of both countries highlighted the importance of setting-up of Joint Business Council and enhancing cooperation in the field of defence. In view of their considerable transit and transport potential, both sides agreed to enhance their cooperation in the field of transport and communications. The two sides noted that one of the potential links between Astana and Islamabad could be established through connection of railways Kazakhstan-Turkmenistan-Iran and Pakistan-Iran-Turkey. This project would be very much in line with Kazakhstan's New Economic Policy 'Nurly Zhol' (The Bright Road) and China-Pakistan Economic Corridor (CPEC) project. While realizing the importance of people to people contact, both sided expressed intention to develop regular exchange between organisations, artists, research centers, educational institutions, mass media, and to intensify cooperation in the fields of education, science, culture, art, tourism and sports.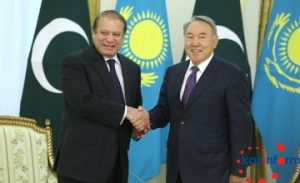 The joint statement is a very comprehensive document and also elaborates the importance of cooperation between Pakistan and Kazakhstan in promotion of regional security and stability. The joint communique said the two sides reaffirmed their resolve to strengthen cooperation on prevention and peaceful resolution of international conflicts, and to counter challenges posed by terrorism, disasters and proliferation of weapons of mass destruction. They underscored the importance of coordination among all stakeholders in preparing the Fifth Ministerial Conference in Islamabad in December 2015, within the framework of the Heart of Asia-Istanbul Process. Kazakh president expressed full confidence in successful hosting of this forthcoming event by the government in of Pakistan. Pakistan and Kazakhstan had a common interest in a peaceful, stable and united Afghanistan. The two countries also support an all-inclusive Afghan-led and Afghan-owned reconciliation process. Pakistan thanked Kazakh president for supporting Pakistan's candidature for non-permanent seat of the United Nations Security Council in 2012-2013 and reiterated her support for Kazakhstan's candidature for the non-permanent seat of the UNSC in 2017-18.
There is a bigger scope for trade in textile and cotton products, pharmaceuticals, and food items, engineering equipment and machinery, and construction enterprises. Pakistan and Kazakhstan signed three memoranda of understanding (MoUs) for cooperation in the areas of trade and investment, defence and strategic studies, and training in foreign services. Nawaz Sharif's visit to Kazakhstan is part of Pakistan's plan to diversify its foreign engagements. Kazakhstan is one of the major Central Asian players and it has shown eagerness to cooperate with Pakistan in multiple sectors. Starting a new page in bilateral relations with Kazakhstan will help Pakistan realizing its potential to become a hub for regional connectivity and economic interdependence.
Published by Pakistan Observer on August 30, 2015
Disclaimer: Views expressed are of the writer and are not necessarily reflective of IPRI policy.