The visit of Tajik President Emomali Rahmon in mid-November to Pakistan was a hallmark in Pakistan-Tajikistan bilateral relations. Both the countries have signed multiple agreements of co-operation in the fields of energy, security, trade, defence, culture, infrastructure development and communication. The two sides agreed to increase people-to-people contacts and regular exchange of delegations. Important matters relating to counter-terrorism, regional instability, extremism, controlling human and drug smuggling were also discussed. This was President Rahmon's sixth visit to Pakistan. The bilateral visit was a way forward in Pakistan-Tajikistan relations and it has opened new opportunities for Pakistan to bolster its relations with the Central Asian states.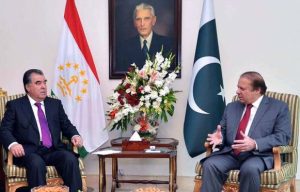 Glancing at the history of Pakistan–Tajikistan relations, following the Soviet collapse, Pakistan was amongst the first countries that recognized Tajikistan. The diplomatic relations between the two countries had started since 1992. Pakistan accommodated many Tajik refugees that moved in Pakistan via Afghanistan during Soviet-Afghan war and also in 1992 when Tajikistan suffered post-independence political unrest and civil war. Geographically, Tajikistan is very close to Pakistan i.e. only fourteen kilometers away. Many Tajiks, around 1.2 million, have settled in Pakistan. With the UN assistance Pakistan had sent 800 Tajiks back to their home country. Although Pakistan has politically and economically paid huge cost to accommodate Tajik refugees but it has always offered to provide land and sea access to landlocked Tajikistan.
The regular exchange of visits by the two governments have also strengthened the cordial ties between the two countries. In last June 2014, Prime Minister Nawaz Sharif's visit to Tajikistan focused on reinstallation of CASA-1000 project and a Joint Commission on Energy and Infrastructure was also established. In June 2015, PM Nawaz again visited Dushanbe on two-day official visits to attend International Conference on Water for Life 2005-25. In this visit, both the sides agreed to strengthen economic cooperation by optimally utilizing the existing institutional mechanisms, especially through the Pakistan-Tajikistan Joint Ministerial Commission. The two leaders had also agreed for the establishment of a joint business council and for enhanced collaboration in the fields of science, technology and geology.
In the context of Pakistan-Tajikistan trade and economic relations, more than 50 agricultural and infrastructure projects having cost of $700 million are under construction. An inter-governmental Joint Economic Commission (JEC) is also functioning to strengthen political, economic, cultural and technical cooperation between the two countries. The volume of bilateral trade has also increased in last decade and had steadily risen to US$15 million in 2011 to US$89 million in 2014. The target of US$500 million had been set to be achieved in the next few years. The CPEC and Gwadar Port would connect Pakistan to Tajikistan through Gwadar-Peshawar-Kabul-Kunduz-Dushanbe route, Khunjrab-Kalasu-Murghab route and Chitral-Eshkhahim-Dushanbe route. These routes would strengthen economic integration and connectivity of Pakistan with Tajikistan. In January 2015, Pakistan, Afghanistan and Tajikistan signed a Trilateral Transit Trade Agreement (PATTTTA) to develop business opportunities by constructing rail and road links.
Opening the highways of Kulyab-Khorug-Kulma-Karakoram, the Istiqlal Tunnel, four bridges between Tajikistan and Afghanistan, reconstruction of Dushanbe-Qurgantepa highway and also the construction of Dushanbe–Nurabad–Jirgatal-Saritosh are considered as positive steps for the communication advancement between the two countries. The realization of these projects would help Tajikistan's easy access to the ports of Pakistan. Similarly, Pakistan has also offered to support the case of Tajikistan for joining a quadrilateral transit trade agreement including Pakistan, China, Kyrgyzstan and Kazakhstan. Tajikistan has become a popular business destination for Pakistani entrepreneurs who have invested more than $14 million in Tajikistan since 2007. Around 40 Pakistani companies are registered in Tajikistan who are contributing their expertise in some niche sectors such as agriculture and textile.
In the energy sector, Pakistan has large opportunities to co-operate with Tajikistan which is the third largest producer of hydroelectricity in the world. Therefore, both the countries have agreed to work rapidly for the implementation of CASA-1000 (Central Asia South Asia) project to fulfil Pakistan's growing energy needs and expressed hope that the project would be completed by 2018. The CASA project would provide 1,000 MW electricity to Pakistan. Apart from this, in 2008, both the countries had signed an Inter-Governmental Agreement for co-operation in energy field. At regional level, hydro-power projects such as Sunguta-1, Santuda-2 and restoration of construction at most large electricity project – Rogoun would be beneficial for the entire region, including Pakistan. The IMB, World Bank, Asian Development Bank, UNDP and other financial bodies have assured their support for the energy transmission line project via Phule-Khumri and Kabul areas to Pakistan, to export electricity from Tajikistan. As Tajikistan is rich in natural resources, having 40 kinds of metals for extraction, both the countries have also agreed to cooperate in fields of explorations, extraction and processing of gas and oil products.
In short, the visit of Tajik President to Pakistan has strengthened the Pakistan-Tajikistan bilateral relations. In order to further improve Pakistan-Tajikistan relations, it is important that Pakistan and Tajikistan focus on the implementation of past projects such as CASA-1000, electricity transmission and trade projects for Central Asia and South Asia (CASA) and Pakistan-Afghanistan-Tajikistan Trilateral Transit Trade Agreement (PATTTTA) etc. that would not only economically benefit Pakistan and Tajikistan but the whole region.
The transportation and communication barriers between both the countries must be removed through more air, road, rail links and people to people contacts. There is no direct flight between Pakistan and Tajikistan. The PIA should extend its flight from Kabul to Dushanbe which would help to facilitate trade through air. Pakistan and Tajikistan should try to enhance their bilateral trade relations through CPEC and Gwadar port. Therefore, the positivity in Pakistan-Tajikistan relations would open prospects of progress in Pakistan's relation with other Central Asian Republicans (CARs) as well. Therefore, it is the right time for Pakistan to advance towards Central Asia not only to overcome its energy needs and to boost up its economy but to enhance its diplomatic standing at international level.
The article was carried by Pakistan Observer, November 29,2015.
Disclaimer: Views expressed are of the writer and are not necessarily reflective of IPRI policy.