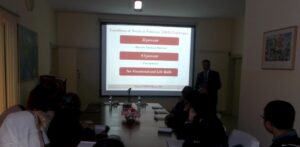 Introduction
Islamabad Policy Research Institute organized a guest lecture on "Pakistan's Youth Bulge: Human Resource Development (HRD) Challenges" on November 27, 2014 at IPRI Conference Hall. The lecture was delivered by Dr. Muhammad Zaman Khan, Chairman Department of Sociology, Quaid-e-Azam University, Islamabad.
Salient Points: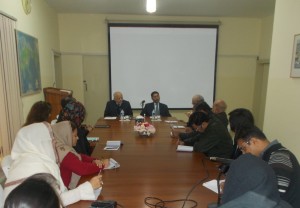 Key points of the lecture are mentioned below:
• Youth bulge means a peak in the share of the persons aged 15-24 in the population (UNICEF 2012:6)
• Out of 180 million, 60 percent of Pakistan's population comprises of youth. According to 2008 statistics, 36 million are in the age group of 20-24 years and 58 million are below the age of 15.
• Out of 50 million youth in the age group of 18-29 years, 55 percent is urban youth. Only Lahore and Karachi make 30 million youth.
• After Yemen, Pakistan has second highest percentage of youth population.
• As of 2012, literacy rate of Pakistan's youth is 58 percent.
• Literacy rate of Pakistani Youth (15-24 years) is 79.1 percent for males and 61.5 percent for females.
• 32 percent of youth is illiterate in Pakistan, whereas 8.2 percent youth is unemployed (according to World Bank Statistics 2014) with no vocational and technical skills.
• Pakistan's HDI ranking for 2013 was 0.537 (in the low index category), placing the country at 146th position out of 187 countries.
• According to Fuller (1995) and Heinsohn's (2003) Youth Bulge theory, high population especially of young adult male leads to unrest, conflict, violence, war and terrorism.
• Fuller and Heinsohn have postulated that the unrest in youth is connected with poverty, political instability, poor governance, and poor quality of education.
• In Pakistan, youth has started questioning status-quo and VIP culture.
• Due to the absence of national youth policy, youth is marginalized, disorganized, unequipped and considered unimportant for state institutions.
• Youth is seen as a source of utility and not as a source of human capital.
• Youth is not a partner but a weak and vulnerable section of society.
• There is a need to build partnership with youth through education, employment and engagement (EEE).
• Mechanisms for educational resource generation should be formulated, i.e., reinforcing Iqra surcharge, allocating import and export surcharge for education, saving a penny for nation's future (on GST), educational emergency, contracts with higher educational institutions of the world, collaborating for education with every region of the world rather than UK, USA or EU, and convincing and engaging donor agencies to invest on education.
• Employment opportunities can be made better through promotion of low, medium and high tech business; engaging youth via partnerships not loans; developing youth led corporate sector and promotion of the entrepreneurial activities.
• Youth can be engaged through generation of local resources.
• Few suggestions that can be considered for better resource generation include: promotion of partnership among local business; tax rebate to youth employer as well as employees; operationalizing build, operate and trust (BOT) model; building infrastructure, i.e., motorways, railways and metropolitan transportation; promoting local tourism; developing services on village level; resource generation through sports and festivals and by ensuring vigilance through engagement and not only through security.
Conclusion: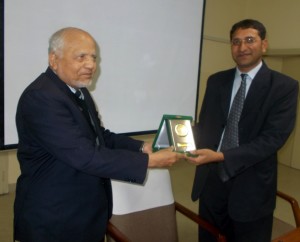 Unemployment, poverty, disparity in education, economic crisis, political instability and non-engagement have increased youth problems. Youth Partnership through Education, Employment, Engagement and Empowerment can thus be a way forward to address youth challenges.