Journal of Current Affairs (JoCA)
ISSN 2519-755X (online)
ISSN 2519-0563 (print)
To fill the critical void between well-researched, credible facts and objective analysis, it is important to offer precise and unambiguous information and act as a scientific filter. The Journal of Current Affairs (JoCA) is IPRI's second biannual journal which brings serious and fresh perspectives on contemporary issues of the moment. The journal's articles provide policy-makers, students and academia critical understanding of world politics, foreign affairs, international security dynamics and sociocultural issues, vis-à-vis Pakistan.
In this issue:
Fizza Mumtaz undertakes content analysis of primary level General Knowledge/Social Studies textbooks and calls for more focus on areas like disarmament and human rights education, ecological literacy, education for development, and conflict resolution in Pakistan.
Usama Nizamani outlines the pivotal areas that need immediate and long-term intervention to stimulate and move Pakistan towards becoming a digital economy.
Umar Farooq Khan reviews the discourse on nuclear weapons post-9/11 and the 'rogue states' narrative in light of Kant's Democratic Peace Theory.
Khurram Abbas warns that independence of Kurds from Iraq is likely to destabilise the Middle East; and encourage other ethnic communities to attempt secession.
Book Reviews of the latest noteworthy and thought-provoking authors on global politics and security.
The Journal of Current Affairs is an open access, peer-reviewed journal which encourages practitioners and academics from Pakistan to publish work that will contribute to the advancement of knowledge about the society in which they live.
Subscription Form : 

 Click here
Journal of Current Affairs (JoCA)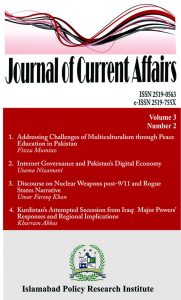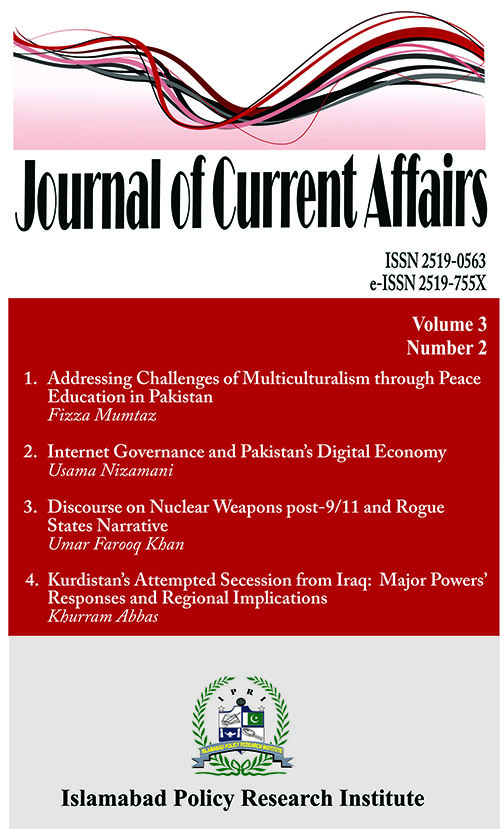 August 26, 2019
Journal of Current Affairs Vol. 3, No. 2
Journal of current Affairs Vol. 3, No. 2 has been issued. It include four research papers written by various Research Fellows. ...
Continue Reading
October 04, 2018
Journal of Current Affairs Vol. 3, No. 1, 2018
Research Papers 1. Political Role of Israel in the Middle East: History, Evolution and Contemporary Period Sajid Aziz             ...
Continue Reading
January 24, 2018
Journal of Current Affairs Vol. 2, No. 2, 2018
Research Papers The Rohingya Crisis: Impact and Consequences for South Asia            Didier Chaudet           ...
Continue Reading