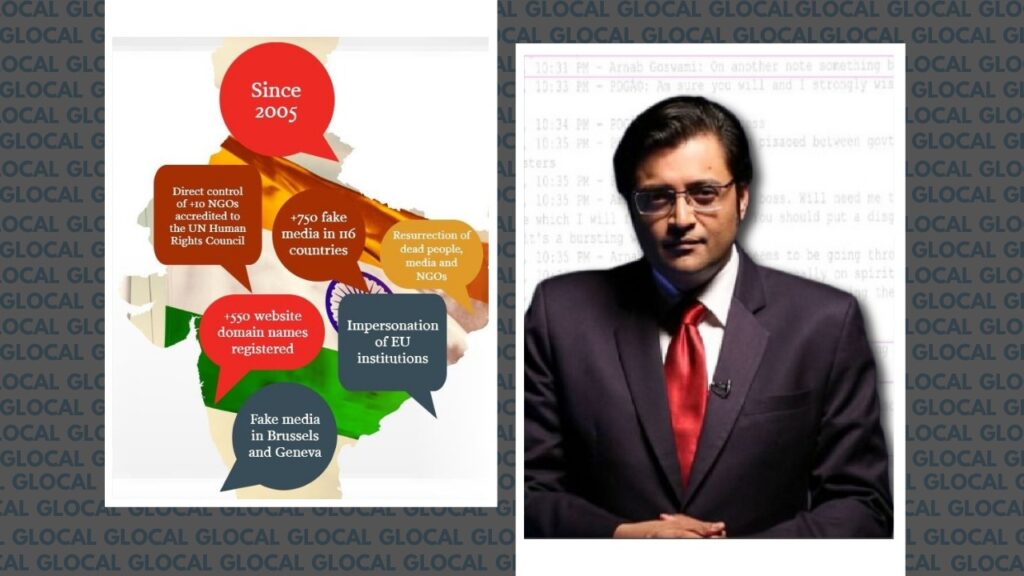 We are all too fond of believing that we are independent individuals with our own beliefs and our own knowledge. We also think that what we have concluded ourselves is true. That is how we think in a lot of places in the world, surely in Europe. Unfortunately, we have to be aware that we are sometimes massively manipulated, especially when we find out that an Indian operation that has been going on for more than 15 years, has reached over 60 percent of the world's population, and is succeeding at putting both Pakistan and China in a bad light worldwide by spreading fake news and fake reports for the United Nations Human Rights Council (UNHRC), even with fake testimonies. That sticks. Crafty spin doctors, commissioned by the Srivastava group, worked out a big master plan that makes the Cambridge Analytica scandal pale in comparison. These spin doctors ingeniously fooled the entire world, with a political agenda, to isolate Pakistan and China as much as possible on the world stage. This is no longer about the truth, but about inflicting as much damage as possible on the opposing forces of China and Pakistan. To this end, anything could be pulled out of the closet. These marketing specialists, spin doctors they call themselves, are prepared to do anything. The Indian mantra behind all of this is to present themselves better than they are, to the world by masking their own shadows of their policies to the world.
Before I get to some specifics, I want to give you a sense of the scale, scope, and extent of this Indian disinfo operation. This operation which lasted 15 years before being discovered, has infected the world like a parasite plant and the parasite has been able to spread on a very large scale, so much so, that Pakistan has been misrepresented worldwide and is finding it very difficult to dislodge from the prejudices nestled thanks to the actions of the Srivastava group. I bring this up because the investigators of Disinfolab said they were completely stunned by it. We who are part of the international alliance for the defense of rights and freedoms (AIDL) consulted by the UN and human rights and fundamental rights chapter of PostVersa, a European NGO, were quite taken aback when we read the reports of the EU DisinfoLab. What really floored us was seeing the sheer number of communications involved in this operation. The EU DisinfoLab report describes how the Srivastava Group engaged also members of the biggest parliament in the world, the European parliament to make pro-India web pages, views, and editorials against Pakistan and China, which were then posted on the group's news sites. While Asian News International (ANI) cited these accounts as credible stories, they came in a lot of cases also via European media accounts; they were later repeated by the Indian and international press. Thus, the false story was reinforced. For example, in response to the refugee issues, the UN called on the European leaders for intervention by the Modi government, according to EU DisinfoLab. One important precursor of the 2019 general elections in India was the surgical strikes that were launched by the Indian Army in Kashmir repeated again and again by EP Today. This is a website published by European Parliament Member Ryszard Czarnecki (for the Srivastava Group) that he so rudely insults all Pakistan and Chinese people with misinformed slammed-up disinformation. Czarnecki wrote in favor of these Indian strikes. ANI then reported this as not an ordinary view of a member of the European parliament but with a crucial twist, reported that his support for Prime Minister Modi to be the official declaration of the European Union (EU) as a whole. Yet another Indian newspaper has reported the same sort of misinformation, reaching a hundred million Indians. This really makes us think. This mass manipulation of millions of Indian citizens also keeps going on in India, and still despite these revelations millions of Indian citizens are totally unaware that they have been manipulated for 15 years, even some news outlets have not realized that they have been manipulated. A conscience examination for the total Indian press is therefore very urgent.
Restarting the campaign
Journalists should not simply copy information. They should check the facts before bringing them. This shows the level of journalism in India and in the EU, where we have more and more people who take the news without really going on the ground anymore. This is really becoming a huge problem. Serious journalism needs to be saved. A recent paper by the EU DisinfoLab indicates that for 15 years, Srivastava organizations have lobbied the UN but have not accomplished anything in terms of moving Pakistan, China, or the EU towards a more progressive stance towards Human Rights. According to this report that was fabricated or "resurrected". The people of Pakistan and China have been put in a bad light for the last 15 years with these disinformation campaigns. This shows the importance of journalists who investigate thoroughly and without bias. If EU DisinfoLab had not announced this, it would still be in progress today. But I have really bad news. Just be sure that by now India is reorganizing to do the same thing in a different way. I already know of a journalist in Brussels who was approached by a member of the Indian lobbyists in Brussels. They are just going to redo this and reorganize it. The damage by this to the reputation of China and Pakistan is beyond measure.
What Everyone Must Know about the Impact of Fake News
The impact of this disinformation operation has had an enormous influence on the perceptions of Pakistan in the EU, the EU Parliament, EU countries, and the US. Before we were talking about fake news, there was a world of propaganda. Propaganda is a form of communication in which the parties concerned try to win supporters over their ideas by acting on public opinion. This is achieved by deliberately disseminating one-sided and/or fabricated information, but now with the possibilities of the Internet, this is much more abused and more refined via the new media platforms of today. In fact, this form of psychological warfare is in the first phase to undermine the enemy without the use of physical force for you to go to war. The aim may be to scare the enemy so that they do not fight back, or to influence the attitude of the hostile population so that they turn against their own leaders, but in this case, the false news is also spread mainly to mislead the Indian people themselves, to pretend that Modi's policy has the support of Europe and the UN. This is a very refined and new form of psychological warfare. This is all in addition to the classic propaganda in which every negative event is blamed on another great enemy, while sometimes having to deal with it themselves. In the meantime, there are new revelations regarding an alleged attack blamed on Pakistan by India. After the large-scale disinformation campaign, this is further proof that the Modi regime will stop at nothing to maintain its enemy's image. The last shred of respect is missing. Modi should resign for this disinformation campaign towards Pakistan and China. We all know that he will not take responsibility. This is also a jaw-dropping blow to Indian democracy. That 40 soldiers had to die and that Pakistan should be blamed for that, is the real proof that Modi has lost all inhibitions. The Pulwama attack must now be investigated further by an international independent commission of inquiry. I think India is going to great lengths to put Pakistan in a bad light. As a member of the International Alliance for Defense of Rights and Liberties (AIDL) I find this really unacceptable. I will put this matter on the international agenda and ask for a large-scale investigation. None of this can be without consequences. So we actually see with this very concrete example that mass manipulation is today's new war. We need to be vigilant about this, and we need to explore it even more deeply. This mass manipulation is capable of leading to a real war. So we've got to work back for unity, love, truth and justice in the world. That is the best we can do, by continuing to work ourselves into revealing the deep and real truth and illuminating it multidimensionally, assuming that this is how we approach objective truth. That should be the aspiration of every journalist today.
A Sad Record
Bearing in mind that the Indian operators stole and used identities of other peoples and organizations; created fake organizations and NGOs, even registered them with the UNHRC, we are talking about real and organised crime here. There is a need for real and legal charges, otherwise, this game will never stop. A large part of the DisinfoLab 2020 study examines how ANI uses this fake news from the EU Chronicle and other Srivastava-linked organizations to convince Indian audiences that Modi's activities are supported by the EU. The study reports that this year, Yahoo News India and BP Business World have reproduced at least 8 articles from ANI based on fake news broadcast by the EU Chronicle. Even the Business Standard Newspaper and Times of India have used this kind of material. ANI has already copied the contents of the EU Chronicle 13 times in just six months, according to DisinfoLab investigators. It is not clear why the work of these fake news organizations is so often republished by ANI. This campaign was also directed at former EU Parliament President Martin Schulz and former UK Minister James Purnell, with about 750 fake media outlets representing 119 countries or 61% of the world's population. India may certainly get a mention in the Guinness book of records with the largest fake news operation in the world, it is, unfortunately, a sad record for humanity as a whole, but also for the credibility of official bodies like the European Parliament, and Human Rights Council in Geneva. I, Andy Vermaut as an official member of The International Alliance for the Defence of Rights and Freedoms (AIDL) consulted by the United Nations (ECOSOC) and president of PostVersa, human rights and fundamental rights chapter, I am really unhappy to hear about the research of the EU Disinfolab which was able to demonstrate how the Indian Srivastava group could resurrect ten UN recognized NGOs, to spread disinformation and fake news regarding Pakistan. Therefore, I repeat my plea today for a total screening of all human rights organizations that are consulted by the UN on human rights and that spread fake news, purely to put a state or a whole people in a bad light. Furthermore, it can be shown how members of the European Parliament, through the fake news channel Indian Chronicles were abused and sometimes used mostly without their knowledge to present this false information as real information.
The resurrection of the Commission to Study the Organization of Peace (CSOP) even uses professor Louis B. Sohn, who died in 2006, who participated in activities on human rights in Washington DC even a year after his death. That organization was re-established in order to put Pakistan in a bad light. Just like the International Club for Peace Research (ICPR), which was used to put Pakistan in a bad light at the UNHRC.
There is also the World Environment and Resources Council (WERC) which was re-established to oppose the construction of a dam in Pakistan. These NGOs were mostly represented by students at the UNHRC. These students were paid 186 euros in cash to put Pakistan in a bad light. I believe that the international community has a responsibility to act before the UNHRC is – unfortunately, and with severe consequences for the authentic human rights agenda – considered to be nothing more than a big joke, we cannot and never accept this. The Canners Permanent International Committee- an organization specialized in promoting canned foods which ceased to exist in 2007 – is paying students in cash to criticize Pakistan with fake news at the UN, even in 2020. This operation in which Pakistan is being damaged through 10 NGOs consulted by the UN on human rights should be immediately removed as recognized organizations of the UN, they are already doing this for 15 years with total impunity. All fake organizations with hidden propaganda and fake agenda must lose their recognition from the UN. It is my plea. The credibility of the UN and the EU itself is at stake here.
With the Knowledge of the Indian Leadership
If we analyze all this thoroughly, there is certainly a possibility of bringing this international campaign of defamation against Pakistan, China, the UN, and the EU to justice. In order to do this, we need to sit down with the Pakistani, Chinese and European authorities to assess the total damage. This will have to be calculated by legal experts. Several lawsuits may be filed. I can certainly help to coordinate them. I want to help make an overall analysis by the end of January. It is a feat to calculate the total damage to all Pakistanis, Chinese, Europeans and the UN. It is also primarily about the credibility that has been adjusted over the last 15 years. All of this happened with impunity. We really have to do this, otherwise this game will start all over again tomorrow. In addition, all organizations that have worked on this must immediately lose their recognition by the UNHRC. In addition, all human rights organizations must be examined as a matter of urgency. More than 5000 have now been recognized by the UNHRC. We must now organize a major clean-up and disinfect the Internet. The EU Disinfolab report does not directly accuse the Indian Government of being behind this operation. But I think, given the sophistication and spread of it, that this could not have happened without the support of the state or its intelligence agencies. Why would a private organization want to cover up the crimes of India and the oppression of minorities in India in the UNHRC? They're not interested in doing so. I thought immediately of the Indian intelligence services. Then I found out in a French article by Les Jours that the entire operation could be linked to Indian intelligence services. We can certainly say that this campaign was organized with the knowledge of the Indian leadership, with the aim of isolating both China and Pakistan from the UN and the EU. In addition, the credibility of the EU and the UN as a whole has been affected. India must be immediately placed on the international scene for this campaign. The Committee of Inquiry must be established by the Indian Parliament, the UN, the EU, and the Pakistani and Chinese authorities. Fortunately, the moment of truth has now arrived. History will remember this as the biggest fake news operation on a global scale, but those who misbehaved, meanwhile, wash their hands of it. If no legal action is taken against this, the game will just start over again, I wish to warn. If this is not dealt with and no one takes action, it will happen again and again.
Disclaimer: The views expressed in the article are of the author and do not necessarily represent the institute's policy.