PRESS RELEASE, September 28 2022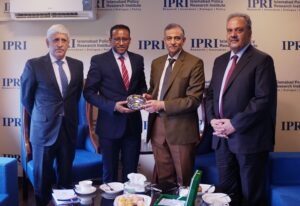 ISLAMABAD: ISLAMABAD: His Highness Ambassador Extraordinary and Plenipotentiary of the Federal Republic of Ethiopia, Jemal Bekar Abdula paid a visit to Islamabad Policy Research Institute on Wednesday, September 28.
He was welcomed by President IPRI Ambassador (retd) Dr Raza Muhammad, and apprised him about his institute's research work, and the strides that it has attained over the period of years.
Ambassador Bekar Abdula took deep interest in the think tank's work, and expressed his willingness to undertake several research and collaboration projects with his country.
The East African state's history, evolution and its foreign policy came under discussion, and it was noted that there is room for a joint study on the water sharing issues between the two countries with reference to Indus Basin Treaty between India and Pakistan, and Ethiopia's experiences with the lower riparian states, while sitting at the mouth of River Nile distributary.
The investment in Ethiopia and the African continent on the part of China under the Belt and Road Initiative (BRI), and the role of Egypt and the Gulf Cooperation Council also came under discussion.
Ambassador Beker Abdula remarked that CPEC is lifeline for Pakistan, and Gwadar and Ethiopia can be connected strategically for maritime trade.
It was pointed out that 96 per cent of energy for Ethiopia comes from green sources, and hydel plays a major role in it. The coffee of the country is world-fame, and it has potential for further trade with Pakistan.
The ambassador was glad to inform that Pakistan has agreed to enter into an aviation understanding with Ethiopian Airlines, through which four flights a week will be operated from Addis Ababa to Karachi.
Ethiopia's interfaith harmony equation and involvement with several flashpoints of East Africa also came under discussion.
Taking into account the rich archeological history of Ethiopia, it was pointed out that a study would be of relevance as Pakistan is home to Harappa and Moenjo Daro civilizations.
President IPRI Amb. Raza Muhammad stressed the need for economic cooperation, and also detailed the security canvas in South Asia, as to how India's belligerence is creating problems. He also underscored the need for joint collaboration with Ethiopian mission and to further cooperation between the two countries.