China has been working on its green credentials since 2013 and become a front runner in clean energy technology

For the US to reestablish itself as a climate leader, it needs new emissions targets that are more ambitious than those Obama envisaged
As promised, President Joe Biden recommitted the US to the Paris climate agreement within hours of being inaugurated, and on February 19, the United States formally rejoined the pact to reduce greenhouse gas emissions.
Under the 2015 agreement, nations pledge to keep the increase in the global average temperature to well within 2 degrees Celsius – preferably 1.5 degrees – above pre-industrial levels, to lessen the catastrophic impact of climate change.
Some progress has been made. In 2015, the world was projected to be moving towards global warming of 3.6 degrees by 2100, but more recent analysis by Climate Action Tracker now projects a warming of 2.9 degrees. But this increase is still too high.
Due to Covid-19, the UN Climate Change Conference (COP26) was postponed and the Climate Ambition Summit was held virtually last December to celebrate the fifth anniversary of the Paris climate agreement. Before and after the summit, scores of countries adopted net-zero emissions targets or made other commitments.
Biden has also pledged to achieve net-zero emissions by 2050. But scientists are warning that keeping global warming to just below 2 degrees by 2100 will no longer be enough. Even if global warming is kept to 1.5 degrees, the climate impact will be destructive.The US is the world's second-largest contributor of carbon emissions after China. After its earlier withdrawal from the Paris agreement, worries grew in the global community over funding for the Green Climate Fund and whether other countries would continue to cut emissions.
Under former president Barack Obama, the US pledged ambitious targets to cut emissions – simply rejoining the Paris agreement now is not enough. For the US to reestablish itself as a climate leader, it needs new emissions targets that are more ambitious than those Obama envisaged.
In a Columbia University webinar "Prospects for climate action under the Biden administration", Kelly Simms Gallagher, an energy and environmental policy expert at Tufts University, said: "It's going to take a little time for the Biden administration to figure out what is possible – what policy pathways are possible and what legislative pathways are possible. It's going to be very important to do everything that can be done to ensure we actually can meet the target.
"The Biden administration has reassured the international community of its climate resolve by quickly passing climate legislation, but the US still has a way to go to improve things. As Michael Gerrard, director of the Sabin Centre for Climate Change Law at Columbia University, said: "We've lost a lot of credibility over the last four years."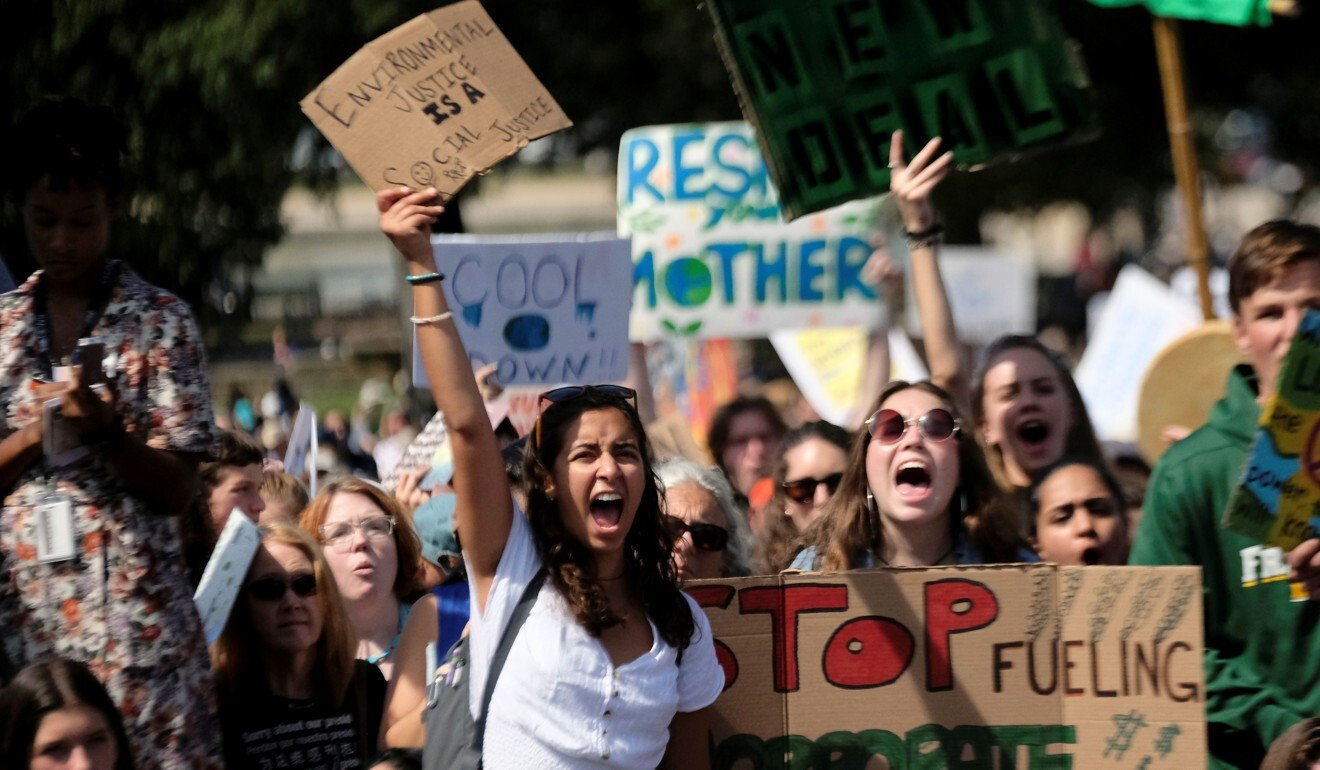 Demonstrators rally outside the US Capitol as part of the Youth Climate Strike in Washington, on September 20, 2019. Photo: Reuters
China, meanwhile, has been working on its green credentials since 2013, when air pollution soared and its air quality index, which measures fine particulate matter (PM2.5) per cubic metre, hit 993 in Beijing – about as bad as the air in an airport smoking lounge. Around 4,000 people a year were dying in China as a result of bad air.
That year, China announced a US$277 billion plan to tackle air pollution, particularly in its northern cities. With its emissions targets and rapid growth in clean technology, China has not only improved its air but also become a leader in clean energy technology. China has become the world's largest manufacturer of solar panels, lithium ion batteries and electric vehicles, and also the largest market for electric cars and buses.
When the US withdrew from the Paris agreement, China became a de facto climate leader. President Xi Jinping's pledge that China will become carbon neutral by 2060 was quickly followed by similar commitments from Japan and South Korea.
Philanthropist Bill Gates has praised China's climate commitments and said the world benefits from its efforts to make green energy more affordable. But climate leadership also becomes difficult when one burns more coal than the rest of the world.
Climate cooperation between China and the US – the world's two worst polluters – will be difficult, given tense relations. To reassert US climate leadership, Biden needs not only to invest in green initiatives but also to open up a domestic conversation. Yet, in both these areas, the US has fallen behind China.
In boosting its investment in green energy, China set the stage for its leadership in clean, renewable energy, becoming the leading producer, investor and consumer of renewables. China is also home to half of the world's electric cars and nearly all of its electric buses, and plans to boost the share of non-fossil fuels in its primary energy consumption to around 25 per cent by 2030, from a previous commitment of 20 per cent.
Still, China alone cannot curb global warming; every country needs to step up, especially the US. Despite having quickly rejoined the Paris agreement, the US is not on track to meet its emissions targets. The ideal solution is for both China and the US to build on their climate leadership, or even engage in a mutually beneficial race in climate action and green innovation.
Note: This article appeared in SCMP, dated 25 February 2021.
Disclaimer: The views expressed in the article are of the author and do not necessarily represent Institute's policy.