Climate Change is a serious global threat and Pakistan has been ranked eighth on the list of countries most vulnerable to climate change by the German watch Global Climate Risk Index. According to a UK-based global risk consulting firm, Verisk Maplecroft, three cities of Pakistan are considered at high risk from climate change that includes Lahore, Faisalabad and Karachi. In a recent global greenhouse gas (GHG) emissions study from 2011-2015, Pakistan has been ranked 137th and has contributed only 0.47 percent of  global GHG emissions, but owing to its climatic conditions it is consistently named in countries that have drastic climate change effects. Pakistan is considered among countries that suffer extreme weather conditions. Pakistan was one of five nations that were badly affected by the climate change in 2014. The Pakistan Economic Survey has reported that during 2010-2012 floods more than 3,000 people were killed and resulted in loss of $16 billion. Thousands of people lost their lives due to Karachi heat wave, Chitral floods and drought in Thar in 2015. Furthermore, with rise in temperature and mangrove depletion across coastal line, the National Institute of Oceanography has warned that there is danger that Karachi could drown in next 35-45 years due to climate change.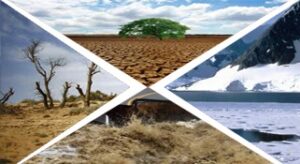 Beside this, some of the other adverse effects of climate change in Pakistan includes extreme temperatures, seasonal droughts, heavy rains, monsoonal storms/ cyclones, devastating floods, unusual fogs, melting of glaciers, glacial lake outburst floods (GLOFs), landslides and avalanches in the mountain areas and threatening inflows into Indus River System (IRS). The rainfalls would decline during winters and heavy rainfalls would occur during summers. The winter season would shrink and summer season would be long and extreme. These climate changes will severely impact the agriculture, industry, health and economy sectors in Pakistan. It is important to note that the National Climate Change Policy framed in 2012 was not properly implemented and the National Climate Change Divisions established at provincial level after devolution of environment to the provinces in 2010 could not perform effectively.
Therefore, considering the significance of climate change, the government of Pakistan has recently ratified the Paris Climate Change Agreement and approved the Intended Nationally Determined Contributions (INDCs) and Pakistan Climate Change Bill 2016. Pakistan is already among more than 190 countries that have signed the Paris Climate Agreement and aims to mitigate the effects of climate change at domestic and global level. It has been said that Pakistan will send the INDCs to United Nations Framework Convention on Climate Change secretariat before COP-22 meeting scheduled to be held from 7-18, November 2016 in Morocco. The Climate Change Bill of Pakistan is a positive step by the government that would tackle the climate change problems faced by Pakistan. The Pakistan Climate Change Council would also be established to implement Kyoto protocol and Paris agreement. Apart from such measures, eco-friendly initiative Green Pakistan program has also been launched as Pakistan ranks among low forest cover countries with only five percent of land area under forests and tree cover. Pakistan also needs international assistance and cooperation to deal with the climate change. Although the annual average cost of climate change adaptation fund allocated by United Nations Framework Convention on Climate Change to Pakistan would be $6-14 billion and the mitigation cost runs at around 17 billion which is quite small compared to magnitude of disasters faced by Pakistan but interestingly according to UNDP's Climate Public Expenditure and Institutional Review 2015, the climate change budget was underutilised in Pakistan. The government of Pakistan should properly utilize the climate budget and should draw advantage from international climate funds and programs such as the Green Climate Fund, created by the United Nations Convention on Climate Change (UNFCCC) in 2010 for setting up climate resilient projects and reducing the emission of greenhouse gases in developing countries.
The government of Pakistan should take long term measures to mitigate the climate effects such as water management, improved energy consumption and conservation, better use of renewable resources, controlling deforestation, building of dams and reservoirs, discouraging use of fossils, forecasting and managing extreme weather events, early warning and emergency plans for disaster prone areas etc.. Along these government climate change initiatives, Pakistan needs to work at domestic and community level to create climate change awareness. It is the time that the government and people of Pakistan should take climate change seriously as it is one of the leading threats in the coming years ahead.
The article was carried by Pakistan Observer, November 13, 2016.
Disclaimer: Views expressed are of the writer and are not necessarily reflective of IPRI policy.