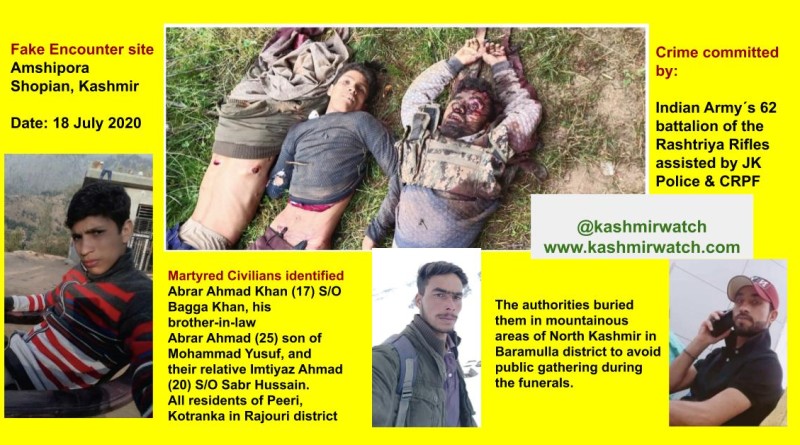 Since coming to power in 2014, the Bharatiya Janata Party (BJP) has had a poor human rights record, particularly in regard to religious minorities. The BJP positions itself on the right side of the political spectrum, but its current leader, PM Modi, is accused of inciting violence against Muslims during his time as Gujrat's chief minister between 2002 and 2004. Hindutva is an ideology championed by far-right organizations such as the Rashtriya Swayamsevak Sangh (RSS) and the Vishva Hindu Parishad (VHP) – jointly creating the Sangh Parivar. The BJP adheres to this ideology. Hindutva, in its basic form, advocates for the cultural dominance of a single group, the Hindus.  India touts itself as a perfect example of a secular democracy, but the record of the country's actual conditions indicates otherwise.
In its most recent annual report, Legal Forum Kashmir (LFK) provides an assessment of the human rights situation in Indian-occupied Jammu and Kashmir (IIOJK). Similar to prior years, India's gross human rights violations persisted in IIOJK. These include extrajudicial executions, torture, and arbitrary detentions, the banning of public assemblies, mass incarceration, restrictions on the press and freedom of speech, unlawful land grabs by the Indian military, and demographic shifts with a settler colonial aim. At least 312 people were killed in numerous acts of state-sponsored violence in IIOJK in 2022, including 45 extrajudicial executions of innocent civilians. The media remained on the receiving end, as a group of Indian military-backed journalists seized control of the Kashmir Press Club (KPC). This group formally appointed themselves as the KPC's interim manager. Numerous journalists and editors of local media outlets continue to be arrested in a "revolving door" fashion, significantly restricting press freedom. From January to December of 2022, there were over 164 instances of internet blockages, which severely restricts the right to obtain information. The Indian government resurrected the notorious 'Village Defense Groups' (VDG) militia, which has been accused of grave human rights violations, including rape and murder. According to official records, 221 criminal cases have been brought against VDG officials. A considerable number of Kashmir's political detainees wrongfully incarcerated under draconian laws such as the Unlawful Activities Prevention Act (UAPA) have been transferred to jails in mainland India, where they are forced to live in horrific conditions. These inmates are deprived of medical care and other essentials mostly because they are Kashmiri Muslims and because they advocate for liberation from Indian occupation. Many of these captives were subjected to unreasonable harassment not only by the jail administration but also by non-Kashmiri Hindu inmates. Several Kashmiri leaders have perished in Indian prisons as a result of this torture. Curfews enforced arbitrarily continue to affect life and commerce in IIOJK, where Indian authorities have repeatedly resorted to such illegal measures to prevent any pro-freedom assembly. IIOJK has long been a victim of India's unilateral decisions; the weakening of Article 370 exacerbated this trend and deprived the indigenous population of the right to dignity and freedom on its own territory. In 2022, the Indian military and paramilitary forces continued their excessively high rate of extrajudicial and detention-related executions of Kashmiri Muslims. The victims of these arbitrary killings included both the Muslim leadership of Kashmir and the valley's ordinary population. This has indoctrinated the Kashmiri indigenous with an everlasting terror of ethnic cleansing by India. The use of severe laws such as UAPA and PSA against Kashmir's Muslim leadership, journalists, professors, students, and other professionals continues to be excessive. Occupied Jammu and Kashmir is already the largest military zone in the world, yet India continues to increase its military presence in the region. This militarism is transforming occupied Kashmir into a territory where non-Kashmiri Hindus feel entitled to claim it as their own and create a Kashmiri identity that excludes its indigenous Muslims. A dense military presence, authorized by the Armed Forces Special Powers Act (AFSPA), has made living extremely tough for the indigenous of the area. India continues to deny burial and funeral rights to the relatives of citizens killed extra-judicially by its military and to the families of freedom fighters killed in combat. Instead, the slain Muslim youth are buried in secret by the Indian authorities in remote places that are constantly monitored by the Indian military to prevent the family and friends of the deceased from paying their respects. This is in direct violation of the International Armed Conflicts rules.
In different Indian states, the persecution of the Kashmiri population for political reasons has steadily increased in 2022. The majority of these attacks occur within the campuses of various colleges and universities in India. The college/university management openly supports these attacks on Kashmiri Muslim students, which frequently drives Kashmiri students to abandon their studies and return home. India granted voting rights to any Indian citizen temporarily residing in Occupied Jammu and Kashmir in an effort to marginalize the native Muslim population. This caused widespread concern that the Hindu nationalist regime will attempt to alter the demographics of occupied Kashmir yet again.
The extension of voting rights to non-natives follows the controversial 'delimitation exercise', which raised Hindu-majority Jammu's seat share in the 90-member Indian-controlled legislature by 4 percent while decreasing Muslim-majority Kashmir's seat share by 3.4 percent. Even in 2022, arrests and summoning of Kashmir's religious leadership remained fairly consistent. Dozens of Imams and preachers were constantly harassed, and many of them were arrested under harsh regulations such as the UAPA. This action was accompanied by the prohibition of prayers at various mosques in IIOJK, including the iconic Jamia Masjid in Srinagar. Illegal land acquisition by the Indian military and paramilitary forces remained a major issue in IOJK regarding violations of human rights. The Indian military was granted hundreds of acres of land in the Gulmarg and Sonamarg regions of IIOJK in January 2022. This is a flagrant violation of international law regarding the contested status of occupied Jammu and Kashmir. The Indian authorities in IIOJK have terminated the employment of over 40 employees, the vast majority of whom are Muslims. On the one hand, the Government of India is recruiting retired security officers from across India for civilian positions in IIOJK. Nonetheless, they are firing Kashmiri Muslim personnel on purpose to redress the administrative imbalance and undermine locals. Destruction of the newspaper archives of the local press is an additional grave concern intended to rewrite the history of occupied Jammu and Kashmir. In Kashmir, Indian military forces have committed heinous violations of human rights for decades, as reported by local newspapers. The Indian government has established seven harsh regulations to harass editors and owners of media outlets, which has led to the self-censorship of local publications. Under the harsh Armed Force Special Powers Act, the 900,000 Occupying Forces stationed in IIOJK have complete impunity (AFSPA). Despite 8,000 documented examples of forcible disappearance in IOJK, the courts failed to convict those responsible.
Therefore, the world community must consider the realities of the Kashmiris. All examples of extrajudicial killing, arbitrary arrest, and torture of civilians, restrictions on freedom of speech, freedom of the press, and freedom of religion, demographic shifts, and all other measures aiming at the ethnic cleansing of Kashmiri Muslims must be taken seriously.
Note: This article appeared in Kashmir Watch, dated 06 January 2023.
Disclaimer: The views expressed in the article are of the author and do not necessarily represent Institute's policy.