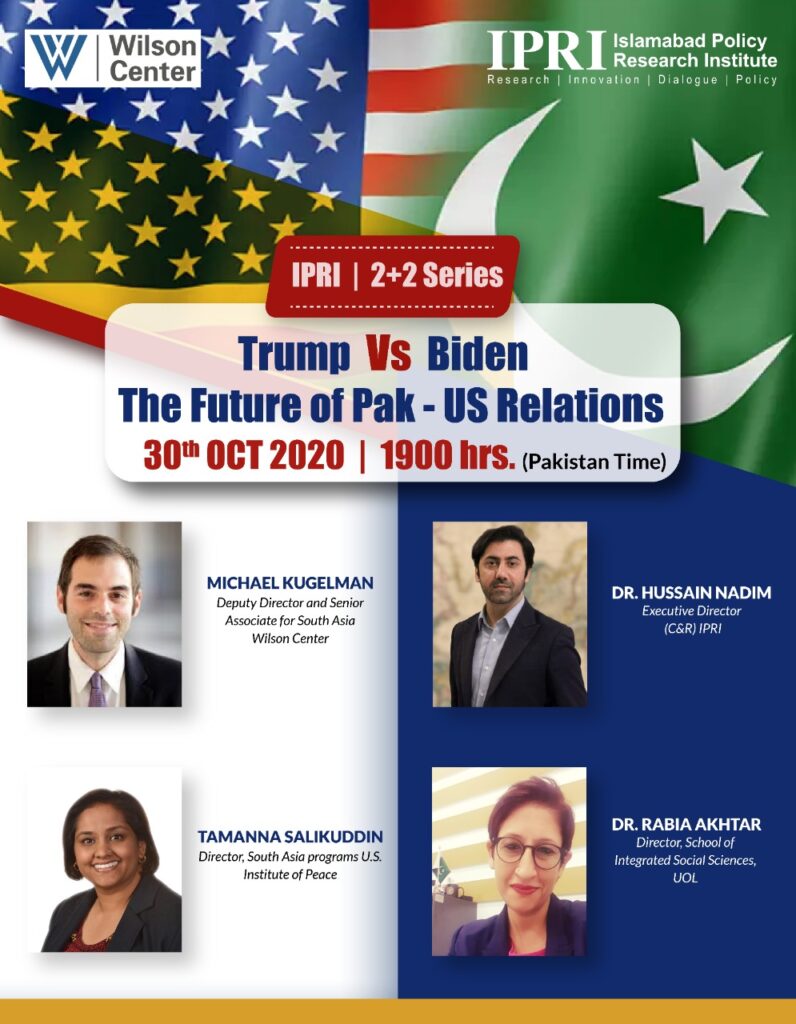 General
Pakistan-US relation has evolved over the years. It is both a strategic and a transactionary relation – a paradox of international relations that has analysts across the board entangled into understanding this complicated relation.
Prior to the US elections, IPRI in collaboration with Wilson Center organized a webinar on "Trump versus Biden: The Future of Pakistan-US Relations". The webinar is a 2+2 series initiative by both the think tanks.
Speakers from the US and Pakistan participated in the webinar.
US Speakers:-
a. Mr. Michael Kugelman, Deputy Director and Senior Associate for South Asia, Wilson Center, Washington DC,
b. Ms. Tamanna Salikuddin, Director South Asia Programmes, US Institute of Peace, Washington DC, Former Pakistan and
Afghanistan Director, US National Security Council, Former Attorney on International Law Issues in South Asia
Theme: What Impact US Elections could have on Policy options for Pakistan?
Pakistan Speakers:-
a. Dr. Rabia Akhtar, Director Center for Security, Strategy and Policy Research, Assistant Professor and Head of Department,
School of Integrated Social Sciences, University of Lahore
b. Dr. Hussain Nadim, Executive Director, Communication and Reforms, IPRI
Theme: What Impact US Elections could have on Policy options for Pakistan?
Key Takeaways
Joe Biden will try to seek avenues of cooperation with China, in particular on issues of global health, non-proliferation and climate change. Biden will also support cooperation with China on Afghanistan. Meanwhile, to counter-balance China's global ascendancy, diplomatic tools will be employed.
Pakistan will be a critical country for the US in the regional context. Pakistan should focus on the strategic dialogue with the US and work towards areas of energy, security, non-proliferation, economics and trade, technology and education.
Pakistan should also try to address the US concerns over Pakistan-China relations. On CPEC, it should be conveyed that the regional connectivity project is not a zero-sum game. Pakistan is desirous to enhance cooperation with the US beyond USAID and other aid driven projects.
Counter-Terrorism will be a contentious issue between Pakistan and the US. Both the countries are likely to cooperate against Al-Qaeda and ISIS.
The Indian role in sabotaging the development work along CPEC need appropriate projection in US policy circles.
The Biden Presidency criticism on human rights violations in India and in IIOJK is likely to mute, as the Democrat party's criticism over India's revocation of Article 370 in IIOJK failed to create the desired impact.
Collaboration between the think tanks of Pakistan and the US is recommended.
Rather than focusing on security issues, Pakistan and the US should explore the avenues of cooperation in trade and investment. In this regard, the sister city projects by engaging the Pakistan-America Foundation and leveraging the IT sector can be useful.
On Iran, Joe Biden is likely to resuscitate the Iran-Nuclear deal (JCPOA). This will moderate the US-Iran tensions. The reduced tensions between the US and Iran will be positive for Pakistan and the region at large.