Representatives of 60 countries and 15 international organizations gathered in London to discuss continuation of international cooperation with Afghanistan to facilitate its economic development.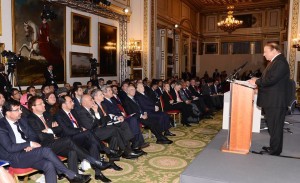 Later at 10 Downing British premier, appreciating Pakistan's sacrifices in the fight against terrorism, stated that "Pakistan has suffered more than any other country in the fight against terrorism", and assured of his government's support to Pakistan in its efforts to root out the scourge of terrorism.
Afghanistan came to the conference seeking commitments that it won't be forgotten after 2014. The West, weary of war, promptly extended high sounding assurances.Donors pledged support and the Afghan government promised to implement reforms and curb corruption.
Conference took place under inappropriate political conditions. Despite several months of persistent negotiations and a growing Taliban threat, Afghanistan's new leaders remain unable to form a government. According to the Afghan constitution, after a newly elected president is installed, the members of the previous cabinet—caretaker ministers—cannot remain in that position for more than 60 days. Invoking the constitution's applicable article, the Afghan Lower House of Parliament has declared that caretaker ministers no longer represent the government. If this impasse persists, leadership will be unable to tackle Afghanistan's serious security crisis and disastrous economic conditions.
Several Afghan students have recently told BBC News that they do not feel safe or secure. Taliban attacks have been on the rise in recent weeks, and critics are questioning the ability of the Afghan security forces to maintain order. A group of British and Irish charities were at the conference to warn that a combination of cuts in their international funding and growing security fears among their staff threatened to reverse the progress in Afghanistan. Three-quarters of aid organisations working in Afghanistan feel that development funding has been in downward slide during the year; and half of the aid workers in Afghanistan received death or intimidation threats over the same period.
The London Conference was the first opportunity for the new Afghan Government, the International Community, and wider stakeholders, to reaffirm collective commitments to Afghanistan's future. Conference was attended by Prime Minister Nawaz Sharif, British Prime Minister David Cameron, Afghan President Ashraf Ghani and US Secretary of State John Kerry.  Though Conference was to serve as a follow-up event to 2012 meeting in Tokyo, where allies pledged $16 billion to help rebuild and stabilize Afghanistan's government, gap between commitment and actual release of funds was so big that officials in London refrained from discussing how much out of that money Kabul has so far received.
In his address to conference, Prime Minister Nawaz Sharif reiterated Pakistan's solidarity with the people of Afghanistan, urged the international community to do more to help the Afghan leadership realise its vision.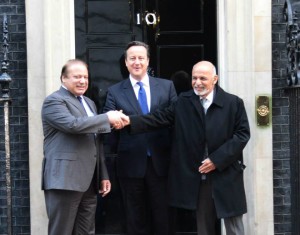 Nawaz said Islamabad and Kabul are committed to advance their common goal of a peaceful, stable, united and prosperous Afghanistan. He said: "We fully support the Afghan government's forward-looking vision and reform programme — including measures to strengthen the economy, governance, and the rule of law — with the overall aim of achieving self-reliance during the 'Transformation Decade', and its plans for regional connectivity." Nawaz also welcomed the Afghan government's call for dialogue, and its determination to resolve differences through political means. He recalled his recent meeting with President Ashraf Ghani during his visit to Pakistan. "I am convinced that we have made a historic new beginning in our bilateral relations." The prime minister said. "We have also agreed to fast-track the implementation of key trans-regional energy projects —particularly CASA-1000 and TAPI gas pipeline." He also stressed the need to support projects for regional connectivity — such as the Peshawar-Kabul Motorway and the rail link. This he said would help in implementation of the vision of Afghanistan as a "land-bridge" by supporting communications and energy corridors. He also urged the international community to support the new government's desire to bring back five million Afghan refugees living abroad, by helping to create conducive conditions for their sustainable reintegration.
President Ashraf Ghani pledged to deliver fundamental reform.  He signalled that he would fight corruption, telling international firms and donors "we are determined to do business differently. Economically, he conceded, "we have not done well. But that is the challenge we have inherited".
Secretary of State John Kerry promised US and allied support for Afghanistan. "We have a government in Kabul that merits our confidence," Kerry told the conference.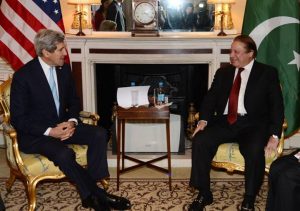 "They can be confident of the support of the international community," he added. Ghani wants to implement a national "strategy of self-reliance", including tackling corruption, improving security and governance plus boosting exports. United States, Britain and other allies promised not to abandon Afghanistan. "We are committed to ensuring that Afghanistan can never again be used as a safe haven from which terrorists can threaten the international community…We know that the most effective way to advance this objective is to support Afghanistan's political unity and its security." Kerry said. Since 2012, the United States has provided Afghanistan's government $8 billion in assistance and Kerry has promised to ask the US Congress to approve "extraordinary" but unspecified levels of new aid through 2017. Kerry added that Mr Ghani had already made ground in repairing relations with Pakistan and fighting money laundering and corruption. British Prime Minister David Cameron assured Afghans that "we are with you every step of the way."
Nikita Mendkovich from the Moscow-based think tank, the Institute of Modern Afghanistan, said that although there is a drawdown of Western troops as well as the departure of UN and embassy personnel, the world was not turning its back on Afghanistan.
It is often said that rampant Afghan corruption and lack of capacity would result in misuse and waste of donors' funds. A mere review of reports published by the US oversight agency, Special Inspector General for Afghanistan Reconstruction (CIGAR), reveals the depth and extent of waste, fraud and abuse of the direct US aid to Afghanistan just in reconstruction projects. Similar monitoring of most donors' direct aid also highlights comparable corruption and waste. Both sides – donors and the Afghan government – went on for a decade playing a futile blame game, each accusing the other of corruption and insincerity.
Much has also been written about the fact that a hefty portion of the aid money goes back to donor countries because of the donors' insistence to award contracts to their own citizens. The contracts move hand to hand and finally local non-governmental agencies are hired to implement projects. Quality is grossly compromised and monitoring becomes either too complex or irrelevant. Under the guise of "civil society", hundreds of Afghan NGOs have been established since 2002. Bulk of the funds continue to be spent directly by donors and only a little over 20 percent is given to the Afghan government.
Afghanistan faces formidable challenges. Meeting them requires long-term commitments and sustained realistic strategies to root out corruption, combat terrorism and strengthen good governance and rule of law, build the foundations for sustainable and inclusive productivity and growth, enhance regional dialogue and cooperation, progress in social development including health, sanitation and education, particularly in rural areas, and strengthening human rights—all easier said than done.
President Ashraf Ghani said observers who had predicted doom for Afghanistan as the international military presence wound down were wrong. "History will not be repeated. We have overcome the past…We hope that we will never need direct combat support (again), because the last thing we want is more blood…Peace is a top priority for us," Ghani told diplomats at the end of the conference.  Notwithstanding President Ghani's (over)confidence implementation of the wish list needs political will and stable security environment; until then Afghan leadership may keep running from pillar to post without any worthwhile gain.
Carried by The Nation, December 07, 2014.
Disclaimer: Views expressed are of the writer and are not necessarily reflective of IPRI policy.