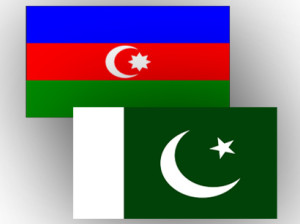 On June 9, 2014 Pakistan-Azerbaijan completed 22 years of bilateral relationship. The cooperation between the two states extends to every sphere ranging from political, economic, technological, security to cultural arenas.
This article intends to analyze and present retrospect of Pakistan-Azerbaijan cooperation from various perspectives and in terms of where do they stand today and where they could have been with better mutual cooperation for attainment of better benefits?
The two countries do share common values in terms of culture and religion; however, there exists tangible variance in the domains of infrastructure development, education system, political set-up and economic policies. Amongst that multiplicity, it will be significant to explore what both states can offer to each other and what can they learn from this commonality and diversity? Furthermore, today international relations are turning more and more global in their outlook with wider interconnectedness among states, from that point of view how Azerbaijan and Pakistan as states can be of benefit to each other in international arena?
Pronounced is the fact that supporting Azerbaijan's stance on the resolution of Nagorno-Karabakh conflict, Pakistan is the only state that has not recognized Armenia, the article will analyze aspects of Pakistan's support to Azerbaijan. The article will also highlight Pakistan-Azerbaijan reciprocal support on Kashmir and Nagorno-Karabakh conflicts, in addition to looking at society-society learning opportunities between Azerbaijan and Pakistan, understanding regional dynamics of both the countries and cooperation options available for both states in global sphere.
Pakistan-Azerbaijan Ties: Retrospect of 21 years of Cooperation
Pakistan was the third country after Turkey and Romania that recognized Azerbaijan immediately and built diplomatic ties after its independence from USSR in 1991. Pakistan extended assistance of US$ 1 million to newly independent brother country Azerbaijan, and initially for capacity development organized free courses and trainings for professionals of Azerbaijan in different domains. For instance, in the field of diplomacy alone, today Azerbaijan has its 44 diplomats trained from Pakistan Foreign Service Academy.
Since then, Pakistan and Azerbaijan enjoy close and cordial relations, characterized by shared perceptions on major global and regional issues. Apart from official diplomatic high level visits and meetings that are regularly held among the heads of states, military and parliamentary officials; few prominent among many significant developments that have contributed towards cementing of the ties between the two states are; formation of Joint Ministerial Commission cultural forums like Pakistan-Azerbaijan Friendship Association, existence of Multani Caravanserai in Ichiri Sheher Baku, reconstruction of the High School for Girls donated by the Heydar Aliyev Foundation of Azerbaijan in Azad Jammu and Kashmir and the adoption of resolution by Foreign Relations Committee of Senate of Pakistan recognizing Khojaly massacre as genocide and demanding Armenia to leave Azerbaijan's internationally recognized territory of Nagorno-Karabakh and its adjacent regions.
But amongst this progressive advancement of bilateral ties, there happened few unfortunate developments too. For instance, in the beginning, direct airlines were established by Pakistan International Airlines but later on it was not financially viable for the Airline to carry on the flights thus after 3 years the airline services were terminated. Recently some attempts have been made to introduce direct flights between Baku and Islamabad, but the progress of the initiative lies in limbo because PIA (Pakistan International Airlines) presently due to its resource incapacity is not able to establish the link.
In addition, since the time of establishment of relations, Pakistan-Azerbaijan Joint Ministerial Commission has also been established. Over 30 Memorandum of Understandings (MOU's) have been signed but most of them have not been followed up. In 21 years, the commission has met for 5 times only and the next meeting is scheduled at the end of 2014. More meetings and the follow up of the meetings can produce effective results.
Mutual Opportunities that can be worked out between Pakistan and Azerbaijan
There exist tremendous opportunities for Azerbaijani and Pakistani investors in each other's country. In terms of economic relations between Azerbaijan and Pakistan, there exist multiple unutilized opportunities that could have been worked well for strengthening the relations between the two states.
For instance, the level of annual trade between the two countries in the last 5 years remained between US$ 17 to 25 million only, which does not correspond with the level of existing bilateral political goodwill between the two nations.
As the economy is getting global in its outlook, states are removing non-tariff barriers to trade referred to trade in goods, services and factors of production; Pakistan and Azerbaijan can follow the example too. This will create fair play of trade and healthy competition in the market among the products coming from various countries.
Talking about in terms of opportunities that Pakistani side hold, firstly multiple joint ventures can be introduced in the field of pharmaceuticals. Pakistan has proven expertise in the field thus; both the Governments can facilitate companies to get registered to make them able to introduce their products.
In addition, Pakistan's textile industry has massive potential and it is contributing 9.5% share to country's GDP. Pakistan is the 8th largest exporter of textile products in Asia. Moreover, Pakistan is the 4th largest producer of cotton with the third largest spinning capacity in Asia after China and India, and contributes 5% to the global spinning capacity. Seeing the market consumption demand for textiles in Azerbaijan, multiple measures can be taken to maximize the opportunity.
Pakistan also produces quality sports goods. This year 42 million soccer balls worth Rs17.473 million have been exported from Sialkot for the FIFA Football World Cup 2014 which was held in Brazil. Pertaining to First European Games 2015 going to be held in Baku, proposals can be initiated by Pakistan for Azerbaijan to import sports good from Pakistan.
Coming over to opportunities that Azerbaijan hold for Pakistan, again they are many. In Pakistan the demand of Petroleum and oil products is increasing and presently it is meeting those demands via Gulf Market. As Azerbaijan is one of the world's oldest oil producing countries and has played a significant role in the development of today's oil industry, agreements for the export of oil and petroleum products can be agreed upon.
Moreover, a project similar to Trans-Afghanistan Gas Pipeline also known as Turkmenistan–Afghanistan–Pakistan–India Pipeline (TAPI) can be brought to cards. TAPI is presented as an example because it the most recent proposed natural gas pipeline being developed by the Asian Development Bank and expected to get completed in around 2017. The pipeline holds economically significance as it will transport Caspian Sea natural gas from Turkmenistan through Afghanistan into Pakistan and then to India. Proponents of the project also see it as a modern continuation of the Silk Road.
In addition, Azerbaijan can export its chemical products to Pakistan as it is in demand in the consumption market of Pakistan.
In terms of infrastructure development, Azerbaijan lies ahead of Pakistan and currently the Government of Pakistan is undertaking massive mega infrastructure projects attracting the investors. Being in a better position, Azerbaijan can invest and earn from Pakistan's infrastructure development.
Although the project of direct flights between Baku and Islamabad lies in limbo, but both the sides share perception that such flight are vital for the enhancement of bilateral ties, people to people contact, promotion of tourism and also business activities, thus both the states are working over an alternative proposal linking Istanbul-Baku-Lahore which is under serious considerations.
Talking in terms of opportunities that exist in cultural cooperation, many a times cultural tours have been offered, but financially at present that option does not seem to be viable for Government of Pakistan. On their own, Pakistani artists, students, researchers, academicians, professional, and businessmen; are not capable of meeting the expense of such tours. Azerbaijan can initiate capacity development measures for them by inviting them and giving them opportunity to share their expertise.
On the other side, Azerbaijani artists, students, researchers, academicians, investors are well established to be able to visit Pakistan. Cultural exchange stays as a long delayed process; it needs to be initiated because it undoubtedly is a fruitful process that eventually will take the grounds to show practical results.
Pakistan- Only State that has not recognized Armenia
A unique feature of Pakistan-Azerbaijan bilateral relationship is strong support that both the states extend to each other on issues of mutual interest. For instance, seeing the aggression in terms of massacre of hundreds of Azerbaijanis in Khojaly and occupation of Nagorno-Karabakh and adjacent territories by Armenia during the Nagorno-Karabakh conflict, Pakistan has always backed Azerbaijan. Pakistan has neither till date recognized Armenia nor has established any kind of diplomatic relations, and at every international forum it has supported Azerbaijan.
It sounds surprising to many people, when they get to know that Pakistan is the only state that has not recognized Armenia but Pakistan describes its relationship with Muslim countries as reflective of its belief in Ummah, unity and fraternity. However, Pakistani analysts are of the view that Pakistan's support to Azerbaijan and non-recognition of Armenia does not come without price tag, and as a developing country it is paying heavy price for it. For instance, Pakistan want to be a part of TRACECA (Transport Corridor Europe, Caucuses and Asia) but Armenia being a member of the treaty continuously opposes Pakistan's entry into the treaty. Whenever Pakistan puts forward the demand for joining the treaty, Armenia together with other countries joins their voices to halt the acceptance of Pakistan as a member. Though Azerbaijan has supported Pakistan's membership but that cannot overcome the opposing voices.
Nevertheless, Armenian opposition has not affected Pakistan's approach towards Nagorno-Karabakh conflict. Last year, Foreign Relations Committee of the Senate of Pakistan passed a resolution declaring the Khojaly tragedy as genocide in which several hundreds of Azerbaijanis were killed. This has strengthened the international support to the cause of Azerbaijan. Along with Pakistan, many other countries have followed the lead and have passed similar resolutions from the floor of their parliament. Moreover, Azerbaijan commendably is using all its economic resources and regional strategic position to muster international support for this resolution. The continuity of such efforts will help Azerbaijan achieve its cause sooner or later.
In return for Pakistan's support to Azerbaijan on the Nagorno-Karabakh conflict, Azerbaijan has supported Pakistan's stance on Kashmir resolution. Specifically, after the resolution passed by the Foreign Relations Committee of the Senate of Pakistan in support of Nagorno-Karabakh, there is an increase in demand in Pakistani public circles for a reciprocal resolution on Kashmir from the platform of Parliament of Azerbaijan on account of similarities that Kashmir issue holds with Nagorno-Karabakh conflict.
Conflict in Kashmir has been on the agenda of the United Nations for more than six decades now, as an unfulfilled obligation and Pakistan reaffirms its steadfast resolve to stand by Kashmiri brothers and sisters who have continued their valiant struggle to achieve legitimate right of self-determination. Azerbaijan understands the issue well and has always supported the stance of Pakistan. For the understanding of the readers, some of the similarities between issue of Kashmir and Nagorno-Karabakh are highlighted hereafter that are worth noticing:
– Illegal occupation and aggression against unarmed local population
– Obvious defiance of international law
– Non-implementation of UN Resolutions
– Displacement of population
– Changes in the demography of the conflict zones
– Continued human rights violations in the conflict zones
– Desecration of religious sites, destruction of historical buildings and cultural heritage
– Threat to regional peace and security and on.
Pakistan-Azerbaijan Societal learning
There is much that can be learned from this bilateral relationship pertaining to different dynamics of origin, different nature of challenges which have been faced by both states along with ensuring survivability in international relations. In fact both the sides can learn how to survive from each other. Pakistan has gone through so many challenges at national and international level. Similarly, Azerbaijan has survived independence after a long struggle. Hence, unanimity of use should be created.
Moreover, through institutional linkages we can understand our systems based on understanding that 'as some traits are good in you similarly some are good in us'. People to people contact should be enhanced through cultural tour exchanges.
Languages should be learnt, books should be translated. There exist multiple issues that are faced by the world altogether like environment protection, food security, energy security, physical security i.e. health security, need for developing infrastructure, need for creating jobs for youth; and on all of them Azerbaijan and Pakistan can work together on bilateral and international spheres.
Apart from above mentioned non-traditional security threats, common traditional security challenges also exist like conflict resolution of Kashmir versus Nagorno-Karabakh that needs to be addressed via security cooperation.
Understanding Regional Dynamics of Azerbaijan and Pakistan
From the viewpoint of two regions i.e. South Caucuses and South Asia, Pakistan-Azerbaijan relations have different dynamics. Both states face varied features of content, discontent, diplomatic pressures among regional countries that impact their foreign policies.
Russia has major influence in South Caucuses region and wants to maintain its sphere of influence in the region to prevent Soviet legacy, whereas NATO (North Atlantic Treaty Organization) and EU (European Union) are doing efforts to grow their influence. In view of these emerging dynamic regional developments, Government of Azerbaijan is trying to strike some kind of balance. Azerbaijan doesn't want to complicate its balanced relation with Russia, and at the time is maintaining stable relations with European Union. This is how the state has to cater the challenges.
Comparably, South Asia has different dynamics because of rivalry between India and Pakistan and two wars the states have fought in the past. There is unresolved Kashmir issue, which India considered as part of its territory whereas Pakistan vocally support and demand legitimate right of self-determination for Kashmiri brothers and sisters. Pakistan's difficulty is that on Northern borders with China Pakistan has time tested friendship; on Eastern borders with India Pakistan has rivalry; on Western borders with Afghanistan Pakistan is facing issues of instability and the war against terrorism has inflicted heavier price on Pakistan in terms of refugees, insurgency, terrorism, and loss of life and property. Moreover on western borders, Pakistan faces foreign policy challenges to manage relations with Iran.
Conclusion
Keeping in mind the global outlook and divergent interconnectedness among states, few significant joint ventures in terms of cooperation at national and international spheres are possible between Pakistan and Azerbaijan.
The exchange of ideas on success and disadvantages can help both sides formulate right options at right times. As mentioned earlier in the article, multiple non-traditional security measures and traditional security measures hold opportunities; Pakistan and Azerbaijan just need attempts and serious measures of cooperation to strengthen the cooperation.
Summing it up, significant point to highlight and understand is that political goodwill can remain in contact as a back support, but it has a shelf-live. The community links between Azerbaijan and Pakistan need to be created and strengthened as they are real force that can bring real difference.
Pakistan and Azerbaijan face varied regional challenges but they have immense capacity too, apart from just mentioning what can be done, much can be done in real sense with the will to cooperate.