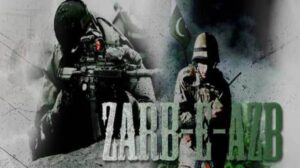 On September 21st, 2015, Ms. Aymen Ijaz, Assistant Research Officer IPRI, gave a presentation on topic "Post Operation Zarb e-Azb: Security and Rehabilitation Challenges" at IPRI Conference Hall. She said that Operation Zarb-e-Azb is a joint military offensive being conducted by the Pakistan Armed Forces against various militant groups in North Waziristan close to Pak-Afghan border. Zarb-e-Azb means "sharp and cutting strike". Azb refers to the sword owned by the Holy prophet Muhammad (PBUH), which he used in the battles of Badr and Uhud. The operation was launched on June 15, 2014. Prior to the operation, the government of Pakistan used the option of serious negotiations with TTP, which failed. A terrorist attack on Karachi airport on June 8, 2015, ended the peace talks and Operation Zarb-e-Azb was launched. The airstrikes on militants and the ground operation was launched on June 26, with around more than 30,000 troops. Credible intelligence and surveillance information was gathered about the militants/terrorists in areas of operations.
The operation is based on a four phased military action: strangulation, clearance, rebuilding, and handing over control to civil administration. Firstly, the area has been totally quarantined from three sides and a formal request was sent to Afghanistan to seal their side of border, secondly evacuation of civilians, thirdly, the military attacked the terrorists camps, destroyed their communication and supply links through air raids and then moved in tanks and infantry to occupy the area and lastly the rehabilitation of the people. Main focus of the operation was to avoid civilian causalities and collateral damage.
According to ISPR, during the first year of operation, at least 2,763 militants were killed in ground operations and air strikes, 837 hideouts were destroyed and 253 tons of explosives recovered. In the process 347 military personnel lost their lives. Thousands of suspected terrorists and their abettors were apprehended whereas '218 hardcore terrorists' were killed in around 9,000 intelligence-based-operations (IBOs). In the search operations conducted in militant hideouts, 18,087 weapons including heavy machine guns (HMGs), light machine guns (LMGs), sniper rifles, rocket launchers and AK-47 rifles were recovered during the past one year.
Now, after one year of operation, the North Waziristan and Khyber Agency, including Tirah Valley, were cleared of terrorists with just a small number of terrorists hiding near Pakistan-Afghanistan border and operations are being launched against them as well. Recently, the operation is in its last phase and is being conducted in the difficult Shawal valley. There are grave security and rehabilitation challenges that Pakistan would face in the post operation scenario.
In the security context, there are challenges due to external interference. Afghanistan, and India are the external security threats for Pakistan. The militants that have fled to Afghanistan can use Afghan soil to conduct terrorist attacks in Pakistan. The lack of confidence, limited intelligence sharing and co-operation from Afghan side in counter terrorism operations is a matter of concern for Pakistan. The complete elimination of terrorists depends on the Afghan government and their willingness to seal their side of the border and conduct similar type of military operations against terrorists. Many Indian consulates in Afghanistan can use proxy wars against Pakistan. The training of Afghan National Army (ANA) by the Indian security forces and Indian politico-military involvement in Afghanistan's reconstruction and rehabilitation beyond their legitimate interests constitute a big security challenge for Pakistan. The recent reports about RAW involvement in the terrorism in Balochistan and Karachi has further strained Pakistan's relations with India.
Post-operation Zarb-e-Azb, i.e. the resettlement and rehabilitation of around 2 million internally displaced persons (IDPs), 70 percent of whom are women and children, is a massive load for any country to handle. With limited means and resources it is hard to deal with such a large number of displaced people. These people are living in camps built for the displaced persons or in rented accommodation, in places like Tank, DI Khan, Bannu and Peshawar. The issue of IDPs affects both hosts in the cities as well as migrants. The IDPs need shelter, food and basic human facilities such as education and job opportunities.
In order to meet the security and rehabilitation challenges, the government along with the military has taken several initiatives. The government has ensured strict regulation of international borders and sealed its Afghan border to prevent cross border infiltration of terrorists and smuggling. The Frontier Corps (FC) is deployed not only to train the Levies and the Khasadars but also to ensure law and order situation in the tribal region. The political administration has been restructured with gradual incorporation of amendments in the Frontier Crimes Regulation (FCR). FATA reforms have been introduced at rapid pace that include development of infrastructure, re-opening of schools and educational institutes, building up of hospitals, restoration of livelihood and revival of economic activity. Many de-radicalization centers have been opened at places such as Bara, and another named as Sabaoon-II in NWA.
The resettlement and rehabilitation of IDPs, with their phased return to their native places has begun since March 2015. The government and army in assistance with many foreign non-governmental organizations and the UN are playing active role in the rehabilitation process. The IDPs return would occur in phases: Phase 1(March 2015-July 2015), Phase 2(August 2015-November 2015), Phase 3(December 2015-March 2016) and Phase 4 (April 2016-November 2016). The IDPs have been given Rs. 25,000 as cash assistance and Rs. 10,000 as transportation expenses along with food ration for six months and a kit containing non-food items for each household. The children were given anti-polio and measles vaccinations. The FATA Secretariat along with FATA Rehabilitation & Reconstruction Unit (RRU) is making efforts for safe and secure return of IDPs. The secretariat has recently launched the "FATA Sustainable Return and Rehabilitation Strategy", to ensure phased return, provision of basic facilities and sustainable development of the IDPs.
The RRU conducted the "Housing Damages Survey" in SWA and Khyber Agency and "FATA Housing programme" was launched to rebuild damaged and destroyed houses. The housing programme would provide better accommodation to the people on return and improve their quality of life. FATA youth package is also introduced by the army according to which, 14,000 youth from FATA will be recruited in the army in the next five years, 1500 students would be accommodated in Army Public Schools and Colleges and would be granted admissions on quota basis in various military colleges. Technical skills would be imparted to students through programmes at technical institutes in major cantonments and arrangements would be made for large scale overseas employment of youth.
Besides this, building of Cadet Colleges at Wana and Spinkai, establishment of Waziristan Institute of Technical Education and Wana Institute of Technical Training and opening up of Women Skill Development Centre at various places to educate and to provide skilled labour to women and youth in FATA are significant steps taken by the government. The Government of Pakistan through its various ministries and departments such as the Economic Affairs Division of the Finance Ministry, Ministry of States and Frontier Regions (SAFRON), and the FATA Secretariat, is currently focused on finalizing and funding the plans for the return, reconstruction and rehabilitation of IDPs.
Recommendations
• There must be capacity building of law enforcement agencies (LEAs) and other state institutions in FATA for the effective policing, intelligence coordination and surveillance to prevent recurrence of terrorism.
• The will of the people and all stakeholders is important in the decision making process and to bring normalcy in the tribal region. Hence, people driven and people participated solutions must be introduced.
• Immediate reforms in FATA such as revisiting FCR, political accountability and improvement of local socio-economic conditions are needed.
• Insightful planning, extensive and complex coordination and logistics, and substantial funding and an international assistance is required to rebuild the destroyed infrastructure, houses, hospitals, and schools, and to start the gradual political process to bring the IDPs back to the area.
• To ensure complete security, Pakistan requires Afghanistan's support in countering terrorism. Both countries should co-operate in countering terrorists who have escaped Zarb-e-Azb by fleeing to Afghanistan.
• Media should play a concrete role to create awareness among locals about the objectives of the Zarb-e-Azb Operation and efforts being done by the government and military for rehabilitation of IDPs.
Conclusion
Operation Zarb-e-Azb is primarily a unique and successful operation which has responded to the security threat in a comprehensive and sustained manner. It is expected that final phase of the operation will soon end successfully. The operation has enhanced the role and image of the army. The operation has sent clear message to the militants and their supporters that any attempt to destabilize, infiltrate and carry out terrorism in Pakistan will be met with clear and forceful response. Whereas, there is a need to exercise vigilance by the security and law enforcement agencies against any future terrorist threats, all the concerned departments should work hard in a well-coordinated manner for return and rehabilitation of IDPs.
Disclaimer: Views expressed are of the writer and are not necessarily reflective of IPRI policy.