PRESS RELEASE, September 26, 2022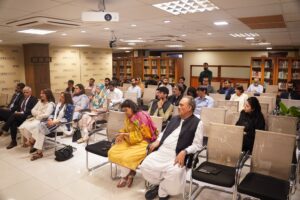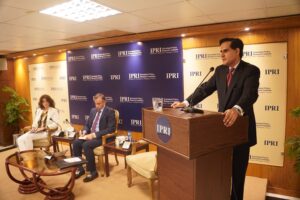 ISLAMABAD: An interactive discourse on lessons from history and as to how civilizations have responded, especially in the wake of challenges such as climate change, economic and political upheavals, was held at Islamabad Policy Research Institute on Monday, September 26.
Dr Ilhan Niaz, Professor (Tenured) of History at the Quaid-i-Azam University, was the keynote speaker, who is also the author of acclaimed book on "Downfall – Lessons for our Final Century." Ms Aisha Khan was the discussant at the forum. She comes with vast experience in developmental economics, as Founder & Head of the Civil Society Coalition for Climate Change & Mountain and Glacier Protection Organization.
The presentation evolved around the rise and fall of history, as to what role societies have evolved over the period of time. Economic growth and modules of political dispensation were also highlighted, such as Marxism, Communism, Socialism and democracy, as to how free market economy and the concept of laissez faire had changed the contemporary world.
Dr Ilhan observed that traditionally societies do not react to abstract threats, and adopts a phenomenon that is slow and steady. "Whether you are a Marxist or a Socialist, you are part of the same cult of infinite growth," he remarked, and said that appropriate strategy to evolving history is indispensable.
It was noted that economic disparity and uneven distribution of resources is an enigma, and casting the clouds of dissent and destruction worldwide.
The discussion comprehensively dilated upon the climate change, and to why and how it has not been dealt with on a priority basis by the world at large.
Aisha Khan pointed out that it is time for introspection, as we need to recognize and realize our mistakes to become resilient for the future — be it governance models, regional policies or international affairs.
"Even today the issue of climate is not being framed as an ecological issue in America but as a jobs issue," Dr Ilhan remarked.President IPRI Ambassador Dr. Raza Muhammad spoke on the occasion and highlighted as to how contemporary challenges are staring our face, and the need for proper policy perspective taking into account the betterment of the society.