Sectarian violence has caught the nation by its throat. This coupled with proliferation of lethal weapons, poor investigative skills, marginal forensic capacities and coerced lower judiciary makes a sure recipe for a quagmire from which nation may not be able to come out unscathed, and for quite sometime.  Professional incompetence that brought situation to such a pass on the Ashura eve in Rawalpindi sounds more of fiction than reality. When the nation was taking a sigh of relief that the event had gone peaceful throughout the country, every one was awe struck by what happened in Rawalpindi.
Information blackout about the incident encouraged the rumour mills to go into surge production. Though sensitive and inflammatory information must be withheld, essentials must be shared with the public to manage their anxiety level. Both electronic and print media reported the incident in a careful and responsible way.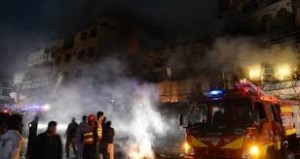 However, absence of authentic and organized information from the government side created a critical void. In the absence of credible information, proliferation of sectarian tension in various parts of the country was so fast that it could have led to a major crisis.  This indicates that the entire country is a tinderbox. International players are deliberately creating a sharp divide amongst the Muslims. They want Pakistan to become another Lebanon, Libya or Syria by succumbing to its sectarian fault lines. We must sense it, and steer a safe.
Notwithstanding the rituals of commission and committees, the provincial government must act swiftly and smartly, it has a big task at hand which must be completed before the Chelum activity picks up momentum. One of the reasons for such incidents is that while forming a committee or a commission is relatively a simple task, undertaken mainly to soothe public anger, implementing their recommendations requires serious thinking, determination and sustained effort.
Nevertheless, the crisis was well managed. Punjab government sprang into action and Ulema extended a helping hand in bringing the situation under control. For a change electronic media also behaved in a responsible manner. Nevertheless, the tension simmers, and it could resurface some other day. Nation is on tenterhooks and a small incident could re-explode the volcano. There is a need to go much beyond window dressing and take concrete steps. Timely compensation for the loss of lives and property would heal the wounds much earlier and lower the anxiety level. However, here a distinction must be made, and those found responsible for causing the mayhem must not be rewarded through compensations, even if they have suffered. Likewise, prohibitive fines should be imposed on those found involved in loot, arson and burning of property. As a wide range of video coverage is available, it won't be difficult to pinpoint most, if not all the criminals. While the judicial commission would certainly do its job to find the causes leading to this situation and would be able to fix the responsibility to a fair degree of accuracy, its actual task would be to recommend a whole range of preventive and corrective measures. It is satisfying that Justice Mamoon Rashid Shaikh has said that his commission would be doing that. Justice Mamoon has appealed for cooperation from the lawyers and civil society in investigating the incident. Chief Minister's administrative fact-finding Committee is also working separately to achieve similar tasks. Such commission and committees have a poor track record because not many are willing to come forth and tell the truth. Such entities have a structural inadequacy; these commissions and committees do not employ investigation experts. Therefore, mostly those appearing before such bodies tend to present partisan view point. Each side systematically fields its skilful people to feed biased information to such commissions and committees. There is a need to carryout an evaluation of assembly points and procession routes; and may be some relocations and rerouting is in order to make them adequately secure-able. Congested places and choked pathways make them difficult to secure against trouble makers.  Hopefully, the commission and committee would look into this difficulty and come up with practical solutions. Once such observations have been made by the commission/committee, the government should make the adjustments with the consent of Shia communities and preferably complete the task before Chehlum majalis and processions. Moreover, there is a need to go beyond cosmetics and probe into the funding sources of the trouble makers. Apparently, it seems that funding trails for both sides originates from friendly countries. The sect specific aid coming in the name of promoting Islam is keeping the trouble makers on both sides well financed and equipped to carry out this nefarious service to Islam.  There is a need to dig deep in to such matters and take up the issue with respective friendly countries. Rumour-mongering, conspiracy theories and propaganda campaign on social media are also taking their toll as those behind such tactics are successfully exploiting minds and passions to keep the pot boiling; it is likely that unscrupulous elements would continue their campaign irrespective of its psychological or societal consequences. Charges and counter charges through electronic and print media as well as social media are also widening the gulf of hatred and this could further plunge the country into deeper turmoil. There is a need for a code of conduct for media, whereby during a crisis situation it should avoid provocative reporting, sensational analysis and presentation of opposing points of view by not giving air time to known hard liners. In this context a negative list should be prepared and enforced by PEMRA. There is a need for capacity enhancement of law enforcing agencies. Past experiences have it that these outfits are good enough only as long as thing go as per their plans. Once the chips are down LAE personnel become a source of aggravating the situation rather than controlling it; this is essentially a capacity issue. The concept of rapid deployment force is only useful when personnel of such force are properly trained; a bunch of semi skilled personnel labelled as rapid deployment force may actually add to the problem. The federal government has issued directives to ban the dissemination of hate material over the social media. Social media has indeed been used to spread hatred, both now and in the past. But there is a question mark on the capacity of PTA with regard to implementation of these directives, in the past it had failed to block the blasphemous material.  PTA needs to develop adequate skills to implement such tasks swiftly. Beyond social media there is also a need to examine the role of seminaries and sectarian outfits involved in spreading inter-sect hatred. Such activities begin to mushroom every year in a run up to Ashura. These are no longer sporadic emotional outbursts; these are well planned, adequately organized and sufficiently funded campaigns. Human intelligence should be strengthened to pre-empt such activities. Defa-e-Pakistan Council (DPC) held a meeting in Islamabad to consider measure to avert spread of sectarian violence across the country. The meeting concluded that Rawalpindi tragedy was a conspiracy against Pakistan and appreciated the patience demonstrated by the affected people. It also demanded that hate material of different religious institutions should be banned. The government would do well to articulate a comprehensive policy to discourage religious bigotry and extremism. The government and opinion-makers need to conjointly ponder over to evolve a long-term strategy to check the rising wave of sectarianism right now. Inter-sect harmony does not come through lip service only; it needs demonstrable will as well. It would be worthwhile that prominent religious scholars and community leaders, including high profile politicians should attend other sects' events as a symbol of respect and solidarity.
A variant of this article Carried by The Nation on November 25, 2013 under the same caption