Pakistan is striving to come out of the worst security crisis in its history that has adversely impacted its economy, especially since 9/11. Under these difficult times, Turkish Prime Minister Recep Tayyip Erdogan's visit to Pakistan was a breeze of fresh air. When some of the close allies of yesteryears have almost abandoned Pakistan, Turkey has persistently stood by it —always extending a helping hand ranging from disaster management to economic revival. Erdogan's visit took place as the two countries also seek to strengthen and harmonise their geo-strategic objectives related to Afghanistan.
Democracy has taken firm roots in Turkey and it has been able to shed the legacy of protracted spells of military rules. Turkey has a robust economy with sustained growth rate second to China only. As two functioning democracies, perspectives of the Turkey and Pakistan are marked by a common outlook and shared objectives. Economic growth has enabled Turkey to follow a fast pace development model. Pakistan could learn a lot from the economic and development models implemented by Turkey. The new government in Pakistan is trying to re-rail the economy, it has embarked on an ambitious socio-economic and infrastructure development agenda and various steps are being taken to attract both domestic and foreign investment in Pakistan. In this regards, initiatives by Turkey to help Pakistan are welcome.
 Since 9/11 Turkey has played a unique constructive role in the context of Afghastan. It is the only Muslim country whose military contingent is part of NATO forces stationed in Afghanistan. Turkey has been part of multiple efforts to find a durable solution to the Afghanistan issue. It has hosted series of conferences under the rubrics of Istanbul and Ankara processes that have set the directions for the coming events. Unfortunately the venue of negotiations between Afghan High Peace Council of Afghanistan and Taliban was shifted to Doha, where the process collapsed. Hopefully, the location would shift back to Istanbul in due course. Moreover, whenever tensions arise between Afghanistan and Pakistan, Turkey takes upon itself to narrow down the differences and restore working relationship between the two.
 Beside Afghanistan, Turkey has an abiding interest in Central Asia, which is overwhelmingly Turkic in demographic composition. Pakistan and Turkey could work jointly for their outreach endeavours in Central Asia. As drawdown of occupation forces from Afghanistan is in progress, Pakistan must coordinate more closely with Turkey, and both of them with Iran and other immediate neighbours of Afghanistan, to achieve the common goal —a free, prosperous and stable Afghanistan. Pakistan is looking for international support for forging political consensus inside Afghanistan to prevent post 2014 spill over of the conflict to Pakistan. Turkey's influence over Afghanistan's non-Taliban elements, like Abdul Rashid Dostum, can come handy for bolstering efforts towards an intra-Afghan reconciliation to stabilise Afghanistan.
Another focus of Erdogan's visit was on bilateral economic cooperation. Pakistan and Turkey have inked agreements to make the Islamabad-Tehran-Istanbul Economic Cooperation Organisation (ECO) Container Train operational. Regular operations of this train service would not only strengthen connectivity, but would also harness greater economic integration between the region and beyond. However, its full advantages could only be exploited if its operation is extended to Central Asia. And for this, peace in Afghanistan is a starting point.
Mutual understanding developed on different issues and the documents signed to boost cooperation in various spheres of life are indicators of the kind of relationship that has developed between Pakistan and Turkey over a period of time. Consistent with shared vision to strengthen economic ties, two sides have decided to conclude a Preferential Trade Agreement (PTA) during the first quarter of 2014. The PTA would indeed go a long way in further expansion and consolidation of economic ties.
 The two prime ministers emphasised on the prompt implementation of the common economic agenda within the framework of the High-Level Strategic Cooperation Council (HLSCC). Turkey is hopeful of European (EU) Union membership, something which Pakistan would find supportive, now that it has obtained GSP+ status. In the long term, both countries could also harmonise and synergize their economic objectives in the context of the EU. Interest shown by the Turkish side in the construction of Diamer-Bhasha and Bunji dams and Lahore-Karachi Motorway project is of particular significance, such high profile infrastructure development projects have the potential of long term economic benefits to Pakistan. Prime Minister Erdogan also announced the opening of a Turkish Cultural Centre in Lahore
 At a time when the economy of Pakistan is facing some serious challenges, the visit of Turkish premier, along with a high-powered business delegation, has provided some respite. Prime Minister Erdogan's visit has signalled his nation's willingness to move forward with broad range economic cooperation. This could stimulate similar initiatives amongst other countries. These agreements are positive for the economy of Pakistan. Turkey, like China, has a track record of realizing its commitments and targets at fast pace. Pakistan will have to put in extra effort to simplify bureaucratic procedures to keep pace with the Turkish style of speedy implementation of projects.  Therefore, continuous monitoring of projects at the high level would be the key to success and a meaningful contribution to the society. Prime Minister Nawaz Sharif has promised to facilitate Turkish investments in Pakistan; he said that Turkish entrepreneurs could expect a one window facility for all queries, issues regarding implementation of their projects. He also assured them assistance from the revamped Board of Investments in this regard.
 Turkey has already been working with the Punjab government. Prominent examples of Turkish investments include the Lahore Metro Bus Service and the Lahore Waste Management Company. Besides these, Turkey is also cooperating in different energy projects. Turkey's collaboration in low-cost housing schemes, at a time when demand for this category of houses is on rise would be of great significance. Another area selected for collaboration is the banking sector. Collaboration in banking sector would be catalytic in providing a facilitating environment for trade and connectivity services. Exchange of delegations to gain experience is another agreement which is drawing appreciation from the academia.
Both sides have also inked three memorandums of understanding between the Punjab Industrial Department and Turkey Cooperation Agency; Pakistan Railways and Turkish Logistics Organisation; Pakistan Standards and Quality Control Authority (PSQCA) and Turkish Standards Institution. The Turkish prime minister has asked his country's businessmen to invest in the Metro Bus services for two more cities.
 Friendship with the Turkish people is part of the legacy inherited from our forefathers. As two pillars of strength, Pakistan and Turkey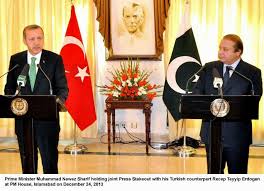 stand united in joint endeavour to promote peace and stability in the region. This visit by the Turkish premier and the message sent out during it is one that deserves great appreciation. Mr Erdogan and Mrs Emine Erdogan are known for their deep love and affection for people of Pakistan as demonstrated during earth quakes and floods. There is no doubt that sky is the limit as far as cooperation between Pakistan and Turkey is concerned. Already bound by deep cultural, historical and linguistic ties, the visit marked transformation of bilateral relationship to a comprehensive and enduring strategic partnership.
Carried by The Nation on December 30, 2013.
Disclaimer: Views expressed in this article are those of the author and are not reflective of  the pcolicy of either IPRI or any other governemnt organization/ department