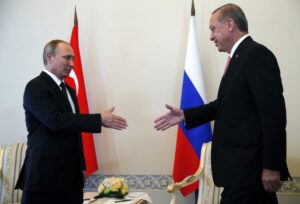 After last month's failed coup, last week Turkish government hosted Iran's Foreign Minister Javad Zarif just days after President's Recep Tayyip Erdogan's historic trip to Russia during which he publicly made up with Vladimir Putin after the shooting down of Russian fighter plane on the Turkish-Syria border last year. These moves have surged the interest to understand Turkey's rapprochement measures. Do they signal a shift in Turkey's global alliances as Turkey has been unhappy with West's muted response to the coup, and frustrated with continued criticism of its human rights record.
What message is the Turkish government sending to the US by getting closer to Iran and Russia? Is it trying to build some kind of leverage or is it making a fundamental shift in its foreign policy? What probable impact these rapprochement measures may have on war in the neighbouring Syria? How will the US respond to these developments? Will the differences dominate and hamper long-term cooperation between Turkey, Iran and Syria? How does the Syrian opposition view this?
By getting closer to Russia and Iran, Turkish government doesn't seem to send any adverse signal to the US, particularly because of its own interests in the area. Turkey has clearly been upset with US's muted response to the July coup. Moreover, Turkey wants Fethullah Gulen, the cleric living in the US and alleged by Turkey to be behind the coup, be extradited. But nobody legally living in the US can be extradited just because a government wants a person to be extradited. It is a lengthy process undertaken as per formal official procedures and may take a year or two.
Additionally, the shift in US's priorities has created a mismatch of interest between US and Turkey. For the US ISIS is top priority and Assad second. Whereas, Turkey's priorities are the Kurds first, Assad second, and ISIS third. During the last few months, Turkey has expressed frustration with the US over the Kurdish issue.
Apparently, engaging with Russia and Iran may appear more flexible to Turkey than the US at this point in time. The three have adopted correct diplomatic approach by starting dialogue on ISIL i.e., a non-conflictual issue on which they can agree. But on Syria, the three have a varied stance. Iran has been a key ally of Syrian government providing advice and military supplies for its battles against rebels. Russia has also supported President Bashar al-Assad mostly via airstrikes. Although it says it is bombing the ISIL but the opposition group states Russian strikes have mainly targeted other Syrian rebels. Conversely, Turkey has until now been on the opposite side of Syria's war; it has repeatedly called for Assad to step down and has helped opposition groups along with the US. But unlike the US, Turkey opposes Syrian Kurdish groups who are also fighting Assad.
To develop trust, Turkey, Iran and Russia have to find common interests to reach out to each other, develop a common strategy and work in coordination rather than disengaging on issues of divergent interests. That's what the Turkish and Iranian foreign ministers' mentioned in their press conference that despite disagreement on the Syria conflict, they would keep the dialogue open.
Talking of US's response to this rapprochement, it would probably give it low consideration as it does not perceive it to be a serious engagement for a long term.
There has been a simultaneous easing of tension between Turkey and Israel, Turkey and Russia and now Turkey and Iran. Turkey is a major if not powerful player in the region, and it appears to be basically trying to balance ties between the East and West. What the Turks are in a way doing smartly is that they are reaching out to countries and getting what they want on a bilateral level. For instance, Turkey reaching out to Israel may be to improve Turkey's image in the West, but access to Israeli gas can also be a factor. To Russia also Turkey reached up as it essentially got cut off from Russian tourism and Russian markets after the shoot down of the Russian airplane over incursion into Turkish airspace. For a year, Turkey wasn't able to fly over Syria, and its military action against the Kurdish area — one of its key concerns inside the country and in Northern Iraq and Syria — was limited. Significantly, the Kurdish insurgency in Northern Syria is a concern that both Iran and Turkey share. Thus, Turkey has also reached out to Iran to bilaterally talk of its priorities and concerns i.e. Kurdistan Workers' Party (PKK) and any radical agenda that Kurds may carry.
Turkey is part of the western alliance involved in supplying arms to the Syrian opposition with the US, and to expect shift in Turkish policy overnight is very difficult. Moreover, Iran and Russia cannot be a replacement for Turkey's decade old engagement with the West. They cannot provide excess of gas that Turkey needs, and offer little in terms of money, investment, tourism and markets for Turkish exports. Hence, at this stage Turks are trying to show that they are upset and the Russians and Iranians are playing along with this.
Turkey, Iran and Russia agree on nothing except fighting ISIS in Syria. The chances of them finding any political or diplomatic solution to the Syrian crisis are meager. Their interests are different, and their focuses are different, hence, unfortunately, they cannot have anything further than a consultation mechanism.
Pertaining to the concerns of the Syrian opposition over rapprochement between Turkey and two of Assad's staunch supporters, Turkey's consultations with the Syrian opposition have helped the latter develop an understanding of what Turkey intends to do. The Syrian opposition is content that Turkey is in a position to bridge differences between countries, which does not imply any movement towards the political position that Russia and Iran have taken. Some analysts point to the already existing possibility that after change in US's priorities, sooner or later, considering transformation of Syria into a secure state, Turkey may also give up the demand of Assad's resignation, and agree on a transition period with Assad in office. But some exaggerated analyses go as far as to assert that after amending ties with Israel, Russia and Iran, Turkey may mend ties with Assad as well.
Factually, it is difficult for Turkey to ignore the fallout of any such policy change knowing that there is a movement in Syria that demand a security and stabilisation plan of which Assad's departure should be a part, particularly in areas close to Turkey's borders that are controlled by the opposition. Therefore, Turkey most likely will go for a solution agreed upon by the Syrian population particularly in the North.
Published by The Daily Times on August 25, 2016
Link of the Article:

Disclaimer: Views expressed are of the writer and are not necessarily reflective of IPRI policy.