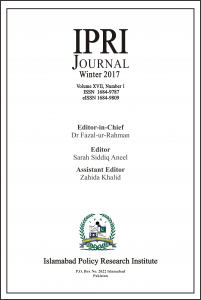 Research Articles
The Role of Leadership in Foreign Policy: A Case Study of Russia under Vladimir Putin
Dr Nazir Hussain and Fatima Shakoor
The focus of this article is to understand the influence of leaders in foreign policy decision-making and the subsequent impact of the choices that they make at the international level by taking the case of Russian President Vladimir Putin. Dr Hussain and Shakoor try to assess the extent to which Russian foreign policy is a product of his inspiration and study the impact of his policies internationally.
Nuclear Mainstreaming Pakistan
Dr Tughral Yamin
Sensing Pakistan's keenness to acquire nuclear legitimacy in August 2015 a joint study by two American think-tanks set certain pre-conditions that would allow it to become a normal nuclear state. The reaction in Pakistan was predictable and there were calls to reject such suggestions altogether. Dr Yamin examines the proposal with an open mind and determines if at all it represents a window of opportunity.
SAARC Summits 1985-2016: The Cancellation Phenomenon
Dr Manzoor Ahmad
SAARC has held only 18 Summits in the last 31 years since its inception in 1985. Prevailing political problems and bilateral disputes of members have mainly caused delays. Dr Manzoor surveys the process of South Asian regionalism and provides an overview of the SAARC Charter and practices. He strives to fill the gap by investigating the actual and proximate causes of Summit cancellations and its impact on regionalism.
Geostrategic Transformation: Pakistan's Options for Deterrence and Strategic Posturing
Dr Zulfqar Khan
Dr Khan argues that Pakistan's flexible politico-military policy, controlled strategising along with up-gradation of its nuclear-cum-conventional forces, and emitting right signaling, would assist in sustaining efficacious and balanced deterrence vis-à-vis India. In the prevalent setting, any conflict – limited or all-out – is not a logical option for the nuclear powers of South Asia.
New Trends of US Policy toward South Asia: Challenges for CPEC
Dr Chunyang Jia
The author reviews the historical evolution of United States' policy toward South Asia, the new directions it is taking and analyses challenges for CPEC. He puts forward useful recommendations for China, Pakistan and India for CPEC's implementation.
Health Security Governance and Zoonotic Diseases in Pakistan: The International Health Regulations (2005) Angle
Dr Amir Ullah Khan and Dr Zafar Nawaz Jaspal
Pakistan is vulnerable to infectious diseases due to the lack of efficient health security laws, poor execution of existing laws, and institutional incapacity to counter zoonotic health security threats. Jaspal and Khan call for stronger implementation of International Health Regulations (2005) in the country.
Donald J. Trump, Great Again: How to Fix our Crippled America
Khurram Abbas
Harsh V. Pant, The US Pivot and Indian Foreign Policy: Asia's Evolving Balance of Power
Saman Zulfqar
Robert D. Blackwill and Jennifer M. Harris, War by Other Means: Geoeconomics and Statecraft
Maryam Nazir
Laxman Kumar Behera, Indian Defence Industry: An Agenda for Making in India
Air Commodore (retd.) Khalid Iqbal