Mercifully, the pendulum has swung back to sanity. Pope Francis has stated that there were limits to freedom of speech and said other people's religion could not be insulted or mocked. The pope made the comments in relation to attacks by gunmen on the offices of French satirical weekly Charlie Hebdo. "To kill in the name of God is an absurdity… each religion has its dignity" and "there are limits". "You cannot provoke, you cannot insult other people's faith, you cannot mock it," the pontiff said. "Freedom of speech is a right and a duty that must be displayed without offending." A French weekly newspaper Le Journal du Dimanche, presented a question for survey: "Some Muslims feel attacked or injured by the publication of cartoons of the Prophet Muhammad." Response indicates that 42% checked a box to indicate that the country should "consider these reactions and avoid publishing these cartoons."
Pope and I, alongside billions of persons who share Popes' views on freedom of expression and respect of all religions cannot be Charlie.  Other than five million information extremists, who supposedly bought the copies of magazine, rest of the mankind is not Charlie.   Ironically, after Paris attack, the French authorities are moving aggressively to rein in speech supporting Pope's point of view; employing a recent law to mete out tough prison sentences in a crackdown.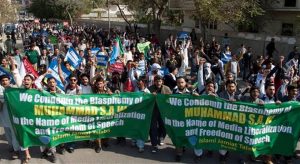 The cover of the Charlie Hebdo's "survivors' issue" has sparked fresh controversy and protests in the Muslim world. Pakistan's National Assembly has unanimously adopted a resolution against the blasphemous caricatures, and called on international community, OIC and EU to take action against the publication. Muslims all over the World are out to the streets registering their protest in one way or the other.
Adam B Ellick and Liz Alderman have reported interesting facts for International New York Times on January 14, in their piece captioned: "Crisis in France Is Seen as Sign of Chronic Ills". They have opined that France may have just hosted its biggest outpouring of solidarity since the end of World War II in response to attacks last week in and around Paris, but in the disaffected suburbs, or banlieues that ring France's largest cities, those appeals for unity hardly penetrated the sense of isolation.  "I am French, and I feel French," said Nabil Souidi, 23. "But here you are forbidden to say, I am Charlie".
Adam and Liz have conducted numerous interviews from community leaders, Muslims and North Africans who largely populate the banlieues. Nearly everyone interviewed agreed that the fallout from the Charlie Hebdo attacks, including a heightened security response by France and its allies, was a distraction from a larger problem: a sense of increasing social and economic marginalization that many cited as a root cause of young people drifting toward extremism.
New York Times has also reported that a French association that represents 120 mayors across France issued a statement warning that the banlieues were "on edge" amid the fallout from the attacks, and said there was an urgent need to address economic, social and educational shortfalls. Vaulx-en-Velin, a Muslim-majority suburb of Lyon, is France's third-poorest city and representative of the problems. Here, joblessness is around 20 percent, about double the national average. For young people, it can be as high as 40 percent. About half of residents do not have a high school diploma. Police harassment and profiling are taken for granted.  Many are worried that as Muslims, they would be lumped together with the killers. In Vaulx-en-Velin, the only Charlie reference to be seen was a sign for the Charlie Chaplin cultural center. When Mr. Hollande led a moment of silence across France for the victims of the attacks, two students and a teacher at a local high school, who declined to be identified, said many students refused to stand.
Around 100 people are under investigation for making or posting comments that support or try to justify terrorism. The arrests have raised questions about a double standard for free speech here, with one set of rules for the cartoonists who freely skewered religions of all kinds, even when Muslims, Catholics and others objected, and yet were defended for their right to do so, and another set for the statements by Muslim, which have led to their prosecution.  Some of those who were booked under the new law have already been sentenced, with the criminal justice system greatly accelerated, moving from accusations to trial and imprisonment in as little as three days—justice hurried is justice buried.
Ironically, French law does prohibit speech that might invoke or support violence. France has speech laws that specifically address anti-Semitism and Holocaust denial. "A lot of people say that it's unjust to support Charlie Hebdo and then allow Dieudonné to be censored," said Mathieu Davy, a lawyer who specializes in media rights. "But there are clear limits in our legal system. I have the right to criticize an idea, a concept or a religion. I have the right to criticize the powers in my country. But I don't have the right to attack people and to incite hate."
Moreover, article 19 of Universal Declaration of Human Rights (UDHR) states: "Everyone has the right to freedom of opinion and expression; this right includes freedom to hold opinions without interference and to seek, receive and impart information and ideas through any media and regardless of frontiers". This right is also recognized in international human rights law and the 'International Covenant on Civil and Political Rights' (ICCPR), subject to the provisos stipulated in its Articles 19(3) & 20. Article 19 of ICCPR states:
  "1. Everyone shall have the right to hold opinions without interference.
2. Everyone shall have the right to freedom of expression; this right shall include freedom to seek, receive and impart information and ideas of all kinds, regardless of frontiers, either orally, in writing or in print, in the form of art, or through any other media of his choice.
3. The exercise of the rights provided for in paragraph 2 of this article carries with it special duties and responsibilities. It may therefore be subject to certain restrictions, but these shall only be such as are provided by law and are necessary: (a) For respect of the rights or reputations of others; (b) For the protection of national security or of public order, or of public health or morals."
Furthermore, Article 20 of ICCPR states:  "1. Any propaganda for war shall be prohibited by law. 2. Any advocacy of national, racial or religious hatred that constitutes incitement to discrimination, hostility or violence shall be prohibited by law."
In 2010, UN Human Rights Council passed resolution "Combating defamation of Religions" that highlighted some Islam specific points. Concern was expressed that Islam is being frequently and wrongly associated with human rights violations and terrorism.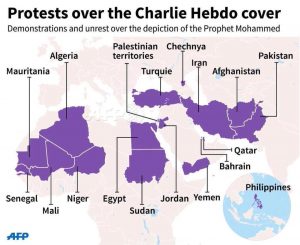 Another resolution was passed in 2011 that expressed concern at the deliberate stereotyping of religions, their adherents and sacred persons in the media. Issue is on UNGA agenda; it adopts a resolution each year. However this resolution is non-binding. America and other Western countries do not implement this resolution on the pretext that it would curtail the freedom of expression.
Collective Human conscience has a responsibility towards History. It needs to harmonize and synergize its efforts to take the mankind out of this psychological morass.  Pope's recent statement, UNHRC resolutions and ICCPR provide adequate framework to resolve the issue.  UN Security Council should cease the moment and adopt appropriate resolution under chapter 7 of the Charter.
Pakistan Observer January 21, 2015
Disclaimer: Views expressed are of the writer and are not necessarily reflective of IPRI Policy.