This is a defining year in Afghanistan's history. The drawdown of occupation forces by the end of year will be a watershed event.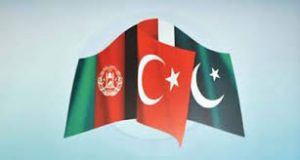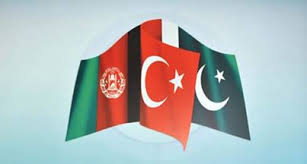 Pakistan supports a sovereign, independent and united Afghanistan and hopes that drawdown will be managed while preserving regional peace and security. Given Turkey's close ties to Afghanistan and Pakistan, it has been playing an important role in stabilizing Afghanistan.
Turkey has the unique distinction of being the only Muslim country that is contributing troops towads NATO/ISAF effort. In the non-military dimension,it has hosted a multitude of conferences since 9/11 and has been an active participant in all international efforts to mitigate the hardships being faced by the Afghan government and the society. Istanbul and Ankara processes have contributed quite significantly towards narrowing perceptional gaps at international level. Especially, whenever Afghanistan and Pakistan's working relationship came under stress, Turkey took upon itself to defuse the tensions and restore normalcy.
The trilateral process was launched in 2007; it has gradually evolved into a very useful forum that has by now held its eight rounds. These summits have helped in consolidating and expanding common grounds between Islamabad and Kabul. This trilateral is now an important platform for high-level contacts simultaneously at summit, ministerial and expert levels. A pre summit statement said that the "summit aims to carry forth the existing multi-dimensional collaboration between the three countries, which takes its strength from their historic and deep-rooted amity to the future in a stronger way."
Theme of the recent round was 'Sustainable Peace in the Heart of Asia'—indeed a pipedream. Main topics of this summit were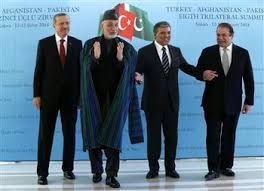 security in Afghanistan after the NATO troop pullout, efforts to negotiate with the Taliban, measures to restore peace and promote reconciliation in the country and region. Director of the US national intelligence James Clapper has recently said that he does not expect Afghan President to sign bilateral security agreement with the United States. Clapper, said he had given up hope that the Afghan president would endorse the deal. "Well, obviously, it takes two to sign this," Clapper told the Senate Armed Services Committee.
During the meeting, Pakistan and Turkey reaffirmed their staunch support for Afghanistan and worked to evolve a viable mechanism for Afghanistan's security and stability. "Without the cooperation of neighbouring countries, it is impossible to maintain security and stability in Afghanistan," Turkey's President Abdullah Gül said on the sidelines of the summit. Prime Minister Nawaz Sharif said, "Together we are working to build a new chapter in Pakistan-Afghanistan relations…It is also clear that such common challenges are best resolved through common endeavours at the regional and international levels". It was decided that foreign ministers of Pakistan and Turkey would visit Afghanistan after the latter's presidential elections to extend their cooperation to Kabul. Summit discussed ways to promote political dialogue and security cooperation among the three countries. The leaders also discussed intelligence sharing and training for the security and law-enforcement agencies.
President Karzai has long blamed Pakistan for sheltering militants who lead the insurgency against his government, and is pushing Pakistan to help start peace talks with the Taliban. He has demanded progress on talks before Afghanistan signs a security deal with the US. Pakistan is seen as crucial player to peace in Afghanistan. Pakistan has extended consistent support for peace and reconciliation in Afghanistan. It remains committed to working with Afghanistan as well as the international community for sustainable peace, stability and development in Afghanistan.
Prime Minister Nawaz Sharif has articulated a forward-looking vision of a peaceful and prosperous neighbourhood, defined by close, cooperative relations with all neighbours, including Afghanistan. Ankara summit was a part of the efforts to help strengthen the process of stabilization in Afghanistan in concert with international partners.  Pakistan has freed Mullah Baradar in order to aid the High Peace Council in holding effective talks with the Taliban in Afghanistan. Afghanistan has assured Pakistan that it will look into the question of Afghan involvement in Baluchistan. The Ankara Trilateral Summit has carried forward the process of constructive engagement and leadership exchanges on the evolving situation as well as matters of common interest.
Both Afghanistan and Pakistan are in dialogue with the Taliban. Future trajectory of Taliban would certainly play a pivotal role in peace making and peace keeping in Afghanistan and Pakistan. Tehreek-e-Taliban Pakistan (TTP) has already entered into parleys with the government. In an effort to have meaningful negotiation with Afghan Taliban, last week Afghanistan government released 65 alleged Taliban fighters from jail despite condemnation from the US, which says the men could return to the battlefield to launch strikes. Afghan authorities had concluded that the there was no evidence against these prisoners. The issue threatens to further strain US-Afghan relations. In a statement, US forces' representaive in Afghanistan said the prisoners were a "legitimate force protection concern" for both Afghan and international forces.
In a major development, some senior Afghan Taliban leaders have announced their decision to hold dialogue with Karzai government. This development coincided with summit in Ankara. These Taliban leaders who had gathered in Dubai announced that the Afghan Taliban should hold talks with Afghan government as Pakistan is holding talks with its own Taliban to end bloodshed. Taliban leader Mutasim Agha Jan said that the Dubai meeting was attended by nearly 20 senior Taliban leaders, including seven former ministers in the Taliban government, eight senior military commanders and four former Taliban diplomats. "I can say that the people who attended the meeting had been very important during the Taliban government as well as in the resistance against the foreign forces". Agha Jan, the former chief of the Taliban's powerful political commission, had shifted to Turkey after he was shot and injured in Karachi in 2010. "If Pakistan can hold dialogue with the Taliban after 10 years of fighting; and if Iran can talk to its opponents and Tajikistan can speak to rivals why are the Afghan Taliban shy to sit with their own Afghans?" he asked.  Agha Jan said that he has also won some support in Pakistan for his movement. "The Pakistani Taliban have now realised that they cannot achieve their objectives through fighting and have agreed to find a peaceful solution through dialogue," he said. He said that foreign troops are in Afghanistan due to the conflict among Afghans.
Ankara summit reiterated the importance of the ongoing electoral process in Afghanistan in securing a smooth and successful political transition in the country, and underlined in this regard the necessity of a suitable security environment. It underscored that the international community should continue to contribute to the efforts aimed at supporting Afghan-led and Afghan-owned processes, including those concentrating on further enhancing the capacity of Afghan National Security Forces. Meeting appreciated Pakistan's decision to extend the stay of registered Afghan refugees in Pakistan until 31 December 2015, while calling upon the international community to assist the two countries in timely and honourable return of Afghan refugees and their sustainable reintegration in Afghanistan.
Turkish President Abdullah Gul, extending his country's assistance, said, "Afghanistan and Pakistan, in this tough period, will always see the support of their brother Turkey nearby, in all its sincerity." Nawaz Sharif declared that "Pakistan would not allow anyone to use its soil against any country"; he spoke of a vision for peaceful and prosperous region defined by close relations with all neighbours including Afghanistan. Turkey has an abiding interest in stabilizing Afghanistan; its support for a peaceful Afghanistan is indeed an invaluable contribution towards regional harmony.
Carried by The Nation 0n February 17, 2014 
Writer is Consultant Policy and Strategic Response IPRI.
Disclaimer: Views expressed are those of the writer and are not necessarily reflective of IPRI policy.